Print On Wood and Preserve the Memories Forever!
Have A Perfect Memory That Is Seared In Your Mind? Now You Can Share It With Your Loved Ones.
Custom Wood Prints In Your Favourite Size And Format
Wood Prints are available in six trendy sizes. Your favorite picture is printed directly on premium wood and it gives your photo a very unique appearance. Custom Wood Prints printed on 0.75" thick quality wood. Each Wood Print Wrap is finished with a protective laminate and you can dirt free with a dry napkin.
8" x 8" Wood Print

Out of Stock

8" x 10" Wood Print

11"x14" Wood Print

16"x 20" Wood Print
Happy Memories Are the Best Thing in Life
When it comes to personalized wood prints, we want to give more options to our customers, which is why we offer different shapes and variety. You have the flexibility of choosing from
Four Piece Wood prints

Let your guests know about your creative side with the artistic four piece wood prints and narrate your special moments distinctly.

Single Piece Wood prints

Share your splendid picture with the impeccable blend of elegance through single piece wood prints and add life to your digital pictures.

Three Wood Print Panels

Share your special moments in a personalized manner by either narrating a story or expressions during an event with three print wood panels.
GIFT PERSONALIZED WOOD PRINTS TO YOUR LOVED ONES
Show Them That You Care About All The Memories That You Have Created Together
Product Details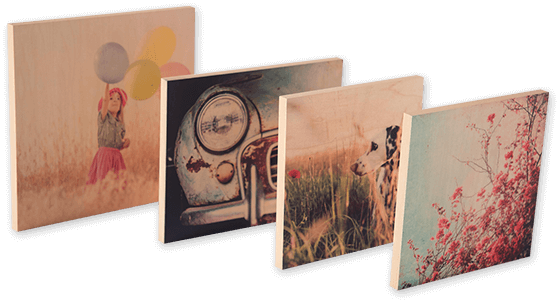 Thickness of the Frames
In order to keep the product lightweight and durable, we offer a standard thickness size that is 0.75". This is the ideal thickness to print premium quality about Photo Prints on Wood with high resolution photos.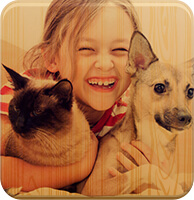 Finish Options
Adorn your wood prints with special effects to give them more appealing look. With Canvas Champ design tool, you'd be able to add some really astonishing special effects to your pictures to give them more detailed and prolific appearance.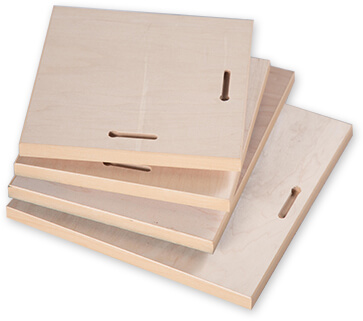 Hanging Options
All our wood prints are equipped with a groove, which means that you can hang the picture with a screw. The print will not lie flat against the wall; instead, it will be mounted almost half an inch away from the wall that will give it a float effect.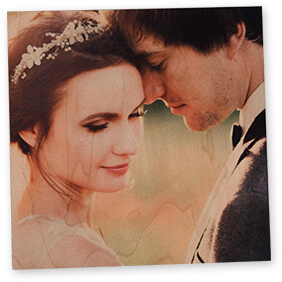 Kind of Wood
The Wood Photo Printing takes place on Chromaluxe Wooden Panels.
Beside the photo resolution and other parameters, quality of wood plays an invincible role in deciding the appearance of your wood prints. To ensure that you get the best with them, we use only the recommended best quality woods to print your lovely moments.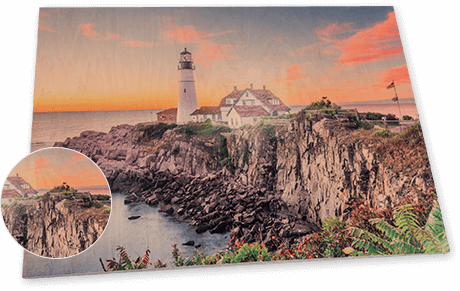 Image Resolution and DPI for Printing
1040 DPI is the best DPI.
Our experts believe that to print photos on woods, one requires a defined DPI so as to have best results. After a thorough analysis, they recommend 1040 DPI image as standard.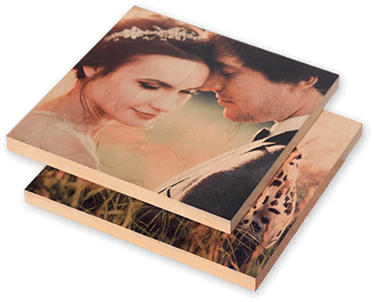 Material
Only premium quality wood goes in the making of our products. We use MDF composite wood material, which makes sure that the product will last you forever, just like your memories. We print directly on wood with permanent UV ink so that it reflects the unique natural patterns of the wood itself.
We Have 100% Satisfaction Rate!
We Assure You That You Will Love It 100%
Photos Printed On Wood An Exclusive Photo Gift
our wood photo prints will turn your personal photo gift into a modish piece of wall art!
Print Photos on Wood and Be Eco Friendly

Are you in search of the perfect customized gift for
your better half, family, or friends? Heard about wood
prints? Learn more.

What Is Wood Printing?

The wood printing process is printing a picture directly
on a wooden plaque to provide you with a vibrant
piece of art.

Best Alternative To Canvas!

With the help of a specialized process; we print the
picture directly on premium Baltic birch wood resulting in
high-quality wooden art.
Preserve Your Favorite Memories by Printing Pictures on Wood
Relive Your Memories with the Help of Our Frames
Some Memories Are Made to be Relived
Who would say no to happy memories? Show your loved ones what they mean to you by presenting them all the memories that you have made together. This is the perfect anniversary gift as you can show your better half what a beautiful life you two have made together.
Are still thinking, what is the best time to gift prints on wood? You can gift it on the following occasions:
Birthday Photos

Art Print - Vintage Car

Favorite Pet Photos

Preserve Travel Memories

House Warming Gifts

Memorial Photos

Natural Art Flowers

Valentine's Day

Wedding Photos
HOW IT WORKS
We've made sure the ordering process is a breeze. It's really easy and only takes a few steps!
Some Memories Are Forever
At Canvas Champ We Make Sure That They Last Forever
Wait For It… We Offer bulk Discounts!
Yes, you read that right! We offer discounts on bulk orders! If you have a large order, please email us at cs@canvaschamp.com or click here to request a custom quote.
Want to learn if we provide discounts on custom wood prints to photographers and artists? Want to learn about the bulk orders and discounts? Get in touch with us right away!