WHY CHOOSE PERSONALIZED BEACH TOWEL FROM CANVASCHAMP?
Ship within 24 Hours

Buy Now, Pay Later

Pay in 4 interest-free payments on qualifying purchases.

Read More

Best Quality Assured

Custom Design Options

DESIGN IDEAS FOR PERSONALIZED BEACH TOWELS
Gift personalized beach towels to anyone by printing your favorite photos of movie characters, animated characters, family members, special occasions, etc.
Personalized Beach Towels for Kids

Personalized Beach Towels for Adults

Personalized Bachelorette Beach Towels

Beach Towels for Bride and Groom

Personalized Bridesmaids Beach Towels

Personalized Groomsman Beach Towels

Personalized Beach Towels Party Favors

Personalized Beach Towels with Characters

Personalized Wedding Beach Towels

Personalized Beach Towels with Pet Photo

Pet Photo on Beach Towels

Personalized Beach Towels with Names

Personalized Bride Beach Towel

Personalized Cartoon Beach Towels

Personalized Disney Beach Towels

Personalized Honeymoon Beach Towels

Personalized Spiderman Beach Towel

Personalized Superhero Beach Towels

Personalized Unicorn Beach Towel

Personalized Wedding Beach Towels
STEPS TO DESIGN YOUR PERSONALIZED BEACH TOWELS
Choose Beach Towel Size

We have a wide variety of sizes to choose from. Choose a smaller size for a kid's beach towel or a larger size to work like a picnic blanket.

Upload Photo on Beach Towel

Once you've decided on the perfect photo, you can upload it to our design tool and click and drag it to where you want it to be.

Add Clipart or Text on Beach Towel

Here comes the fun part! Choose from the clipart in our design tool or add your own designs to put on your towel and add your name or a fun quote.

Add to Cart & Buy Beach Towel

This might be the fun part, because now you can get excited for your new personalized towel to arrive! Enter your shipping and billing information and start planning your beach vacation.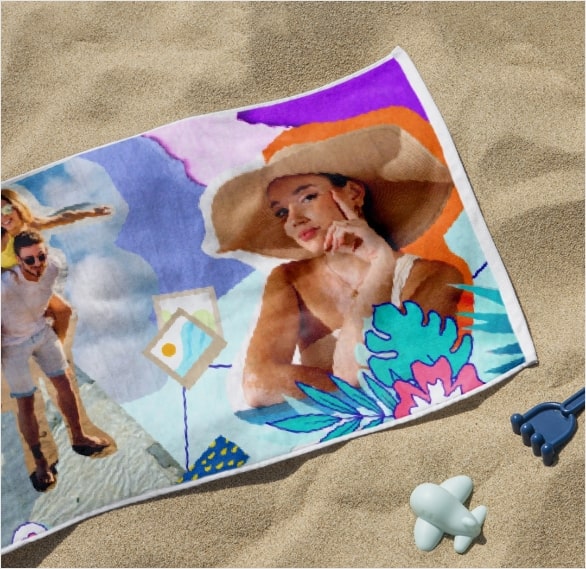 Personalized Beach Towels are Practical Gift Idea
A personalized beach towel is a great gift idea for anyone who loves to spend time at the beach. Not only is it a practical item that can be used over and over again, but it can also be personalized with a special message or design to make it even more special.
Quality Beach towels are a great gift idea for spring and summer! They're perfect for a day at the beach, pool, or lake. Beach towels come in a variety of colors, sizes, and styles, so you can find one that's perfect for your recipient.
Plus, personalized beach towels are an affordable gift that will last for many seasons. Consider giving a beach towel as a gift for a birthday, graduation, or any special occasion. It's a great way to show your loved one that you care.
Not Just a Customized Item, It's a Personal Beach Towel
Best personalized photo beach towels are the perfect way to make your beach trip a bit more fun and special. Personalize your beach towels with your name, favorite design, or just about anything else you can think of.
Whether you're looking for a unique gift for someone special or just want to make a statement at the beach, personalized beach towels are the perfect way to show that you care by printing pictures on it. With a personalized beach towel, you can make a statement that's all your own.
And with the right customization, you can make your beach towel stand out like no other!
KNOW MORE ABOUT PERSONALIZED BEACH TOWELS
Are you looking to create one-of-a-kind beach towels to personalized with printed pictures for the warmer months? Look no further than CanvasChamp!
Make your child's beach experience even more memorable with personalized beach towels with photos! Our custom-printed beach towels feature your child's name, favorite character, or a fun phrase. Choose from various bright and vibrant colors to bring a smile to your child's face. With our personalized beach towels, your child will be the envy of the beach!
Personalized Beach Towel Design Ideas with Photos
CanvasChamp Beach Towels are perfect for the spring and summer seasons. Whether it is beach days spent lounging on the sand, sunbathing, drying off after swimming in the lake or spending the day on the boat, these polyester towels are super absorbent and customizable.
When it comes to design, the possibilities are limited only to the designer's imagination!
Idea 1 – Add Business Logo on Beach Towel
One terrific design idea is to upload and utilize your business logo. This type of product personalization is a fantastic way to generate free advertising for your business, whether from employees using them or loyal customers!
Take it one step further and match your logo with the overall color of the beach towel. Matching the emblem with a towel color will craft a seamless, professional design that catches the eyes of everyone who sees them.
Ideas 2 – Add Family Photo on Beach Towel
Elevate your next vacation or family reunion with beach towels personalized with a photo or photos of your beautiful family! Lay out on the shimmery sands of the beach on a warm summer day, in the grass for a family picnic full of delicious treats and beverages, etc.
Wherever you take it, you can count on CanvasChamp printed Beach Towels to be durable, absorbable, and stylish.
Idea 3 – Add Cliparts on Personalized Beach Towels
Don't want to add any images? No problem! Several clip art options are available for use in the CanvasChamp design tool. These are an excellent option for personalizing kids' beach towels, especially!
Idea 4 – Add Text or Name on Personalized Beach Towel
Whether in addition to or instead of images or a logo, the text is an excellent asset to a personalized beach towel. For example, if combined with your logo, you could add your business name or employee name to every person's towel.
On the other hand, if you are crafting a photo beach towel for your kids, you can add their names. Similarly, suppose you are designing a set of towels for a family event. In that case, someone can add the last name and a family photo to create a special memory for the trip or reunion you are celebrating.
Idea 5 – Personalized Beach Towels for Wedding Favors
Beach towels are the perfect favor for a summer wedding. Add your guests' names, a fun photo of you and your spouse, and anything you think encapsulates your special day. We guarantee this is a wedding favor that everyone will love!
Idea 6 – Personalized Beach Towels for Brand Promotions
Did you know you could add your business logo to items you design with CanvasChamp? That's right; you can upload your company's logo to our design tool and add it to a beach towel for some excellent brand promotion. What better marketing strategy than making customers associate your brand with a fun day at the beach?
Add Fun to Pool with Personalized Towels
Is there anything better than a pool day during the summer? You get together with your friends, take turns jumping into the pool, maybe have a water balloon fight, it's just fun all the way around. And you know what makes the pool days even more fun?
Customized pool towels! Make custom pool towels for your friends featuring their faces and names as a fun gift they can use for the rest of the summer. Or, for a fun family gift, you can make personalized pool towels for everyone in your family. And if you need a lot of pool towels for all your summer fun, you can order personalized pool towels in bulk.
How to Design Your Personalized Beach Towels
So, how do you design your personalised beach towel with CanvasChamp? First, go to the design tool on our website and select the product you would like to customize, in this case, a beach towel.
Then, select the towel color and size. Next, you must decide which images, text, or both and upload them to the design tool. Finally, you can select photos from your mobile device, computer, or social media platforms, including Facebook and Instagram.
What Does Wholesale Means for Personalized Beach Towel?
Wholesale shopping is the practice of buying products in bulk from a manufacturer, distributor, or other large retailer with the intention of reselling the items for a profit. It is a great way to save money and buy in bulk for any business or individual.
When shopping personalized beach towels in bulk for pool or beach, you can often find items at discounted prices and even special deals and discounts. Wholesale shopping also allows for more flexibility, as you can often find a variety of different items to fit your specific needs.
Benefits of Buying Personalized Beach Towel in Bulk
Buying personalized beach towels in bulk is an effective way for companies to reduce costs, save time and maximize efficiency. Bulk buying can provide several benefits, including:
Cost Savings: Bulk orders of personalized beach towels often come with a discounted price, so you can save money on the items you need. This is especially beneficial for companies that need to buy large quantities of items on a regular basis.
Time Savings: Bulk buying eliminates the need to place multiple, smaller orders over time. You can buy the items you need all at once at a cheap price and get them delivered quickly, saving you valuable time and resources on personalized beach towel.
Efficiency: Bulk orders help streamline the purchasing process by consolidating orders into one large shipment. This helps reduce paperwork and administrative costs, leading to greater efficiency and cost savings.
Buy More, Save More on Personalised Beach Towel
One of the main benefits of wholesale shopping of personalized beach towels is the savings! With CanvasChamp, you can purchase your favorite photo gifts in bulk and get special discounts. You can save 10-20% on your order when shopping wholesale. Of course, the value you will receive will depend on the items and the volume of items purchased.
Register With Us
You must register for an account to cash in on these discounts and order in bulk with us. Email us at cs@canvaschamp.com to be registered as a wholesale shopper. You are, by default, given access to discount rates on your bulk orders with us. Depending on your orders, we offer a 10% discount on all orders till $800, and then larger discounts from there.
Get a Free Quote on Personalized Beach Towel
You can easily request a free quote for any wholesale order by filling out a simple survey form on our website. Our team will need the following information: name, email address, company name, average monthly order (number of items), phone number, and a comment regarding the quote you seek.
Shipping and Returns on Beach Towel
Regarding shipping fees, we charge a flat rate of $9.99 for orders totaling less than $99.00. Free shipping is offered to customers whose total is more than $100. However, for bulk orders, CanvasChamp may waive any shipping costs.
If an item needs to be returned, no need to worry! At CanvasChamp, we offer a 100% money back guarantee, however the item needs to be returned within 30 days. Whether you request a refund or replacement, our customer support team will be more than happy to assist you with this process.
Personalized Beach Towels – General FAQs
How do you personalize a beach towel?
There are numerous ways to personalize a beach towel, but CanvasChamp makes it easy! Somebody can add a photo, design, logo, or name to the CanvasChamp design tool on our website.
What size should beach towels be?
Beach towels come in a variety of sizes, and the size you choose will depend on your personal preference. Typical beach towel sizes range from 27"x55" inches to 30"x70" inches.
What is considered an oversized beach towel?
An oversized beach towel typically measures around 30" x 70", which is quite a bit larger than a standard-sized beach towel.
How often should you replace beach towels?
This depends on how often you use them and how well you take care of them. Generally, beach towels should be replaced every year or two if they are heavily used or every three to five years if they are only used occasionally.
Can I put a picture on a beach towel?
Yes, you can put a picture on a beach towel. Many stores offer personalized beach towels that you can upload a picture of too.