Great Savings

We have the best prices, period. Be sure to watch for our specials for the best of the best!

100% Satisfaction

We know you'll love your canvas wall art, so it's easy to stand behind our products. If you are not satisfied for any reason, just return it for a full refund.

Specials

Free shipping, extra discounts, new products, and more! Sign up for our mailing list to always be the first to know about our specials.
Everything you need to know about hanging art prints
You can always trust CanvasChamp for quality canvas prints, fast processing, and quick delivery!
Hanging canvas wall art brings a clean, natural touch to your décor. We'll print your image on high-quality canvas and set it off with two dramatic wooden hangers. These hanging prints have a rustic look that looks great anywhere. Our hanging canvas art proves the maxim that "less is more."
Hanging Canvas Wall Art Prints
Add a rustic touch to your timeless memories. There are so many ways to hang your canvas art! Arrange multiple hanging canvases to create a great effect. A single canvas looks great anywhere. Vertical collage prints fill those difficult spaces. Larger prints have a simple presence in any room.
Create Your Hanging Canvas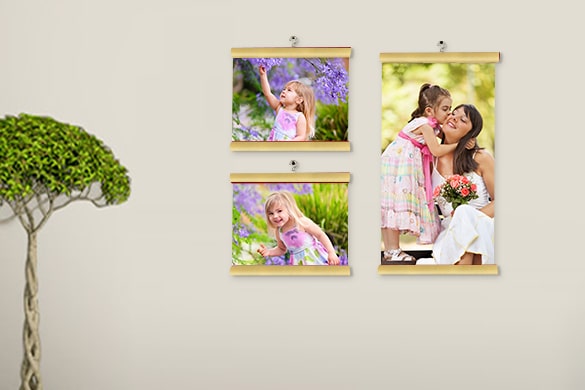 The Wooden Hangers
Our wooden hangers are made from chipped wood and hold fast to your print with powerful rare earth magnets. A simple bit of twine (included) and a nail are all you need to beautify any place in your home or office.
Our simple-but-lovely hangers bring out the beauty of your hanging prints. Choose the right color to make your wall art "pop"!
It's Easy!
Creating hanging wall art from your photos is as simple as the art itself.
Import Your Photos

Customize Your Canvas Art

Hang Your Canvas Art!
Hanging Canvas Prints - A timeless look for your timeless memories
Want to fill the whitespaces in your house but wondering how?
Well, you aren't the only one to be muddled, there are many looking for creative and unique ways to decorate their home by filling the empty white spaces on wall.
We have a gorgeous customized solution for you!!
Well, you read that right.
We are here talking about our newly released product hanging canvas prints. The unmatched expression of art form is designed and developed under close surveillance of expert artisans at CanvasChamp.
Hanging canvas prints can be used to transform Photos to canvas for special moments related to every occasion. Our team of experts has gained commendable accolades for bringing life to the good old memories shared with loved ones.
Start creating inexpensive hanging canvas prints today
Isn't that simple? At CanvasChamp we have designed a user friendly way to order, which allows you to order hanging canvas prints online. All you need to do is share your photographs with us, customize your hanging canvas frame and leave it on our expert artisans. We'll ensure delivering the best hanging canvas prints at your doorstep.
Creative Alternatives for Wall Art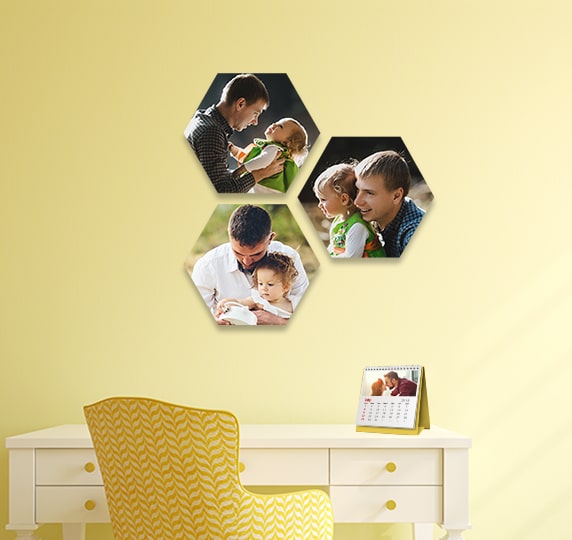 Hexagon Canvas Prints
Combine as many as ten of these unique hexagon wraps or hang them individually. Print an entire collage or add to your collection slowly. Hexagon canvas prints are the perfect display for a growing family.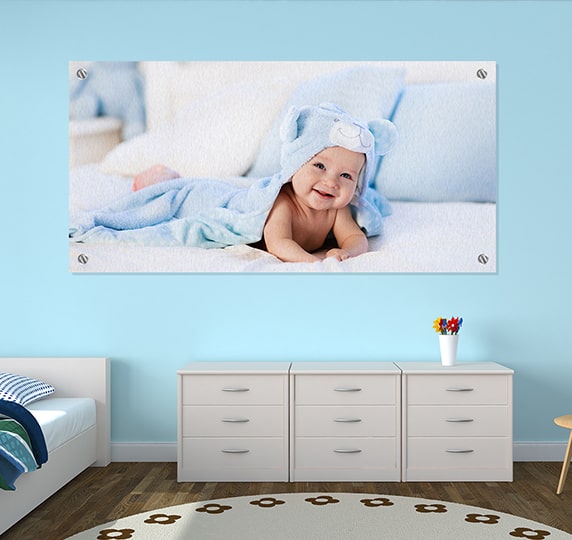 Metal Prints
Metal prints add a dramatic touch to any room. Elegant and shiny, they always attract attention!
For long-lasting prints that hold up anywhere, try our frameless metal prints!