Design Your Shaped Canvas Prints
We make it easy for you to design custom shaped canvas prints for home or office decor. Custom shaped canvas prints with your artwork, text, and photos make unique gifts for many occasions.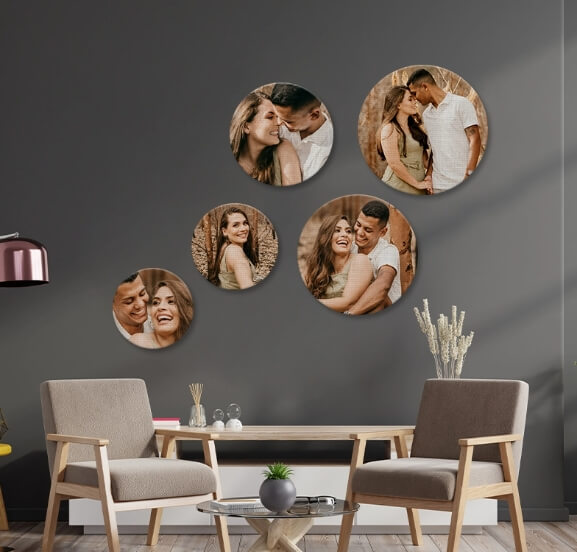 Custom Round Canvas Prints
You've seen standard square and rectangle canvas prints in art galleries, museums, homes and offices. You may even have some canvas prints in your own home, and if you bought them from CanvasChamp, we thank you!
But have you seen printed canvases in shapes like circles and triangles before? As one of the world's leading printers of custom canvas prints, CanvasChamp is excited to offer these new shapes to take your canvas print options to the next level.
Round Canvas Details
As always, canvas prints from CanvasChamp come with a 99+ year warranty, which means you can happily pass on your best photos on canvas as an heirloom for generations. We are pleased to offer, for the first time ever, round canvas prints:
Sizes: 10 sizes in 4" increments from 12" to 48" diameter
Material: Heirloom-quality canvas
Thickness: 0.6"
Hardware: Sawtooth Hanger & Hanging Hooks
Wrap: Border color wrap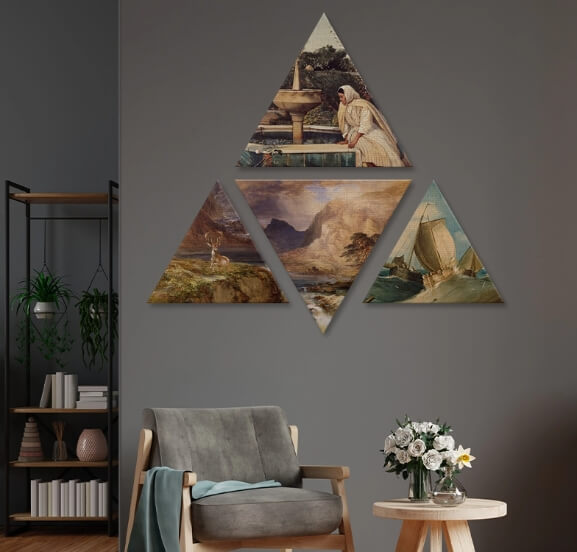 Custom Triangle Canvas Prints
Triangle shaped canvas prints give you even more creative options for displaying wall art and photographs. A single canvas can make a very creative statement, but multiple triangle canvases together can be even more creative. Think about splitting a single image, either a photo or an abstract image, across multiple canvases.
Visitors to your home or office will be amazed at the stunning visual statement you make with triangle canvases. As always, we make it super easy for you to create canvas prints online with our simple design tool that takes you step-by-step through the process until you have finished artwork just the way you want it!
Triangle Canvas Details
Of course, we use the same quality canvas for triangle prints as we do for everything else. That way you are assured of getting the best quality prints for your money. Not only that, they last a lifetime! Similar to round canvas prints, our triangles are as follows, and you can get them in two different thicknesses:
Sizes: 10 sizes in 4" increments from 12" to 48" length each side
Material: Heirloom-quality canvas
Thickness: 0.75" & 1.5"
Hardware: Ready to Hang, Sawtooth Hanger, Hanging Hooks and Dust Cover Back
Wrap: Border color wrap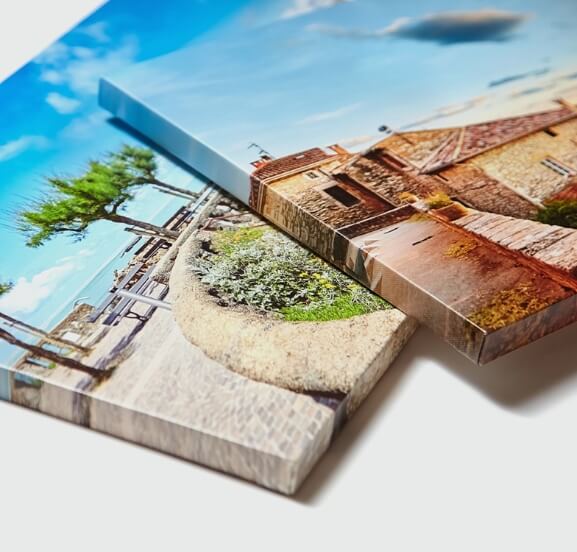 Gallery Wrapped Shaped Canvas Prints
Even with the addition of our new canvas prints in custom shapes, remember that we still carry classic gallery wrapped canvas wall art in tons of sizes. Available in square and rectangular shapes in both portrait and landscape, our vast selection of styles and options is sure to be the perfect solution for all your canvas prints needs for home or office, for yourself or as gifts.
How to Order Custom Shaped Canvas Prints
Like most things these days, you can do it all online. So easy! From start to finish you can design as many canvases as you need for every room in your home or office right from the comfort of your own couch. Use your laptop, tablet or phone to access our online design tool directly on our website. You can choose any photos or artwork you have, either from your computer, smart phone, or social media accounts.
As for customization options, you're limited only by your imagination. Though it may sound complicated, it's really very easy. Just hop online and get started choosing your photos, graphics and text. You won't believe how easy and fun it is to design your canvas prints in these custom shapes!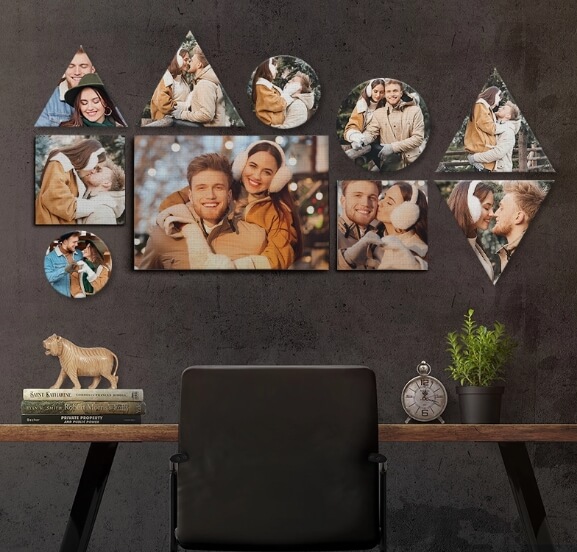 Unique Decor Options for Custom Shaped Canvas Prints
Liven up the creative decor in your home with the unique shaped canvas prints. Square and rectangle shaped canvas prints and photos are definitely classics, but these new offerings are guaranteed to make your home unique in so many creative and awe-inspiring ways.
There are so many possibilities:
Fun custom child's room decor
Modern living room and dining room accents
Clever kitchen decor
Creative art gallery decor
Portrait or silhouette prints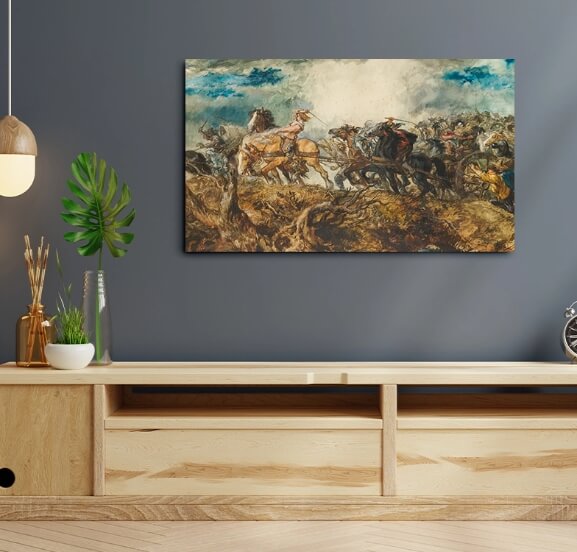 New & Unique Choices in Shaped Canvas Prints
At CanvasChamp, we're canvas printing pros; we've been in the business a long time and our experience shows in the quality products we provide to our loyal customers.
We are genuinely excited about offering you these new shaped canvas prints. They're so unique and fresh that they'll really spark your creativity, urging you to print multiple canvases for the most unique wall art anywhere.
As with many other personalized products available through CanvasChamp.com, customers can create completely customized canvas prints totally online. Our site is very user-friendly, allowing you to easily customize your order. All standard graphics formats are acceptable, and an array of fonts are available
FAQs on Shaped Canvas Prints
What resolution is best for printed images and text on canvas?
We recommend using a minimum of 200 dpi or larger for images or graphics that are uploaded. Text entered through our design tool is already primed for optimal resolution and needs no further adjustment.
What technology is used for printing?
We use the highest quality ultraviolet screen printing technology. We use a Pantone matching system to ensure quality color correction, and all of our custom shaped canvas have a protective clear coat for stain resistance and easy cleanup.
What if I want only photos or graphics and no text?
You can certainly do that within the design tool. Just follow the step-by-step instructions when choosing colors, bypassing the text options. Feel free to reach out to our helpful staff if you have questions while designing your round, triangle, oval and heart canvas prints.
Can I order custom round and triangle canvas prints in bulk?
For all questions regarding bulk orders, please reach out to our customer service team. You can call our toll-free number 1-800-993-0992 or email us at cs@canvaschamp.com. In addition to those two options, we also offer a chat feature on our website that will immediately connect you with a member of our support staff.