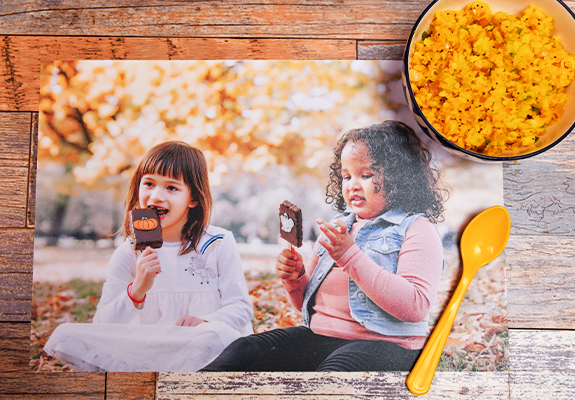 Custom Table Mat
Bring your dining room table to life with cheap custom photo placemats. Design a photo placemat for your friends and family to enjoy during breakfast, lunch, and dinner.
Make a picture placemat using your favorite images, brand logo, cartoon character, or personalized text. Create multiple mats that showcase the same image, or create various photo table mats that show off your personality with our exclusive placement photo printing.
We offer multiple background options and different layouts for single images or multiple images to create a collage.
Photo Placemats Specifications:
Circle: 12" x 18"
Lamination finish on both sides of the mat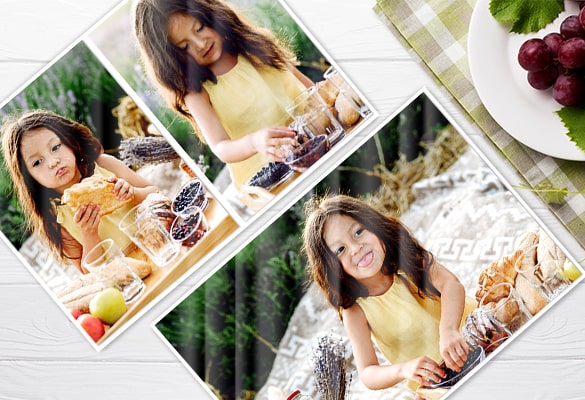 Why You Should Create Custom Photo Placemats
Our custom table mats allow you to personalize your dining room and get rid of the blank spaces around the table. Avoid stains and spills from hot plates and drink when you place your tableware on the mats.
Custom photo placemats are also great for business owners and those with brands. You're able to market your business and make a professional impression on clients and customers that support your business.
Photo placemats also make for great gifts! Place fun photo memories, illustrations, your favorite artwork, and more on a sturdy table mat that your loved ones can use each day they sit down to enjoy their favorite meal.
Our tablemats are created with stain-resistant and durable material that allows them to last for years to come.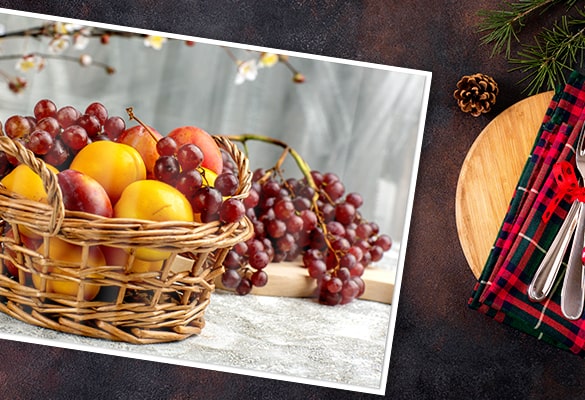 Custom Table Mats Are Ideal For
Birthdays
Dinner Parties
Anniversary Gifts
Christmas Gifts
Wedding Party Favors
Corporate Branding
Product Launches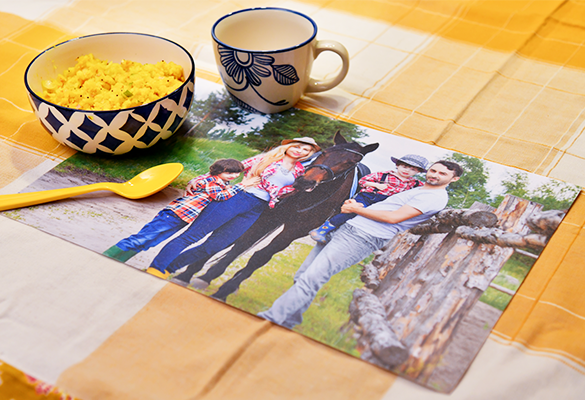 Get Started with Designing
We make it easy to design your custom photo placemat! Our online design tool is easy to use and allows you to create a masterpiece in just a few clicks.
Simply upload images from your Google Drive, computer files, or your social media profile, choose a background if desired, and add text for personalization.
Once your design is finalized, preview your digital proof. After your proof is approved, simply input your payment method, and we'll handle the rest!
If you still need assistance with your table mat design, our team of experts is available for a chat or call.
Frequently Asked Questions
Q:

When will my custom photo placemat arrive?

A:

Once you finalize your design and submit payment, please allow between 3-7 days for your order to ship out and deliver to your doorstep.

Q:

What type of files can I upload to create my custom table mat?

A:

We recommend uploading JPEG, JPG, PNG file types to create your placemat. This ensures that your picture quality is not distorted and prints correctly on the custom photo mat.

Q:

Am I able to print on both sides of my custom table mat?

A:

Yes. Both sides of the photo table mat can be customized with an image, logo, or text of your choice.

Q:

Is there a design template available to create my photo table mat with your placemat photo printing?

A:

Yes. Our website design tool serves as a template for your custom table mat. The design tool outlines the exact size and shape of the table mat, so you're able to see how your image will appear before finalizing the design.

Q:

Can I add additional elements to my custom photo table mat?

A:

At this time, we are not offering additional elements or decorations to be added to photo table mats outside of the traditional image, design, and text.