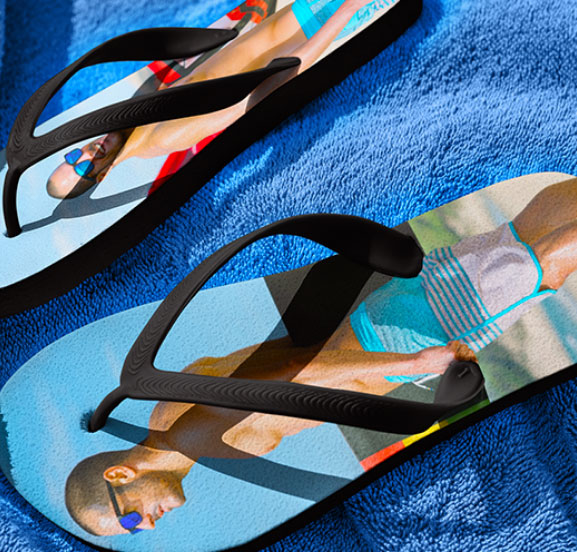 Personalized Flip Flops Details
Personalizing your flip flops is easy, and you're limited only by your imagination. You can even have a different photo on each flip flop. At CanvasChamp, we're printing pros, so we use only high-end printing technology making sure your printed images are vivid and colorful.
Our classic flip flops are flexible, slip-resistant, smooth and comfortable. With 15mm foam rubber soles and plastic straps these custom flip flops are the ideal surface to personalize in any way you choose. They're available in the following sizes to fit most anyone:
Flip Flop Sizes (approx. length in inches):

Small - 10.25"
Medium - 11"
Large - 11.75"
Extra Large - 12.5"
Kids Large - 9.25"

Material: Foam rubber
Thickness: 15mm
Sturdy rubber straps keep your feet from slipping out when you least expect it. But like all flip flops, you can easily slide them on and off when you want to. Plus, when you customize them with photos and designs of your own, these flip flops are as fun to look at as they are to wear!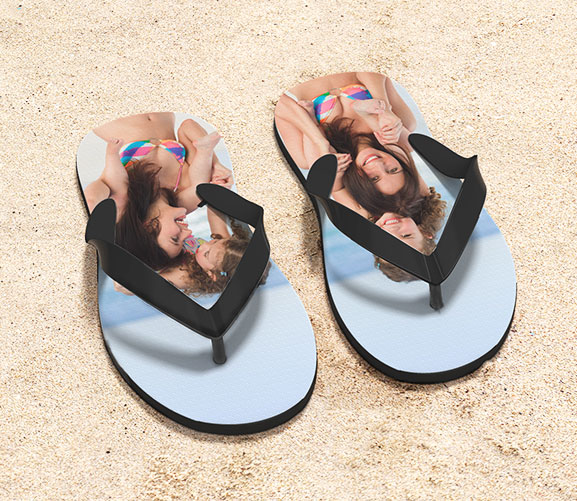 Fun Custom Flip Flops for Any Occasion
Flip flops have been one of the most popular casual sandals for decades. Everyone seems to have a pair. Just putting on a pair makes you feel more relaxed and in that "beachy" mood.
Make your flip flops totally unique when you personalize them at CanvasChamp.com. There are so many ways you can design them, and with sizes to fit most anyone the possibilities are endless.
Custom flip flops are great for families: from grandparents on down to the littlest kids, everyone will get a kick out of them! They're perfect for summer camp groups, swim teams, family reunions at the shore, and as shower shoes at the gym.
Here are a few creative and fun opportunities for you to design custom flip flops:
Swim Teams
Summer Camp Groups
Fundraisers
Festival Merchandise
Advertising Specialties
Everyone loves wearing flip flops, and these are perfect for adults and kids. We can print photos, graphics, business logos, vacation resort logos, and just about anything you can think of. Make your next vacation or backyard get-together one to remember with custom designed and printed flip flops!