Popular Choices for Valentine's Day Gift Ideas
Valentine's Day Special Photo Gifts
Declare Love With These Custom Photo Gifts
Celebrate Your Love With Personalized Gifts
Place Order In Less Than 5 Minutes
Yes at Canvas Champ you can customize your products in minutes for Valentine's day gifts
Choose Size

Select Layout

Upload Image

Checkout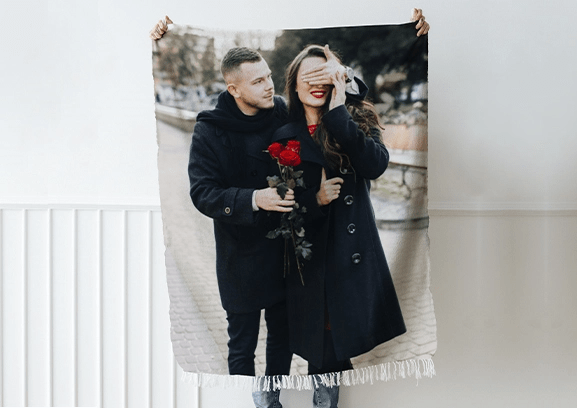 Valentine's Day
Get in the Valentine's Day spirit with custom photo gifts from CanvasChamp! Show your significant other just how much you adore them and celebrate your one-in-a-million love story. Don't wait, order today and surprise them with thoughtful gifts such as photo books, heart-shaped moon lamps, custom woven blankets, and much more!
Benefits of Valentine's Day Deals:
Shopping with CanvasChamp this Valentine's Day makes shopping for the perfect gift easy! Browse our wide selection of customizable photo gifts that will leave your significant other speechless.
FAQs - Valentine's Day Deals
What kind of products do you sell on Valentine's Day 2022?
All of the products that we usually sell on CanvasChamp.com will be available for purchase for Valentine's Day. Shop our selection today!
Can I customize my Valentine's Day photo items?
Yes, absolutely! You can easily customize your Valentine's Day photo gifts by using the CanvasChamp customization tool.
How do I order Valentine's Day gifts online?
Simply visit us at CanvasChamp.com to shop photo gifts this Valentine's Day!
How many photos can I use in a custom gift for Valentine's Day?
Depending upon which photo gift you choose to customize, you can add up to 24 different photos to the item!
Can I make Valentine's Day photo gifts on my phone?
Absolutely! You can easily create one-of-a-kind photo gifts using the CanvasChamp customization tool right on your phone.
Can I edit the photos on my gift?
Yes, you can! Easily make any edits you see fit in the customization tool. A final proof of your edited image will be sent to you for approval before it is printed on the item.
Which image file type should I upload?
Our customization tool accepts several file types, including PNG, JPG, and BMP files up to 25MB.
Are deals better on Valentine's Day?
For further information on all our active deals and offers, visit our offers page on CanvasChamp.com.
General FAQs - Valentine's Day Details
How many days does it take to ship a product out?
Our shipping is lightning fast! We have a few shipping options available, including Standard (8-10 days), Express (5-7 days), and Priority (3-5 days), which are all carried out by well-known carrier companies that you can trust.
Are there any additional Valentine's Day Deals going on?
Stay up to date on all of our current deals by visiting our offers page.
Will it be here by the Valentine's Day holidays?
For standard shipping, be sure to order your Valentine's Day gifts by February 4th to ensure they arrive on time, as it can take up to 10 days to reach your doorstep!
How can I find or track my purchase?
You can use either FedEx or UPS to track your purchase until it safely arrives.
Do you offer Valentine's Day gift cards?
Yes, we do! You can purchase gift cards on our website and allow your loved ones to choose and customize photo gifts themselves this Valentine's Day!
What payment options are there for Valentine's Day sales in USA?
At CanvasChamp, we accept Paypal, Visa, Mastercard, American Express, and Discover card payments.