Why Buy Custom Bolster Pillows from CanvasChamp?
Ship within 24 Hours

Buy Now, Pay Later

Best Quality Assured

Custom Design Options
Size Category of Custom Bolster Pillow
Explore Different Size Options to Create the Best Pillow
Small Size Bolster Pillow

Medium Size Bolster Pillow

Large Size Bolster Pillow
Design Ideas for Custom Bolster Pillow
Our personalized bolster pillows are incredibly versatile. Explore the most trending bolster pillow design ideas to find the perfect look for your pillow.
Family Photo on Bolster Pillow

Friends Photo on Bolster Pillow

Dad Photo on Bolster Pillow

Mom Photo on Bolster Pillow

Sister Photo on Bolster Pillow

Brother Photo on Bolster Pillow

Wife Photo on Bolster Pillow

Husband Photo on Bolster Pillow

Couple Photo on Bolster Pillow

Pet Photo on Bolster Pillow

Daughter Photo on Bolster Pillow

Son Photo on Bolster Pillow
Add Multiple Photos on Custom Bolster Pillow
Our bolster pillows can be customized to feature more than one photo. Find the configuration that works perfectly for you!
One Photo

Two Photos

Three Photos

Four Photos
How to Design the Perfect Custom Bolster Pillows
Learn all about CanvasChamp's easy customization process and how to personalize your bolster pillow online.
Choose the Size of Bolster Pillow

To create a custom-made bolster pillow; you first must decide which size you will personalize. There are three sizes: small, medium, and large, all with generous image areas.

Upload Photo on Bolster Pillow

Next, decide what image you want to display on the personalized bolster pillow. Upload that photo to the CanvasChamp design tool and align it within the image area of the pillow.

Add Text on Bolster Pillow

You can customize it further by adding clipart or text. Whether you add one or the other, both options will surely add a personal touch to this bolster pillow.

Add to Cart and Buy

Once you are happy with the design you have created, add the custom bolster pillow to your CanvasChamp cart. When it is ready, our team will deliver custom-made bolster anywhere in USA with complete care directly to your door!
Perfect Bolster Pillows for Everyone – Personalized Gift Ideas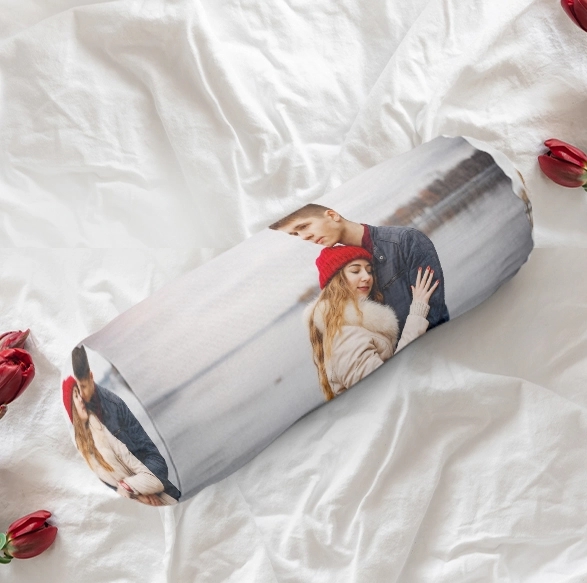 Get inspired with these custom bolster pillow design ideas for everyone from your mom to your best friend.
A personalized bolster pillow is a terrific gift for anyone! Whether you are searching for the perfect gift for your parents, grandparents, friends, coworkers, or someone else you care about, bolster pillows are a great custom gift for everyone.
These throw pillows add an elegant touch to any commercial or personal space. The unique shape and ability to add individual images make bolster pillows versatile and attractive.
CanvasChamp custom indoor bolster pillows are comfortable and durable. They are the best choice for decorative throw pillows for reading chairs, living room couches, and reception areas.
Plus, these pillows are super affordable without compromising on quality or comfort. Consider giving it as a gift; it is a fantastic way to show someone you care!
Not Just a Customized Item, it is a One-of-a-Kind Pillow:
Personalized bolster pillows are the perfect way to elevate relaxing activities, such as curling up with an enjoyable book or binge-watching your favorite TV show. Customize it for yourself or a loved one with photos, text, clipart, or all the above.
You can make a statement in any space with a custom bolster pillow! Plus, with the customization options, the pillow you design will be one-of-a-kind.
Usage of Custom Bolster Pillow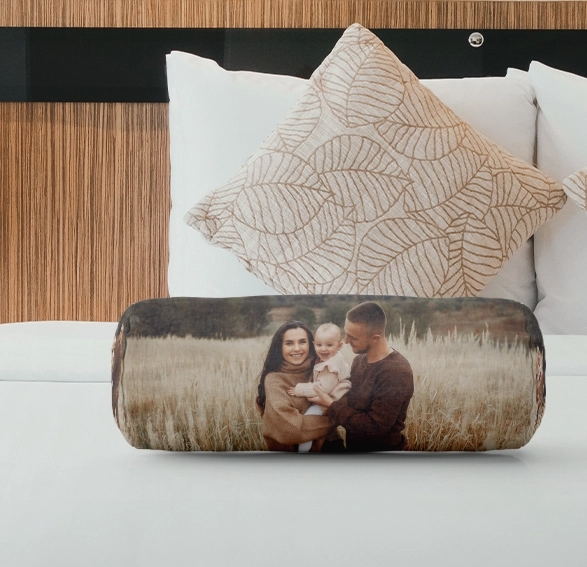 Find the perfect use for our incredibly versatile bolster pillows.
Improved sleep quality.
Increased neck support for painful joints and muscles.
As an assistant in daily yoga practices.
Lounging on the couch or in your favorite reading chair.
Decoration at the center of a sofa, bed, or chaise.
Know More Usage of Personalized Bolster Pillow:
Decorative Accent: A custom bolster pillow can add a stylish and personalized touch to your home decor, whether placed on a bed, sofa, or chair.
Lumbar and Neck Support: Use the bolster pillow to provide comfortable support to your lower back and neck, especially when sitting for extended periods or during relaxation.
Pregnancy and Postnatal Support: Custom bolster pillows can offer targeted support to pregnant women, providing relief for the back, belly, and hips. They can also assist with postnatal recovery.
Yoga and Meditation Aid: Bolster pillows are excellent props for yoga and meditation, helping to maintain proper alignment, support various poses, and promote relaxation.
Post-surgery and Therapeutic Use: Custom bolster pillows can aid in recovery from surgeries or injuries by providing targeted support and positioning for optimal comfort and healing. Bolster Pillow are also useful in therapeutic settings such as massage or physical therapy.
Custom Bolster Pillows for Brand Promotion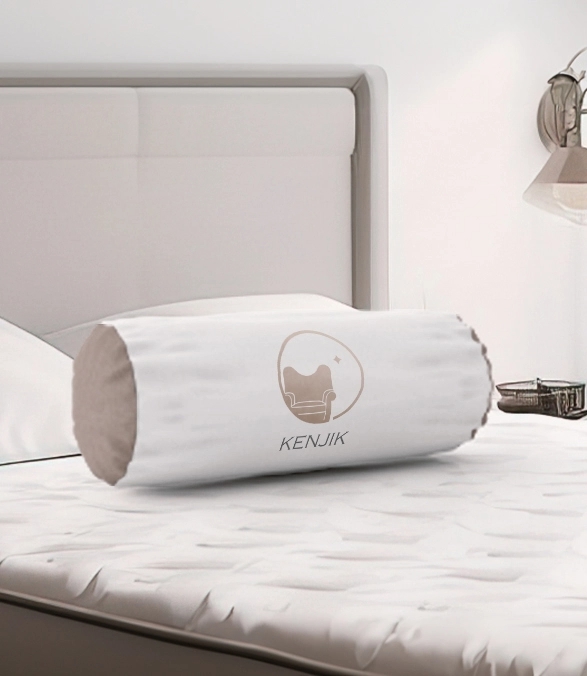 Advertise in style with bolster pillows customized with your logo.
Make an impact with these custom bolster pillow covers featuring your company's logo. Adding comfort to any space, these pillows act as free advertising wherever you display them. Attract new clients and impress existing ones with these sophisticated, personalized photo items!
Advantages Custom Bolster Pillows for Brand Promotion:
Unique branding opportunity.
Increased brand visibility.
Practical and functional.
Customizable design options.
Versatile branding medium.
Long-lasting advertising.
Enhanced customer engagement.
Cost-effective marketing solution.
Reasons to Buy Custom Bolster Pillows in Bulk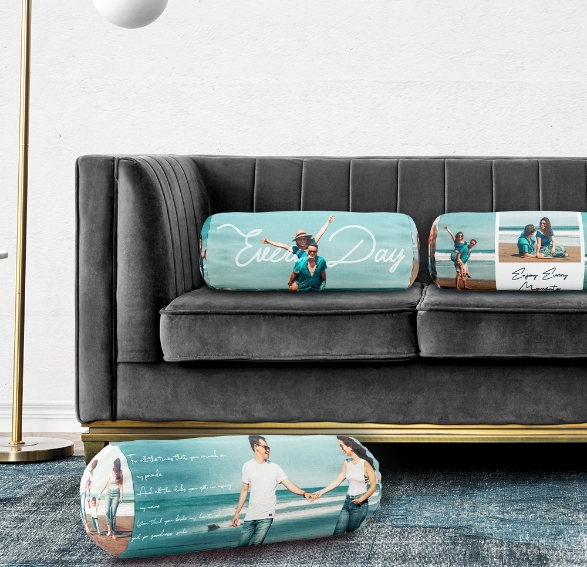 Check Out CanvasChamp's Awesome Bulk Order Deal!
Custom-made bolster pillows are terrific items to purchase in bulk. These pillows are comfortable and plush and can be personalized to fit your unique style. Plus, bolster pillows from CanvasChamp are very affordable! Sign up to become a wholesaler with CanvasChamp by emailing our customer service team. Send your request and business information to cs@canvaschamp.com.
24 Hour Shipping
Are you looking forward to receiving your custom bolster pillows as soon as possible? Consider our 24-hour shipping option! You can expedite your photo items to your door for a small fee. Just 24 hours after the CanvasChamp team gets your one-of-a-kind design, your personalized bolster pillows will be ready to ship out!
Buy Now, Pay Later
Another terrific benefit of shopping with CanvasChamp is the buy now, pay later option. This allows you to order your bolster pillows ASAP and make four interest-free payments on orders between $30-$1,500! Whether looking for stylish ways to advertise your business or a cozy element for your living space, custom bolster pillows from CanvasChamp are an excellent choice. Plus, split the cost manageably over time with this feature!
FAQs on Custom Bolster Pillow
Can I customize the design of a bolster pillow?
Yes, bolster pillows can be customized with your preferred design, logo, and colors in design tool of CanvasChamp.
Where can custom bolster pillows be used?
Custom bolster pillows can be used in various settings such as homes, hotels, retail spaces, trade shows, and events. CanvasChamp offers high quality of bolster pillows.
What are the advantages of using custom bolster pillows for brand promotion?
Custom bolster pillows offer unique branding opportunities, increased brand visibility, and serve as practical and functional promotional items.
How long do custom bolster pillows last?
When made with high-quality materials, custom bolster pillows can have a long lifespan and retain their shape and appearance for an extended period.
How can custom bolster pillows enhance customer engagement?
Custom bolster pillows can be used as gifts, incentives, or part of loyalty programs, fostering a deeper connection with customers.