Personalized Engraved Wooden Plaques
The photos on wood are laser engraved to make special personalized tokens or gifts. Engravings can be done on marble, granite, or wood and only the highest quality products are used. We also provide a same-day service for specific products.
How Do Engravings on Wood Work?
To have your picture engraved onto a wooden plaque, start by choosing the size of the wood you want your image engraved on. There are four sizes available: 5" x 7", 6" x 8", 7½" x 10", and 9" x 12". After this is done, you will choose the layout. We have three different layouts available: best fit, landscape, and portrait. Then upload the image you wish to have engraved on the piece of wood, choose the text that you want engraved with your picture, and then select the border you like the best.
Type of Wood
We only use the highest quality steamed beech timber as the wood for your engravings. This ensures that the results are spectacular. We also make sure that we use only your high-quality image so that the results for the engravings are superb.
Our Process of Photo Editing
We start the process of photo engraving on wood and editing by first asking you to send us a picture that you would like to be engraved. Once we receive your photo, we will use our special software to remove the background of the picture so that the file can be sent for the engraving process. Next, the photo will be converted into a file that can be engraved.
Example of Engraved Wooden Plaques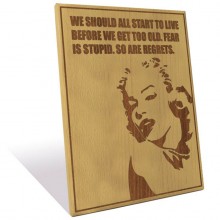 Shipping Information and Other Policies
We will ship your order anywhere within the United States within seven days of you placing your order with us. Since we want you to be completely satisfied with the product we are offering, we also provide a 30-day return policy. Therefore, if you feel that the product you receive is not up to your expectations, you may return it. We will also replace your order if it gets damaged during the shipping process. Such damages are highly unlikely as we take great care in making sure that your product gets delivered to you safely.
Q:

Due to passing relatives, can you combine photos to create one family photo?

A:

Dear Customer, Greetings! Thank you for your question, As we have the photo collage option in where you can make one photo frame from all of your photos and you can see that option on the website and if you have more questions on this please do write us on cs@canvaschamp.com. Please let me know if there is anything further I can help you with. Kind regards, Mike, Canvas Champ. .

Q:

Is it possible to send personal wood to be engraved. I have specific sentimental wood I want to use. Thank you, Les

A:

We only print on the wood that we have in stock as it is set with technical specifications. we do not use any other wood.

Q:

I need two 8x10 wood plaques with photo engraved. Two of my dear friends passed away and these are a memorial to them. I would like their name and birth year to year of death on the bottom and then a small 10-15 word tribute to the. Is this something you can help me with?

A:

We do have Engraved prints option available on the website in various sizes that meet your requirements. Check it here: www.canvaschamp.com/engraved-photos-on-wood-plaques

Q:

Do you send a preview of the product for approval prior to creating it?I would love to make sure the picture that I chose looks good on the wood before you create it.

A:

Hello there, Greetings! Please know that the online instant preview is not the actual proof of the image, that option is provided for the confirmation to the customer that they have uploaded the right image for the size they choose.Also as long as the original image you upload is in the right proportion and the good resolution there will not be any issue. We process all the order in a way that if there is any issue with respect to the resolution of the image or the proportion or the orientation of the image and our designer team thinks that it will not work we never print it for any order.We always send an email notification to the customer about the issue with the favorable solution for that as well. Still, if you have any concerns you can directly place the order and request the proof prior to printing by writing it on the comment section box at the checkout page. Thanks, Ronnie canvas champ

Q:

There is an section for text when ordering a custom picture engraving. What if you do not want that option?

A:

If you only require the image and no text on the engraved plaque then leave a space in the box for the text and leave it blank. You can then select the border option and add it to your cart. I hope this helps !

Q:

How can I clean my engraved print?

A:

You can clean your engraved print like any other wooden furniture that is cleaned, with a damp cloth to remove dust particles.

Q:

Can I make a name plate out of an engraved print?

A:

Yes of-course, we do have various font options and basic designs to engrave names in order to make a great name plate!

Q:

Can I use my custom picture to create an engraved print?

A:

Yes you can definitely use your own pictures or any custom picture and get an engraved print out of it.

Q:

Do they come along with stands?

A:

Yes Engraved prints come along with a table top stand and a hanging hook in case if one wants to hang it instead of placing on a surface.

Q:

What technology is used for engraving?

A:

We do Laser engraving on the wood. Laser engraving is the process of using a laser beam to burn or engrave on many forms of materials such as wood, metal, marble, granite, acrylic, glass and much more.
Ask about Engraved Photos on Wood and get answer in email.