Why Choose Circle-Shaped Canvas with CanvasChamp
Nationwide Shipping

$9.99 shipping on any cart value. We make it FREE on orders over $99.00!

6 million Canvas Shipped

Over 6 Million Canvas Prints Shipped Till Now!

Buy Now, Pay Later

Pay in 4 intrest-free payments on qualifying purchases.

Read More

100% Satisfaction Guarantee

We offer across our product lines a 100% satisfaction guarantee.

60 Day Return

We Have No Question Asked 60 Day Return Policy

Over 195K & 4.7 Star Reviews

We Have Over 195K Customer Reviews via Shopper Approved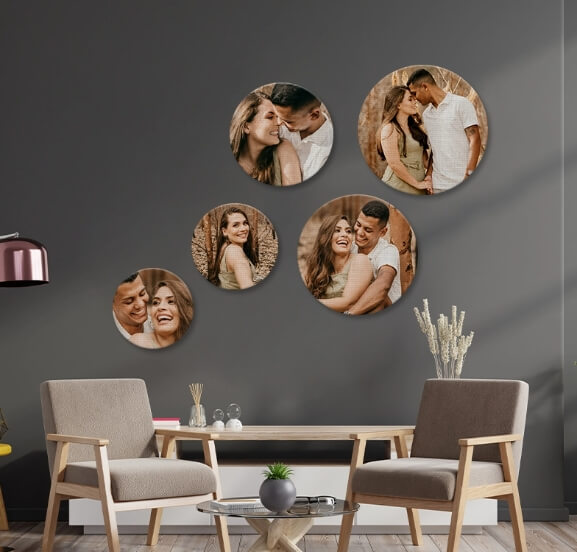 Custom Circle Canvas Prints
Circle-shaped canvas prints are a creative and unique way to showcase your favorite photos or artwork. They are perfect for adding a soft and modern touch to your home decor.
To create a circle-shaped canvas print, you can use any photo or image you like, such as a family photo, a landscape, or an abstract design. You can either create your own design or use a pre-made template from a printing company.
Once you have your image, you can upload it to a printing company's website and choose the size and type of canvas you want. Most printing companies offer a range of options, including different sizes, frame thicknesses, and canvas materials.
When you receive your circle-shaped canvas print, you can hang it on your wall using a picture hanger or display it on a shelf or table using a stand. Circle-shaped canvas prints can add a unique and elegant touch to your home decor and are perfect for a variety of occasions, such as weddings and anniversaries, or as a gift for someone special.
Circle Canvas Details:
Sizes: 10 sizes in 4" increments from 12" to 48" diameter
Material: Heirloom-quality canvas
Thickness: 0.6"
Hardware: Sawtooth Hanger & Hanging Hooks
Wrap: Border color wrap