Custom Photo Prints to Match Any Decor and for Any Occasion
Customize Your Space with High Quality Photo Prints
Choose from different sizing options from 3.5" x 5" - to - 30" x 40" to display some of your favorite pictures. Show off a photo of you and your best friend on your fridge, or blow up an incredible nature shot you took on a hike in the mountains for your living space.
We make it easy to order cheap photo prints while providing high quality material and finishing options. Add a professionally printed photo into a birthday card or holiday card or create a scrapbook for fun!
We offer a full range of sizes for your digital photo prints and four different finishes – glossy, matte, luster, and metallic.
Ordering your custom photo prints is easy with our staff available 24/7 to answer your questions and help with editing your photos.
Photo Print Quality Starts with the Paper
Choose Between Standard or Premium Prints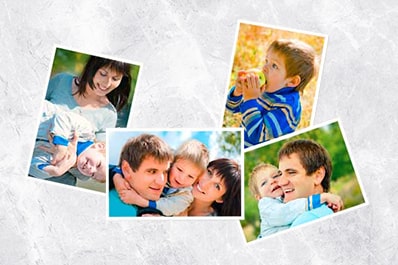 Standard Quality Photo Prints
Standard photo prints are recommended for bulk photo printing. Out standard prints are created on a light-weight paper, 150 grams per square meter (GSM).
Premium Quality Photo Prints
Premium prints are recommended for premium-quality photographic prints and printed on 180 GSM paper.
Four Ways to Add the Finishing Touch
Your choice of matte, glossy, lustre, or metallic finishes
This finish is very popular for snapshots. Like the name says, a final Shiny coating is applied over the photograph, which brings out the vibrancy of the colors. Compared to a matte finish, there is a heavier coating of sheen, making the images pop with bold color and vivid detail. The glossiness, however, can cause a glare, making photos difficult to view under some lighting conditions. There is the potential for glossy photos to stick to glass. The shiny finish also tends to show fingerprints and smudges, so it is not recommended for photos that will be handled a lot, unless they are protected in an album.

Glossy Finish

A matte finish uses less of the shiny coating applied to glossy photos, So this option don't play up the color as much as a glossy finish, and photos may appear a bit grainier. However, a matte finish does highlight the texture of an image. Therefore, a matte finish is recommended for photos with less vibrant colors or for black and white shots. Professional photographers, who make the most of color when shooting and editing, tend to prefer matte finishes because they are less likely to show fingerprints. The anti-glare properties of a matte finish make it a perfect choice for larger framed photos.

Matte Finish

Lustre prints give you the best of both glossy and matte finishes. They are slightly textured, which helps reduce glare and fingerprints. But the satin-like sheen results in much greater color saturation and detail compared to matte photos. Skin colors are true to life. Photographers tend to choose a lustre finish for wedding photos and portraits.

Lustre Finish

A metallic finish gives your photo a 3-D effect – with iridescent colors, Rich blacks, deeper contrasts, sharp details, and an overall metallic sheen. This option is designed for artistic creations rather than traditional wedding photos or family portraits. Metallic photo prints should be framed without glass. Photo prints with a metallic finish offer incomparable durability. They're waterproof. They resist stains, scratches, and tears. They won't yellow or fade from UV. And they won't be damaged by tape or adhesives.

Metallic Finish
Start Your Order Here!
Transform your digital photos into professional photo prints with these simple steps
Select Size

Choose between a portrait or landscape orientation

Upload Image

You can easily access photos from your computer, Facebook, or Instagram.

Select Border

Choose from our different border options or print without a border.

Paper Option

Choose standard (150 GSM) or premium (180 GSM) paper.
Why Order Premium Photo Prints?
Reasons why our premium photos prints are the best option
Love It Guarantee

Excellent Customer Service

Fast Orders

Quality And Affordable
Frequently Asked Questions
Q:

What are metallic photo prints?

A:

This ultra-bright, high-gloss finish gives your photo a striking 3D look with intense colors and a unique chrome-like appearance. It's extremely durable and resists stains, scratches, tears, and damage from UV light. This option is recommended more for artistic images than traditional portraits and should be framed without glass.

Q:

Is lustre or glossy better?

A:

Both finish options will give you vibrant colors; If you have snapshots you plan to put in an album, glossy would be the way to go. But if you plan to frame your photo, a glossy finish could stick to glass, so the lustre finish would be the choice for a keepsake portrait.

Q:

What is the best resolution for printing photos?

A:

The official standard for sharp, professional-looking images is 300 pixels per inch.

Q:

What are Panoramic Photo Prints?

A:

Panoramic images are digital photo prints that are stretched horizontally for a wide view. All minilabs QSS-32 series have the ability to print the new maximum size prints up to 305x914mm (12 x 36), which can be used for print advertising banners, group photos, etc.

Q:

What is the difference between matte and glossy pictures?

A:

A glossy finish does just what the name says – it glosses over the photo to give it a shine that makes the colors appear more vibrant. The coating is actually the same as what is used on a matte photo, except more of the final coating is used. Matte finish options resist fingerprints and glare on your high quality photo prints. Matte photos don't highlight the color as much as glossy photos and may appear a bit grainy because of the enhanced texture. A matte finish is a good choice for black and white photos and photos that will be framed.

Q:

How do I print a photo?

A:

It's fast and easy with our photo tools. Just click on the "Photo Prints" tab and upload your image(s). Select the size and orientation. Choose the border option. Select the paper quality and type of finish. Lastly, add your selection to your cart and get ready for professional-quality prints to arrive at your door. To print a larger picture, follow the same steps and select the custom photo print size you want.

Q:

Is 4 x 6 a standard photo size?

A:

Yes, 4 x 6 is one of the most popular sizes for snapshots. Our 4x 6 photo prints are the cheapest option but we also offer a 5 x 7 sizing option that's also great for standard photo prints.

Q:

What Makes Your Prints Professional?

A:

We bring your favorite shots to life with professional quality without breaking the bank. You can choose standard-quality photographic paper or upgrade to premium quality for keepsake photos. We offer four different finishes to give your photos the perfect final touch, and we have a full range of sizes that can be printed with or without borders.

Q:

What is a lustre photo finish?

A:

A lustre finish gives you the best of matte and glossy finishes. It features deep color saturation with high contrast and realistic-looking skin tones. The slight gloss with a subtle texture resists glare and fingerprints.
Ask about Photo Prints and get answer in email.