Easy Way to order Giclee on Canvas
90 Days return windows. Create Your Photo Collage On Canvas in 4 easy steps
Upload your image

Send us your image from any location or device

Choose the size

With any style or framing that suits you

Checkout

Pay easy and await the pictures at your door step.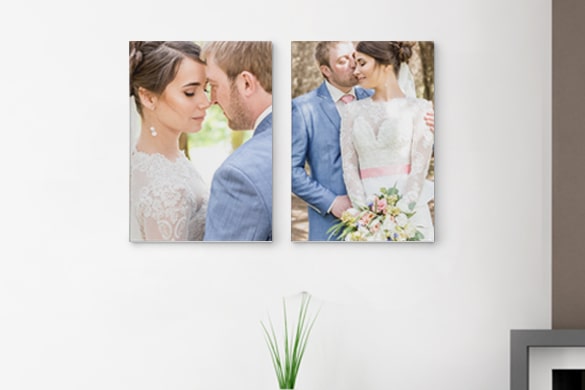 Gicleé Print On Canvas
Turn Your Photos Into Art Print on Giclee Canvas
Gicleé prints are typically created with professional ink-jet printers consisting of 8-color to 12-color. Some of the manufacturers of such printers include vanguards like MacDermid Colorspan, Hewlett Packard, and Epson. Such printers incorporate modern technology in them that helps to produce high quality and detailed prints for photographic as well as fine art markets.
The type of printing makes use of archival substrates and archival links that are fade resistant. Artists make use of this printing to reproduce their two-dimensional and original photographs, computer generated art, or artwork for the purposes of reselling them and keeping the original.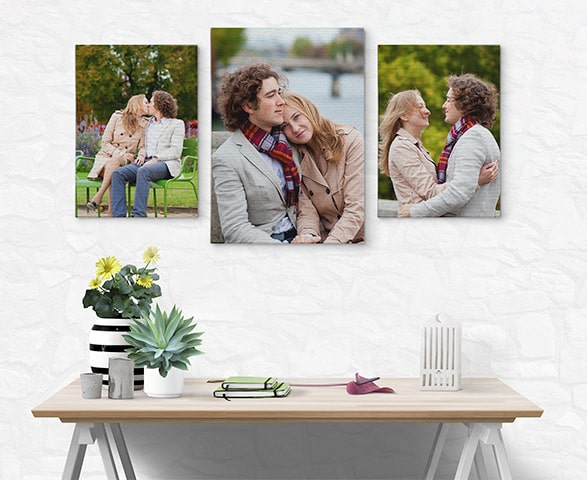 What We Offer
We are an ideal company for a professional photographer or artist who wishes to display their work on paper or canvas and take their talent to new heights. Having had an experience of more than many years in photo printing and art reproduction, we strive to make long term customers by providing best canvas prints and affordable Gicleé prints on canvas.
Gicleé printing is quite common for a reason. These high quality prints not only look amazing, they also last a long time, even longer if taken care of properly. In addition to this, Gicleé prints are exactly what photographers and artists need in order to reproduce their original artwork for their client base.
We provide an accurate color reproduction with the following benefits:
We use a minimum document resolution of 300 dots per inch for Gicleé prints
Our substrate or paper used in the printing process is of the highest quality having 100% rag or cotton base
We use pigment based inks that can last you 100 years to 200 years without incurring any significant fading
Our printing is done with the best quality printers available in the market
We provide A 100% satisfaction rate guarantee
Our services are highly affordable with complete professionalism
CanvasChamp the "CHAMPION" of Home Decor Printing
We love printing photos on canvas. 93% of Customers Would Recommend CanvasChamp.com to a Friend.
Lighting Fast Shipping

Top Notch Customer Services

Lowest Prices Guaranteed!

High Quality Materials
Know More About Canvas Giclee Printing
What is a Giclee Prints?
The term Giclee is derived from the French language and means "to spray." A Giclee print is an art print that features vibrant colors and is crafted using a printer that sprays the image and shades onto the canvas. These prints are categorized as fine art prints, work to enhance and elevate the rooms they are displayed in and contain intricate details across the board.
The inks are sprayed onto the substrate in tiny droplets, creating an incredibly smooth and consistent finish. As a result, Giclee canvas prints can be printed on any size media, including large-format canvases. The printing process is much less destructive than other printing processes, such as lithography.
Canvas Giclee prints can be used to preserve a piece of artwork or to create a beautiful piece of artwork for a home or office. They are becoming increasingly popular in art and are often used to produce limited edition prints or sell original artwork prints. Giclee canvas prints are also used to create art posters, wall art, and other products.
Making Giclee Canvas Prints with CanvasChamp:
You can easily create these beautiful prints with CanvasChamp by following these simple steps.
Digital File Conversion
The first step is to convert and upload a digital file to the CanvasChamp design tool. Next, please select the image you would like to showcase on a museum-quality canvas, upload it, and then edit the placement of the image on the canvas.
You will see a digital preview of the finished product within the design tool. Please ensure the preview is yours before adding it to your cart. The version that is within your cart when you checkout will be the version created by CanvasChamp experts.
Color Vibrancy
Giclee prints are renowned for their vibrant colors, achieved through a high-resolution printing process. This is due to large-format printer technology and archival inks producing vivid, true-to-life colors. Combining these high-quality components gives the Giclée prints true vibrancy and depth.
The colors in Giclee prints are more vibrant than in traditional offset printing. The ink droplets are minor, creating a finer print result closer to the intended artwork. In addition, the vivid colors are further intensified through archival inks designed to resist fading and maintain the quality of the artwork for many years.
Giclee prints are especially well-suited for artwork with many colors and textures, such as abstract art and photography. The photos uniquely capture the subtleties of painting, from the finest details to the boldest colors. The vivid hues, tonal range, and fine details of Giclee prints are unmatched by any other printing process.
Canvas Sealing
Canvas sealing is a process used to protect Giclee prints from environmental damage. The purpose of this process is to extend the longevity of the photo and to ensure that the colors remain vibrant over time.
The canvas sealing process involves applying a thin layer of clear, non-toxic sealant to the printed canvas. This sealant protects pigment-based colors from fading and the print from dirt, dust, moisture, and UV exposure. The adhesive also helps to enhance the image's color saturation, giving the colors a more vibrant appearance.
The process of canvas sealing can vary depending on the type of printer and the type of pigment used. Generally, the sealant is applied after the printing process is completed and left to dry for several hours. After the sealant has dried, a thin layer of varnish gives the print a glossy finish.
Cost and Shipping
Giclee prints from CanvasChamp are affordable, with various sizes and finishes available. Prints start at just $3.99, with larger images and specialty finishes costing more.
CanvasChamp offers free standard shipping on all orders over $99. For orders under $99, shipping costs are calculated based on the size and weight of the item. Express shipping is also available at an additional cost. Delivery time is usually between 3-7 business days.
Customization Options
With the ability to customize a Giclée print's color, size, and design, it's easy to make a statement in any room. The vibrant colors and detailed images that can be achieved with Giclée prints are perfect for creating a unique and personalized look for any space. When designing Giclee prints, a few key factors must be considered. First, decide what image or artwork you want to feature. This could be a painting, photograph, or any other type of artwork. Also, consider the size and orientation of the image. The larger the image, the more impact it will have in the room.
Giclee Prints Vs Canvas Prints: Know the Difference
CanvasChamp is well-known for affordable yet high-quality canvas prints. What are the main differences between classic canvas prints and Giclée prints?
Canvas prints and Giclee prints are popular methods for creating high-quality reproductions of artwork and photographs. While both methods have advantages, there are some critical differences between them, which are essential to know and consider prior to placing an order with CanvasChamp.
Canvas prints come in various sizes and qualities and can be custom-made to fit your needs. When choosing a canvas print, consider the size and resolution of the image, the type of canvas material, and the type of frame. With the right combination of these elements, you can create beautiful and unique artwork to hang in your home.
Canvas prints are created by printing the image onto a canvas material, then stretched over a wooden frame. The canvas is usually made from cotton, linen, or polyester, depending on the desired look and texture. The result is a durable, archival-quality image with a classic, painterly look. Canvas prints are usually more affordable than giclee prints, making them an excellent choice for those on a budget.
On the other hand, Giclee prints are created by printing the image onto fine art paper or canvas material. The idea is printed using archival-quality inks, usually with a combination of pigment-based and dye-based inks. The result is a highly detailed, vibrant image often considered museum-quality. Giclee prints tend to be more expensive than canvas prints but also last longer and have a more professional look.
Ultimately, choosing between canvas prints and Giclee prints will depend on the individual's needs and preferences. For those seeking a classic, painterly look, canvas prints are a great option. Giclée prints offer the best solution for those wanting a more detailed, vibrant image.
FAQs on Giclee on Canvas
What is a giclee print?
Giclée prints are fine art prints made with inkjet printers using archival quality inks and fine art paper. Artists often use this print type to reproduce their original artwork in limited editions. Giclée prints are known for their vivid colors, rich detail, and excellent archival properties.
What is giclee on canvas?
Giclée on canvas is a form of digital printing that produces high-quality art prints. It can reproduce various sizes and formats of paintings, drawings, photographs, and other artwork. The image is printed directly onto archival-grade canvas, then stretched and mounted onto a wooden frame. This method allows for a more permanent, fade-resistant form of art that can last for decades.
How to make a giclee print on canvas?
Giclée prints are usually created from a digital file. If you don't have a digital file, you can scan your artwork or photograph it. Giclée prints are typically printed on a wide-format printer that uses specialized pigment-based inks. Look for a printer offering archival-quality inks, fine art papers, or canvases.
Choose a canvas that is made explicitly for giclée printing. It should be acid-free and archival-quality to ensure your print lasts many years. Then, load your canvas into the printer and follow the instructions for printing.
Ensure the printer settings are set for the highest quality and accurate colors. Once the print is complete, seal the canvas with a protective coating. This will help to protect the colors and prevent fading. Finally, hang your image using a secure method.
Where to get giclee prints made?
Giclée prints can be made at various online and local printing services. Some popular online services for giclée prints include Fine Art America, Art2Frame, Printful, and Canvas Geeks. Local printing services can also be found in many cities.
How much does giclee printing cost?
The cost of giclée printing will vary depending on several factors, such as the size and complexity of the project, the number of prints ordered, and the type of paper or canvas used. Generally, giclée prints cost between $50-$300 per square foot.
What papers are used for giclee prints?
Giclée prints are typically printed onto 100% cotton rag paper, acid-free archival paper, or premium quality artist canvas.