Choose From Three Different Custom Photo Magnets Material and Create Yours!
Absolutely guaranteed. Add a photo or Artwork.
Decorate in a snap with acrylic photo refrigerator magnets. Personalized acrylic photo magnets instantly turn blank metal surfaces into fabulous design spaces while also serving to hold important documents or artwork. High quality, clear acrylic magnets come in a variety of shapes and can be printed with your choice of photo, text, or image.

Acrylic Photo Magnets

An instant gallery right at your fingertips with customized wood photo magnets. Dreary dorm rooms or rusty lockers become gorgeous galleries without the mess and hassle of stickers with personalized wooden photo magnets. Printed directly on ¼-inch-thick hardwood plywood and coated with UV-cured fade-resistant ink in a variety of shapes with your customized photo, text, or image. A powerful earth magnet adhered to the back guarantees long-lasting hold.

Wooden Photo Magnets

Decorating has never been this easy with personalized metal photo magnets. Keep your kitchen or office organized in style with custom metal photo magnets. Your photo, text, or image is printed onto a durable metal base in a variety of shapes and wrapped in a hard-coated front. A powerful earth magnet embedded in the back assures a long-lasting hold.

Metal Photo Magnets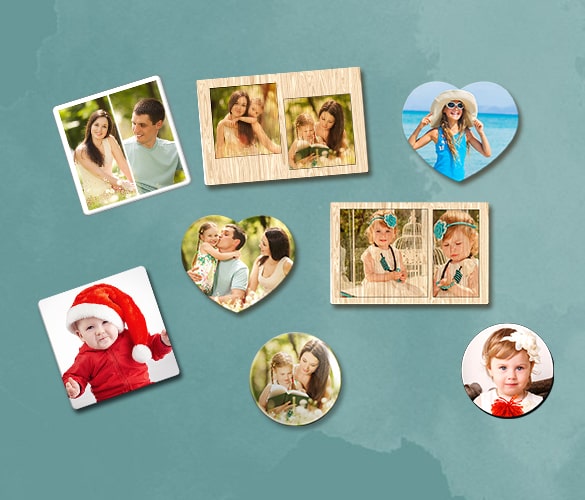 These Custom Photo Magnets are Sticking Around!
We can all recall a time that a lightweight magnet failed us, dropping paper all over the floor – usually at precisely the wrong moment. These aren't your parents' magnets! Sturdily constructed in your choice of wood, metal, or acrylic, these personalized fridge magnets will hold up (literally) over time. Make your own magnets to bring the beauty out in your photos on a small scale. Watch as brightly colored photos pop on acrylic, or choose the sturdy construction of metal. Our custom magnets can be trusted to bring style and service to your metal surfaces.
These personalized photo magnets aren't just pretty faces. Sure, use them to corral your menus and children's artwork, but think about making one for every member of the family to secure messages, chore lists, or mail. And by no means are they limited to the kitchen! Use them in the office, the workshop, or anywhere you have a metal surface that needs brightening up. Sort your work projects by priority, hang up those step-by-step instructions, or secure that itinerary somewhere where it won't get mixed in with all your other paperwork.
Creating a magnets from your photos couldn't be simpler! Just use our easy photo magnet tool to upload your favorite image. You can even choose our multi-image option to create darling photo collages centered around your favorite trips, family photos, or pets. Select two, three or four of your favorite photographs, then use the tool to expertly place them on a heart, circle, rectangle or square base. Add text or clip art to create amusing and useful organizing tools. Or choose a single image and re-create it in the size you'd like. Our custom photo magnets make excellent, long-lasting gifts. After all, who wouldn't appreciate a photo that sticks itself to the fridge?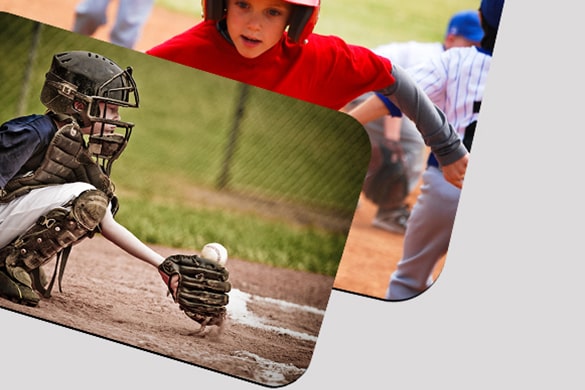 Premium photo magnets are made to last
Our customized photo magnets won't let you (or the papers behind them) down. A powerful earth magnet is embedded in durable materials. Choose from Metal-1MM, Acylic-2MM & Wood-4MM, high-quality clear acrylic, or tin-plated steel. The UV-cured ink is fade-resistant. A special polyester coating makes them even more capable of standing the test of time.
Give Small Pieces of Yourself with Custom Magnets!
Creating a fridge magnets for any occasion and purpose is easy. With choices of materials, shapes, and multi-photo templates, there are endless ways to turn your photos into personalized photo magnets! You won't be able to design just one!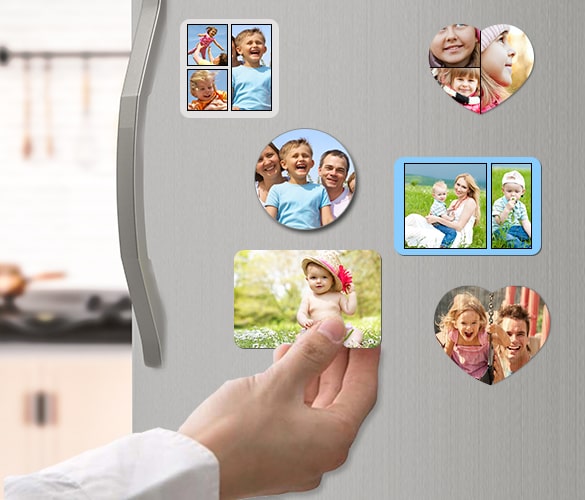 Create your own magnets and use them as fun, decorative, or informational pieces. Available on metal, wood, or acrylic, our custom photo magnets exude high quality and style!
DISPLAY:
Think of your refrigerator as a mini art gallery. Take some of your existing fridge artwork and turn them into custom photo collages. Arrange your photo magnets by themselves or use them to hang more artwork!
ORGANIZE:
Create custom magnets from photos to add flair and organization in any way you choose. Develop a message center, in/out boards, project lists, and more with colorful personalized magnets that use your own photos and wording.
PROMOTE:
Use custom magnets to get your message out to the masses. Custom magnets aren't just for photos. Upload your business logo, card, or promotion for a custom piece that does your advertising for you.
SHARE:
Don't keep your art to yourself. Create magnets from photos near and dear to loved ones' hearts. Photo magnets are a great way to share your best photos with people who have limited wall space.
IMAGINE:
Inspire creativity and play by turning several of your photos into magnets and then arranging them into endless messages or transform a particularly stunning travel photo into a custom photo magnet and keep the memories fresh long after the unpacking is finished.
Use our easy photo magnet tool to start sharing a piece of you!
The shape of things to come
New options for customized photo magnets add round, heart, and rectangle to the original square shape.
Square Magnets

Heart Magnets

Round Magnets

Rectangle Magnets
Photo Magnet Q & A
What types of surfaces can a photo magnet adhere to?
Our custom magnets are printed with your specified photo, text, or image and feature a powerful earth magnet embedded in the back for a strong hold. Photo magnets can stick to iron, nickel, and cobalt, as well as to blended-iron metals, such as steel. Common surfaces for magnet use are refrigerators, lockers, file cabinets, metal shelves, and white boards. It is always important to remember, though, that magnets should be kept away from laptops, smartphones, tablets, or anything with a magnetic field.
Q:

Why are refrigerator magnets so synonymous with kitchen décor?

A:

Magnets were originally designed for the space industry by a pioneering inventor named Sam Hard castle for use as letters and numbers on large-scale tracking charts. As need increased, new techniques for molding them were developed and Hard castle begin molding magnets to sell in the souvenir industry. These magnets represented each of the 50 United States and highlighted special features and attractions of the corresponding state. They soon became collectors' items. Today, magnets are common household items that allow for unique decorating opportunities on generally unused space while also serving the practical function of holding fun or necessary items in an easy-to-see place. Instead of decorating your fridge with photos or images, you can now have your desired images created into magnets, which frees up space for shopping lists, reminders, take-out menus, or kids' fun artwork. Personalizing your magnets also creates a cleaner look for your decorating space. In addition, companies can create customized promotional magnets to keep your brand top of mind.

Q:

How do I create my own personal photo magnets?

A:

Designing and creating your own customized photo magnets is easy with our online CanvasChamp photo magnet tool. You simply upload the photo or image of your choice and our easy-to-use wizard will walk you through different material, shape, size, layout, and border options. Editing or resizing is easy to see and understand at this stage to guarantee your magnet turns out the way you envision it. You can easily add text during this step. We also offer a fun selection of clip art images to add a funny or personal touch to a photo or plain text. It's also important to decide before you complete your design whether you want multiples of the same image or different individual magnets. Most basic magnets are rectangular, so photos taken on your phone are already mostly ready to go. But you can also choose a square, heart, or round shape. Our magnets are printed with Epson Ultra Chrome GS inks on Ribermark Endura Light 150 PVC-free paper and protected with a Mylar PET polyester film covering for long-lasting endurance. A powerful earth magnet covered with a black polypropylene back gives it a strong hold on heavy papers

Q:

How can I use customized magnets to promote my work?

A:

Personalized magnets also make fun and colorful advertising where your clients store their most important info – the fridge! Keep valuable contact information or a business card from slipping through the cracks by making it a functional magnet. Artists can make a bright and enduring impression by displaying their work without the hassle of hyperlinks and shortcuts. Due to their small size, magnets can easily be included in flyers or given away at tradeshows and conventions. Since they're not printed on paper, magnets can endure tough travel conditions like bad weather or leaks that might ruin other promotional items.

Q:

What are the best ways to give magnets as gifts?

A:

Because of their small, versatile size and easy fit in envelopes, magnets create an ideal gift for an assortment of fun situations. They are perfect for creating a memorable and hard to lose "Save the date" card for weddings. Baby, graduation, baptism, and wedding announcements can last forever when they're printed on magnets. A special photo together will remind Mom or Dad who's the real favorite on Father's Day or Mother's Day. Christmas Family photos are a great inclusion with your Christmas card. Start a yearly tradition with a personalized souvenir of your latest vacation. Make sure to always keep one for yourself to create an interactive collage of all the exotic places you've visited. Dorms, First Apartments, Office Funny images or sayings can liven up lonely dorm rooms or first apartments where more permanent decorating options can be difficult to negotiate. Magnets are also great in the office on whiteboards or file cabinets and as Secret Santa gifts for those difficult-to-please coworkers. Funny phrases or sayings will get laughs over and over from curious guests. Get Creative Personalized photo gifts are a great excuse to set up a photo shoot. Get creative and switch things up: Different poses or props in burst mode can create a charming "photo booth" look that can lend creative character to a space, while different angles of the same location can create unique panorama effect.
Ask about Photo Magnet and get answer in email.
You may also like these photo gifts
We offer a huge array of custom photo products that make great gifts for everyone on your list, not to mention awesome ways to display photos and artwork in your own home. Here are just a few: