Why Choose CanvasChamp for Neon Signs
Energy & Cost Efficient

Free Delivery

3 Years Warranty

Easy Returns

Buy Now, Pay Later
Best Places to Install Custom Neon Signs
Neon signs are incredible décor pieces for any corporate, commercial, or personal space. From high-end hotel bars to minimalistic, romantic bedrooms, personalized neon signs look great almost anywhere!
Neon Signs for Bar

Neon Signs for Restaurant

Neon Signs for Logo

Neon Signs for Hotels

Neon Signs for Wedding

Neon Signs for Business

Neon Signs for Party Decor

Neon Bar Signs for Home

Neon Signs for Bedroom

Gaming Neon Signs

Neon Signs for Garage

Name Neon Signs
Steps to Customize Neon Signs
Select the Size & Text

The first step is to decide the size of your custom neon sign and what you would like the sign to say. In terms of size, you have a range of options, from minor to supersize, to create the perfect fit for your space. In addition, the text possibilities are limitless; from your name to an inspirational phrase, your custom LED neon sign can say anything you want!

Select the Color

Next up is one of the most fun aspects of designing a custom-made neon sign, choosing the color! There are twenty color options, whether you prefer a neutral look with a white LED light or something bolder like hot pink. Need help to decide on a color just by looking online? No problem! Check out our color wheel, which can be sent directly to your door to see each neon shade's appearance in real-time.

Select the Backboard

There are four backboard options to choose from. The possibilities include cut-around acrylic, rectangle acrylic, cut-to-letter, and open-box backboard. Each backboard offers a unique look to the best custom neon signs on the market. The cut-around option is free of charge, and the other options can be added to the sign for an additional cost if you prefer the look of them.

Select Hardware Options

There are three main hardware options for custom neon signs: wall mounting kit, sign hanging kit, or no hardware if you prefer to use the hardware you already have at home. Additionally, you can request a remote control, which allows you to switch between light settings seamlessly.

Make Payment and Checkout

Once you are happy with your selections and the overall look of your custom LED neon sign, you can add it to your cart. Finally, add a payment method, and you will be ready to check out!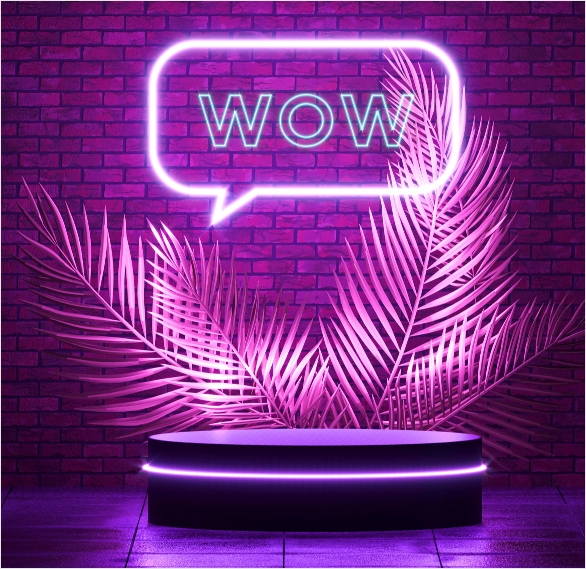 Reasons to Buy Custom Neon Signs in Wholesale
The wholesale shopping experience with CanvasChamp is simple and easy. Customers can browse through the large selection of canvas prints, custom prints, photo prints and now LED neon signs, select a size and style, and customize it to their specifications. Customers can choose text to be printed on the custom neon signs and buy in bulk.
When it comes to quality, CanvasChamp offers top-notch products that are made from high-grade materials. As a result, the products are durable and long-lasting, ensuring that customers get the best value for their money.
Whether customers are looking for custom neon signs in bulk for their home or office, a gift, or a business, CanvasChamp offers a wide variety of options for wholesale shopping. With its high-quality products, convenient ordering process, and affordable prices, CanvasChamp is an excellent choice for anyone looking for custom prints, canvases, or LED neon signs indoors for the best-personalized experience.
Know More About Custom Neon Signs
Do you want to know even more about neon signs from CanvasChamp? Then, check out the product details below to get all the necessary information before ordering a custom neon sign!
Cost:
The price of a custom LED neon sign will vary depending on a few factors. The size of the neon sign, the number of colors added to the sign, the chosen backboard, and the hardware selected to hang the neon sign in your space. Typically, the pricing ranges from around $200 - $500 for these custom neon signs.
Colors:
LED neon signs come in various colors, making them a versatile and eye-catching way to customize your space. From classic red and blue to bolder and brighter hues, there's a sign for every occasion and style. With a wide range of available colors, you can let your imagination run wild and bring your ideas to life. The possibilities don't end there! You can mix and match colors to create a rainbow of shades or use a single color to make a statement. With the right combination of colors, you can create a stunning, custom LED neon sign that will be sure to turn heads.
Material:
LED neon signs are an increasingly popular form of signage due to their bright, eye-catching appearance, energy efficiency, and longevity. They are made from plastic, glass, copper, and aluminum. Plastic is the primary material used in the creation process. It is used for the backing of the sign and for the tubing that forms the letters, logos, and shapes. Plus, it offers the benefit of being lightweight at a low cost, making it an excellent choice for neon sign production!
Sizes:
Custom LED neon signs come in various sizes to fit any space. Whether you want a small one to hang above your desk or a supersize sign on your wall, an LED neon sign size will suit your needs.
Minor LED neon signs are perfect for tight spaces like an office cubicle, a dorm room, or a small kitchen. These signs come in sizes ranging from 8" x 8" to 16" x 16", providing a bright and vibrant pop of color to any space.
Medium LED neon signs are perfect for medium-sized spaces like bedrooms, living rooms, or kitchens. These signs come in sizes ranging from 20" x 20" to 24" x 24" and offer a larger area for more intricate designs.
Large LED neon signs are excellent for larger spaces like a shop, restaurant, or game room. These signs come in sizes ranging from 28" x 28" to 36" x 36" and offer a bright and vivid display to capture the attention of customers and visitors.
Extra-large LED neon signs are ideal for large spaces like bars, clubs, or event spaces. These signs come in sizes ranging from 40" x 40" to 48" x 48" and provide a powerful visual statement to draw attention and create a memorable ambience.
Supersize LED neon signs are perfect for making a statement in an outdoor space like a billboard or marquee. These signs come in sizes ranging from 50" x 50" to 60" x 60" and provide a bright and dazzling display to convey your message.
No matter what kind of space you have, there is a custom LED neon sign size that will fit your needs. Whether looking for a small sign above your desk or a supersize sign on your wall, custom neon signs can fit any space and significantly impact you.
Design Tool:
Use our straightforward design tool to create your one-of-a-kind neon sign with CanvasChamp. With this tool, you can make all the selections needed to manufacture a personalized LED neon sign that will knock your socks off!
From the size to the script, hardware, backboard, and colours included, all of these factors can be adjusted to fit your preferences in this one simple-to-use design tool on our website.
Weight:
LED neon signs are becoming increasingly popular for businesses and homeowners. These signs are low-maintenance, energy efficient, and customizable, making them an excellent choice for anyone looking to make a statement with their signage. But how much do these signs weigh on average?
The weight of a neon sign depends on its size, materials, and design. Generally speaking, more minor signs will weigh less than more prominent signs. For instance, a small, single-color sign measuring 3 feet in length and 2 feet in height typically weighs around 9-12 pounds. On the other hand, a larger, multi-color sign measuring 6 feet in length and 4 feet in height typically weighs approximately 15-20 pounds.
Finally, the design of the sign can also impact its weight. For example, signs with intricate designs or custom lettering tend to weigh more than simpler designs with less detail.
Hanging Kit:
Neon signs come with various hardware options, depending on the signage you need. While all neon signs need a power source, there are several hardware options to consider for mounting or hanging your neon sign.
Wall Mounting Kit:
Wall mounting kits are the most common hardware option for neon signs. This kit includes everything you need to mount your neon sign to any flat surface securely. It includes mounting brackets, screws, and washers and is typically easy to install.
Sign Hanging Kit:
A sign-hanging kit is perfect for hanging your neon sign from the ceiling or wall. This kit includes a variety of components, including a mounting bracket, chains, and hangers. It's an excellent option for hanging your neon sign in any location.
No Hardware:
Some neon signs do not require any hardware for mounting or hanging. These signs are designed to be hung directly from the power source and do not require any additional hardware. This is an excellent option if you need a quick and easy solution for your neon sign.
No matter what type of hardware option you choose, ensuring your neon sign is safely and securely mounted or hung is essential. The proper installation provides your neon sign operates safely and looks great.
Shipping Details:
At CanvasChamp, we provide several shipping options to ensure your order arrives on time and in perfect condition. We understand that you need your order quickly and efficiently, so we strive to provide you with the best shipping methods.
Standard Shipping: Our standard shipping option offers the most cost-efficient way to get your order. Depending on your location and the size of your order, delivery can take 2-7 business days.
Expedited Shipping: If you need your order quickly, our expedited shipping option is best. Delivery time will depend on your order size and location, but it typically takes 1-3 business days.
International Shipping: We also offer international shipping for customers outside the United States. Delivery time will vary depending on your order's size and location, but it typically takes 7-14 business days.
How to make custom neon signs?
Start by designing your neon sign. With CanvasChamp, you can use the simple design tool provided to create the perfect neon sign for you. Decide the colors you want for your sign. CanvasChamp will construct the sign from the vector file. They will use acrylic and LED lights to create the sign. Once it is constructed, it must be installed. This may require the help of a professional electrician.
How much do custom neon signs cost?
Custom neon signs can cost anywhere from $200 to $1,000 or more, depending on the complexity of the design and size.
Where to buy custom neon signs?
You can now design and purchase custom neon signs from CanvasChamp, the leader in the custom gift industry! Just utilize the easy-to-use design tool and create your own, bright and bold neon masterpiece.
Are neon custom signs eco-friendly?
Yes, neon LED custom signs are eco-friendly. LED signs are highly energy-efficient, emitting less heat and consuming less energy than traditional neon signs. Additionally, LED signs can last up to 10 times longer than classic neon signs, requiring fewer replacements and reducing waste and energy usage.
What colors are available for my neon sign?
Neon signs can be made in various colors, including red, green, blue, yellow, orange, pink, purple, white, and black. The colors available depend on the type of gas used to create the neon effect. Neon signs can also be made in custom colors.
Do custom light up neon signs get hot?
Yes, custom light-up neon signs do get hot. The lights in the signs generate heat, which is then dissipated through the glass or plastic tubing of the sign.
How long does an LED neon sign last?
LED neon signs typically last between 10 and 15 years.
Are custom neon signs expensive?
Custom neon signs can range in price depending on the size and complexity of the design. A basic neon sign can cost anywhere from $100 to $500, while a more complex design may cost several thousand dollars.
Are neon signs easy to install?
Yes, neon signs are relatively easy to install. The most important thing to know is the proper safety precautions when working with electricity. Following the instructions with the sign, and hiring a professional electrician if needed, will ensure a safe and successful installation.
Am I able to return my customized neon light sign?
Unfortunately, customized neon light signs are not eligible for return or exchange. Once you have approved the design, we will begin production and you will not be able to make any changes to the design.