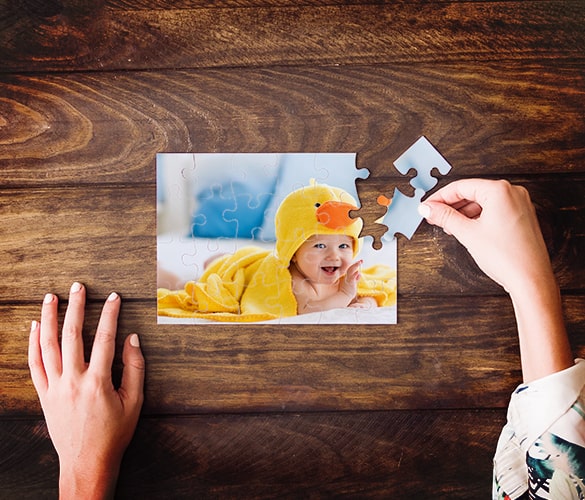 Photos on Puzzles with Us Have Superb Features
For many years, people have been intrigued with picture puzzles to pass their time. It increases productivity and also makes solving a mystery more fun. So, how about you try out our personalized puzzles to increase family time more??
Every Personalized Photo Puzzle
Printed on high-quality acrylic for a colorful, vivid look.
Comes with a firm backing so it will last through endless rounds of assembly.
Includes a storage box.
Can have one or multiple photos plus text.
Comes with a 100% Love-It Guarantee.
Suitable for ages 3 years and up.
WARNING: CHOKING HAZARD ON THE PUZZLE PIECES FOR CHILDREN 3 YEARS & BELOW.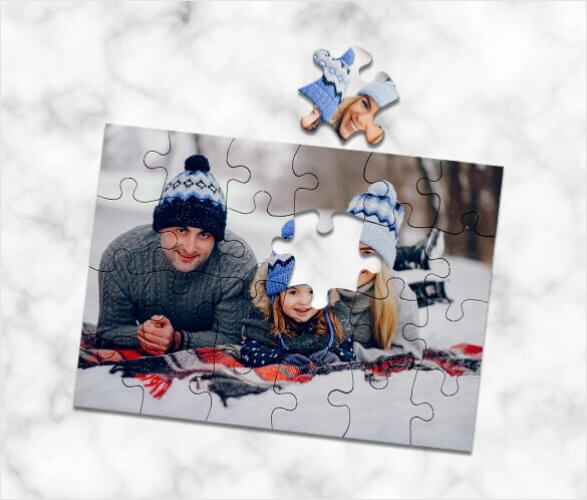 Bring on The Fun With a Photo Puzzle Collage
More Pictures and More Fun!
Want to heighten the fun a bit? Opt for 1,000 piece puzzles and create a photo puzzle collage that will keep you busy for hours! Creating a collage for your puzzle means:
More memorable images and text in one puzzle
More design options to choose from
Makes completing larger puzzles easier
No extra cost for extra pictures
Make A Puzzle From A Picture
It's Easier than You Think! We've made this process really easy to do.
Choose Your Size

Pick a size (they range from 4" x 6" to 20" x 20") and the number of pieces you want (from 6 to 1056).

Upload Your Photo

Upload your favorite image(s) into our photo puzzle tool and adjust as needed.

Preview Your Design

Look it all over and make sure everything is just right, then hit order!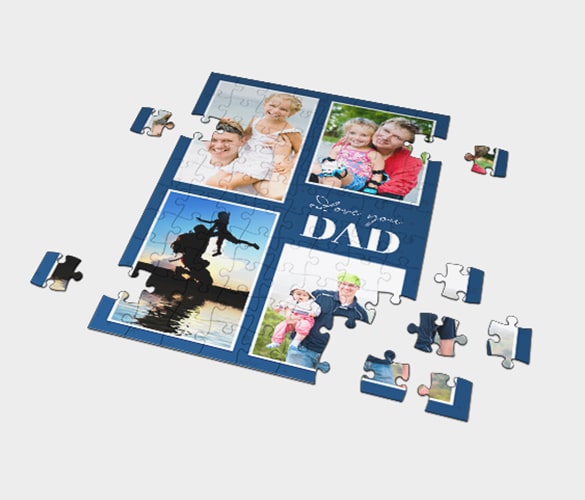 Custom Jigsaw Puzzles for Kids
They'll Love Being a Part of the Fun
You can even create personalized jigsaw puzzle for kids! Design one with their favorite cartoon character or a fun memory from a family vacation. Go a step further and add text to your images. Our personalized picture puzzle for kids comes in 1-inch or 2-inch wide pieces that are perfect for small hands to pick up.
If you have a little older kid, you can even make complex photo puzzle of 500 piece from our photo puzzle maker to make it a challenging game night. For double fun, try out photo puzzle of 1000 pieces to keep you and your kids bent on the photo for hours which will guarantee a quality time together!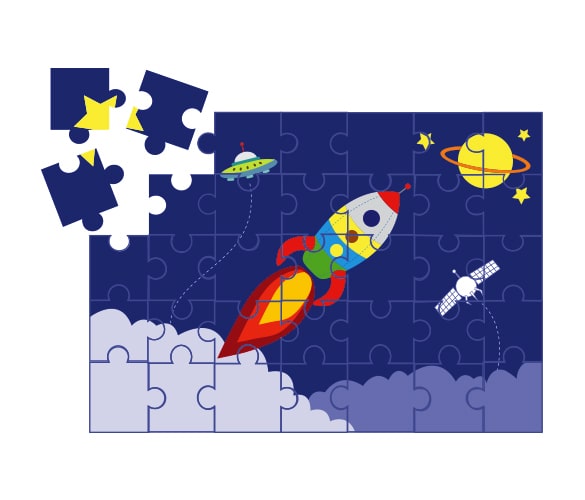 Personalized Puzzles - Plan for an Active Occasion
The Perfect Gift for any Occasion!
Make a puzzle from a picture for the ultimate, personalized gift for birthdays and more. Share memories of that awesome vacation or create new memories with a special announcement or celebration. You can even create special Thanksgiving, Christmas, and other holiday puzzles! There's no limit to the possibilities you can dream up or the good times you can have while piecing it together with friends and family members.