PHOTO PUZZLE REVIEWS WE'RE PROUD OF!
Explore our collection of personalized photo puzzles loved by over 1M+ satisfied customers.
×
PHOTO PUZZLE REVIEWS WE'RE PROUD OF!
Custom Shape Puzzle to Add Photo Memories
Quality time with family by identifying photos of members on custom puzzle together makes weekends the best.
Custom Round Puzzle

Custom Heart Puzzle

Custom Square Puzzle

Custom Rectangle Puzzle

Custom Circle Puzzle
How to Make a Custom Jigsaw Puzzle from a Picture
We have come up with unique customizing photo puzzle design tool where you can use your very own favorite photos to entice your kids to make the puzzle night more fun!
Choose Your Size

Pick a size (they range from 4" x 6" to 20" x 20") and the number of pieces you want (from 6 to 1056).

Upload Your Photo

Upload your favorite image(s) into our photo puzzle tool and adjust as needed.

Preview Your Design

Look it all over and make sure everything is just right, then hit order!
CREATE YOUR OWN CUSTOM PICTURE PUZZLE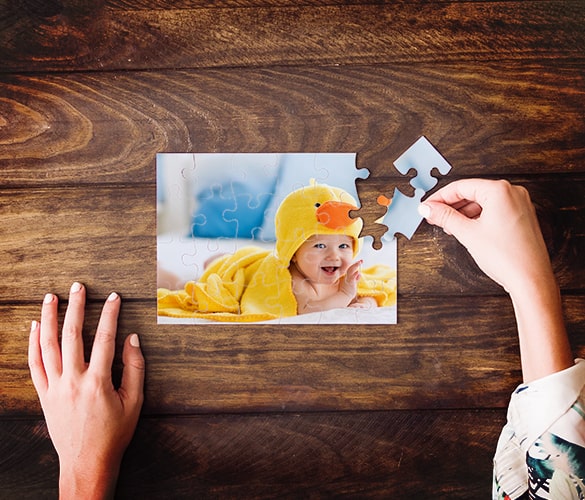 Creating a custom puzzle can be a great way to personalize a photo gifts for someone special. Here are some tips to help you make the best custom photo puzzle:
Choose a High-quality Photo: The photo you choose should be high-quality and have good resolution to ensure that the final puzzle image is clear and detailed. Avoid using photos that are blurry or pixelated.
Consider The Puzzle Size: Consider the size of the puzzle you want to create. Smaller puzzles (100-piece puzzle, 200-piece puzzle and 500-piece puzzles) are great for kids or beginners, while larger puzzles (1000 pieces Jigsaw Puzzle or more) are better for experienced puzzlers. Keep in mind that larger puzzles will require higher-resolution photos to maintain image quality.
Choose The Right Puzzle Shape: Consider the shape of the puzzle pieces. Standard puzzle pieces are square or rectangular, but you can also choose other shapes like round or heart-shaped pieces for a unique puzzle experience.
Fast Production and Shipping: Custom photo puzzles take 24 to 48 hours (about 2 days) to produce, so be ensured that the puzzle arrives in time for your event or occasion.
By following these tips, you can create a beautiful and custom photo puzzle that will make a great gift for any occasion.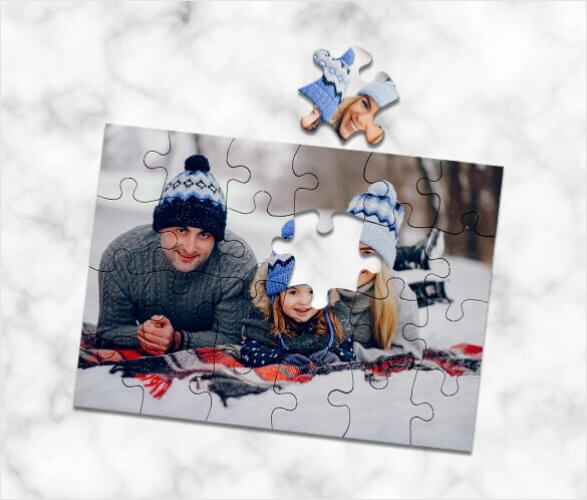 Custom Jigsaw Puzzles can be Personalized with Any Picture
One of the great things about custom jigsaw puzzles is that you can personalize them with any picture of your choice. This allows you to create a one-of-a-kind puzzle that is unique and special. Here are some ideas for pictures that you might use:
Family Photos: Use a favorite family photo to create a puzzle that can be enjoyed by everyone.
Pet Photos: Create a puzzle featuring your beloved furry friend or someone else's pet as a thoughtful gift.
Travel Photos: Use photos from your travels to create a puzzle that will bring back memories of your adventures.
Landscapes and Scenery: Use photos of beautiful landscapes or scenery to create a relaxing puzzle that can help you unwind.
Artwork: Use a favorite piece of artwork to create a puzzle that doubles as a work of art.
Sports and Hobbies: Create a puzzle featuring a favorite sports team or hobby for the puzzle enthusiast in your life.
The possibilities are endless when it comes to custom jigsaw puzzles . With the ability to use any picture of your choice, you can create a puzzle that is truly personalized and unique.
Bring on The Fun With a Photo Puzzle Collage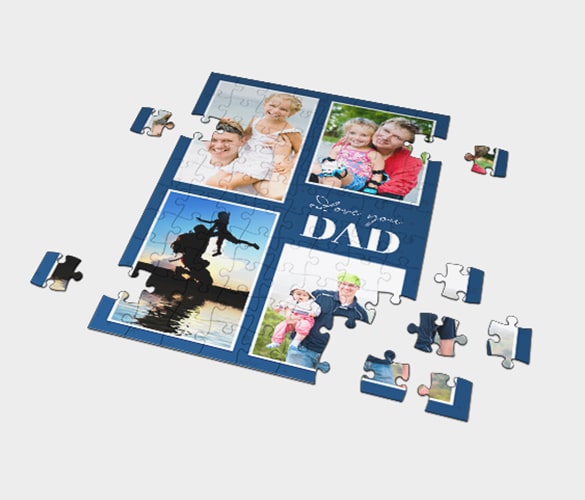 More Pictures on Puzzle and More Fun
Want to heighten the fun a bit? Opt for 1,000 piece puzzles and create a photo puzzle collage that will keep you busy for hours! Creating a collage for your puzzle means:
More memorable images and text in one puzzle.
More design options to choose from.
Makes completing larger puzzles easier.
No extra cost for extra pictures.
Make The Best Custom Photo Puzzles for Game Night
Game night will never be the same again when you create your own unique photo puzzle! Ditch traditional puzzles with their typical scenes and make a picture puzzle that you and your friends or family will never forget. For many years, people have been intrigued with picture puzzles to pass their time. It increases productivity and makes solving a mystery more fun. So, how about you try out our personalized puzzles to increase family time more??
Hence, we have produced unique customizing photo puzzle design tool where you can use your very own favorite photos to entice your kids to make the puzzle night more fun!
Custom Jigsaw Puzzles for Kids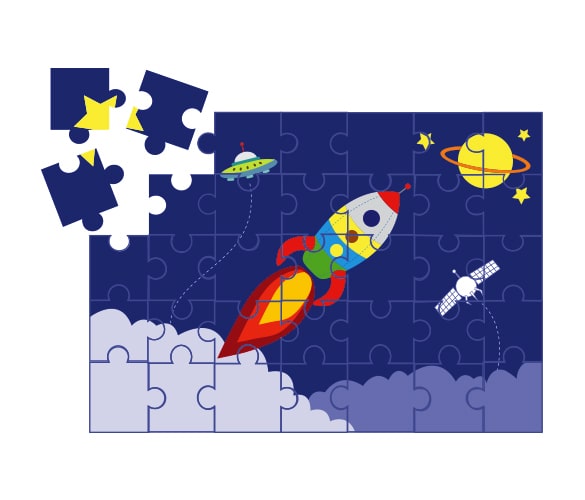 Custom Puzzle: They'll Love Being a Part of the Fun
Photo puzzles can be a fantastic way to engage kids and provide them with a fun and educational activity. You can create a personalized photo puzzle that is fun, engaging, and meaningful for kids. Here are some tips for creating personalized photo puzzles for kids:
Choose a photo.
Select the puzzle size and difficulty level.
Select number of puzzle pieces.
Consider adding personalization.
Make it a group activity.
Personalized Photo Puzzles for Kids
You can even create personalized jigsaw puzzles for kids! Design one with their favorite cartoon character or a fun memory from a family vacation. Go a step further and add text to your images. Our personalized picture puzzle for kids comes in 1-inch or 2-inch-wide pieces that are perfect for small hands to pick up.
If you have a little older kid, you can even take a complex photo puzzle of 500 pieces from our photo puzzle maker to make it a challenging game night. For double fun, try out a photo puzzle of 1000 pieces to keep you and your kids bent on the photo for hours which will guarantee quality time together!
Personalized Puzzles - Plan for an Active Occasion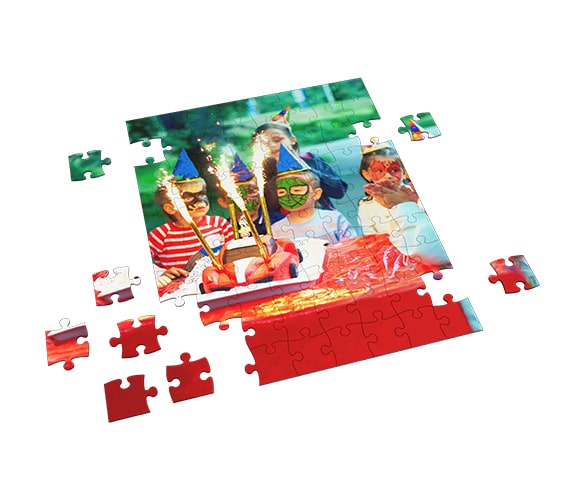 Jigsaw Puzzle: The Perfect Gift for any Occasion
Custom jigsaw puzzles can indeed make great gifts for many occasions, such as birthdays, weddings, anniversaries, and holidays. Here are a few reasons why:
Personalization: A custom jigsaw puzzle can be personalized with a photo or image that is meaningful to the recipient. This can make the gift more thoughtful and special.
Entertainment: Jigsaw puzzles can be a fun and entertaining activity for people of all ages. It can be a great way to spend time with family and friends and can also be a good solo activity for someone who enjoys puzzles.
Relaxation: Completing a jigsaw photo puzzle can be a relaxing activity that can help reduce stress and anxiety. It can be a good way to unwind after a long day or week.
Keepsake: Once the puzzle is completed, it can be kept as a keepsake or memento of a special occasion or memory.
Unique: A custom jigsaw puzzle can be a unique and one-of-a-kind gift that the recipient may not have received before.
Overall, custom jigsaw puzzles can be a thoughtful and fun gift that can bring joy and relaxation to the recipient. You can even create special Make a puzzle from a picture for the ultimate, personalized gift for birthdays and more. Share memories of that awesome vacation or create new memories with a special announcement or celebration. Thanksgiving, Christmas, and other holiday puzzles! There's no limit to the possibilities you can dream up or the good times you can have while piecing them together with friends and family members.
More About Custom Photo Puzzle as Gift
Are you interested in crafting your own custom photo puzzle to surprise someone you love? Our easy-to-use design tool makes the process both fun and efficient. Need some ideas for either design or occasion to gift such a puzzle? Look no further; we have some stellar photo puzzle ideas for you!
Custom Puzzles Ideas to Print Photos:
Baby's 1st Birthday - Celebrate the baby's first precious year of life with a custom photo puzzle featuring a treasured photo of the child. This will be a sweet gesture to the child's parents and something that the child can hold as a cherished memory as they grow up.
Family Portrait – High-quality family photos deserve to be displayed. Want a more fun way to highlight them rather than a traditional canvas print? Create a photo puzzle featuring your favorite professional photograph of you and your family. Plus, putting together the puzzle is an opportunity to spend time together.
Couple's Engagement – Getting engaged is such a special time, and engagement photos are something to be truly treasured as a couple. Besides using these pictures to create wall décor, they can be added to something more unique, such as a custom puzzle. You can go one step further, tape the pieces together, and frame the completed puzzle. This will create a one-of-a-kind piece of home décor!
Funny Meme for White Elephant Gift – Everyone is always looking for a great gift during the winter holidays. White Elephant games are a fun tradition where less pressure is put on the gifts. The idea is to create a fun, sometimes humorous, gift anyone can enjoy. A custom puzzle can be personalized for this occasion with a trendy, funny meme. This will surely get many laughs at the gift exchange!
Best Friends Photo Puzzle – Whether for National Friendship Day, your best friend's birthday, or just a gift to share your gratitude for their friendship, a photo puzzle is a terrific one to share with a best friend. Select your favorite image of you and your friends, select the size, shape, and number of pieces as well to really personalize it to your friend's liking. This custom photo gift is sure to bring a smile to your best friend's face!
How to Design Your Own Jigsaw Puzzle Online?
Open the photo puzzles page on CanvasChamp's website.
Select the shape of the custom photo puzzle – Rectangle, Round, Heart, Square, Rounded Edges.
Choose the puzzle size – 4" x 6", 8" x 10", 11" x 14", 16" x 20", 18" x 24", 20" x 30", 24" x 36", 30" x 40", or 34" x 48".
Select the number of puzzle pieces: 6 – 1000 pieces.
Upload an image to personalize the photo puzzle.
Adjust the photo placement.
Add any text or clipart.
Review the design in the easy-to-use design tool.
Add custom photo puzzles to your cart.
Add payment method details and checkout.
Best Occasions to Gift Custom Photo Puzzles:
Showcase a Family Portrait – Show off your beautiful family on your own photo puzzle. Select your favorite photo of all of you together and spend some time together putting all the pieces in place.
Display Your Own Artwork – Are you an artist looking for a unique way to display your work? Select one of your stunning pieces and add it to our photo puzzle. This is such a fun way to share your talent!
Promote Your Business – Are you a business owner? Add your logo to a custom photo puzzle. It is a terrific corporate gift and way to promote your business to future consumers as well.
Feature Your Furry Friends – Pets love their owners unconditionally. Show off your beautiful pet, whether dog, cat, bunny, lizard, etc. in a one-of-a-kind puzzle.
Display a Favorite Quote – Words have tremendous power. Display a quote that is special to you on a high-quality photo puzzle. You will love seeing the pieces fall into place and the quote come together.
Showcase a Landscape Photo – The world has so many wonderful landscapes, from snow-covered mountains to lush jungles. Craft a gorgeous puzzle featuring your favorite type of landscape and watch its beauty come to life as you put the puzzle together.
Highlight an Event or Special Occasion – There is so much to celebrate in life, from weddings to graduations, commemorate these occasions with a wonderful photo printed onto a high-quality, custom photo puzzle.
Feature Multiple Photos – Can't choose just one photo to display on a photo puzzle? Create a collage featuring multiple images- engagement photos, family portraits, or travel memories!
Wholesale Custom Puzzle Manufacturer: CanvasChamp
Do you prefer to buy in bulk? CanvasChamp has a wholesale option for just that reason! You can quickly and painlessly order custom photo puzzles in bulk for every occasion and holiday.
Plus, the more items you purchase, the more money you save! Typically, the discount range is 10-20% per order. Furthermore, you can also receive free shipping on qualifying orders!
To register for a wholesale account with CanvasChamp, email our customer service email address. Share the details of your bulk order request with the email you send to cs@canvaschamp.com. By doing so, you will automatically be registered as a wholesale account and be able to cash-in on special bulk order savings!
If you have any questions regarding wholesale shopping or the registration process, contact our customer support team member. They would be happy to walk you through the process and answer any questions you may have!
Q: How much does it cost to make a puzzle?
A: Creating a custom photo puzzle with CanvasChamp is not only fun, but also affordable! In fact, the smallest size of the photo puzzle retail starts at just $7.99. This makes it a custom gift that can fit anyone's budget!
Q: How to create a puzzle from a picture?
A: It is super easy to design your own custom puzzle from a photo with CanvasChamp! Using the site's design tool allows you to personalize every detail of the item, from shape to size, the image, and number of pieces.
Q: Is there a company that makes puzzles out of photos?
A: Yes, CanvasChamp is a company that specializes in crafting custom photo gifts, including photo puzzles using the consumer's photos. Many options and customizations can be made, including the size and shape of the puzzle and the number of puzzle pieces in your custom photo puzzle.
Q: What is a picture puzzle with many small pieces called?
A: This type of puzzle is commonly referred to as a jigsaw puzzle. A jigsaw puzzle typically features a photograph printed on cardboard, that is then cut into small puzzle pieces, in a jigsaw sort of pattern. These pieces can be put together to reveal the full image printed on them.