Decorate Your Home With Custom Canvas Prints
Memories For A Lifetime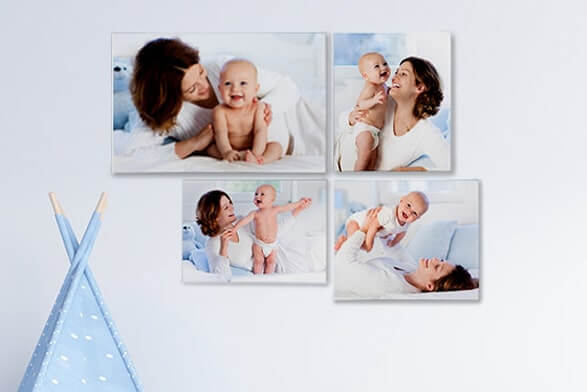 Transform your photos into personalized wall decor for your home or office space with our museum quality canvas prints. We make it easy to design your canvas and guarantee 100% satisfaction with your creation.
What Kind of Photos Can be Printed on Canvas?
Choose high-quality photos that feature centered subjects, high resolutions, and clear backgrounds. Images from your smartphone or social media are perfect for small photo canvases, while higher resolution photos like those from digital cameras are perfect for larger canvas prints.
Our Custom Canvas Prints Are Easy to Order
If you can click a button, you can design your own photo canvas print
Simply click on the "Upload Photos" button below to get started.
We'll walk you through your options every step of the way from designing through checkout.
We guarantee 100% satisfaction with your canvas prints and offer a lifetime warranty on each print. Our prints are created with professional printing technology and coated with a protective, scratch-resistant UV laminate to ensure they last for years to come.
Exclusive Canvas Display Options For Your Best Moments
Go beyond the classic display of canvas prints
Why CanvasChamp is Best in Business
The best part about our custom canvas prints?
Canvas prints from CanvasChamp come with a 99+ year warranty, which means you can happily pass on your best photos on canvas as an heirloom for generations. Alongside the quality guarantee, we give a 100% money-back guarantee if there is anything that you end up not liking about your custom canvas prints.
Artists, interior designers, professional decorators, and pretty much everyone who has an impeccable taste with decor need a printing medium to stand the test of time. Custom canvas prints allow you to personalize your pictures on our easy-to-use photo editing tool through which you can preview how the images will look on the prints.
Why and how do we offer top-notch canvas prints at such a low price?
CanvasChamp produces almost 40,000+ canvas photo prints and other products daily to fulfill orders across the globe. Due to managing the production of photo products in such high volume, we are able to offer canvas prints at a low price. This allows our customers to take advantage of the best customizing options a company like ours can offer.
What method is used to stretch a frame?
Unlike other canvas print providers online, who offer machine-led canvas stretching, we believe that doing things the old-school way makes for a better product. We hand-stretch canvas across all our frames to give you the best quality display for your photos.
Which type of wood do we use for printing?
At CanvasChamp, our stretcher bars are made from kiln-dried pine wood sourced from sustainable wood forests. It is a strong wood that can hold any size of canvas material firmly on it. The edges are rounded, perfect for the canvas to engulf the wooden frame in a pleasing way..
Which type of canvas we use for printing?
We use a poly-cotton canvas material for printing your photos on canvas because it is more textured than the standard paper used for photo printing. This material is particularly suited for art reproductions or as a way to make your photos look museum-quality.
Many companies claim to use 100% cotton canvas material, which we think is not the right material to last for a long time. Here's why:
Cotton is termed as a breathable material, which means it is prone to ripping and getting worn quickly. Durability is not cotton's biggest strength, whereas polyester's elastic traits make it more durable as a canvas material.
Because 100% polyester can get sticky with any kind of perspiration brought on it, using just polyester canvas would make the photos look like they are printed on plastic.
100% cotton canvas is expensive and requires high maintenance, while 100% polyester canvas is cheap but doesn't enhance pictures very well.
To get the best of both worlds, we combine polyester and cotton to make the canvas wrinkle-free, lightweight, and low-maintenance.
Which type of printers & inks do we use for printing?
We work with the latest HP Latex printers and HP Latex inks to produce consistent results. With reliable performance, we believe in minimizing waste and downtime. By using HP's Latex printers, we sharpen the quality of any of your photos with a rich and vibrant color with HP Latex inks' help. The inks are designed with the environment in mind, which requires no special ventilation or hazard labels.
Frequently Asked Questions
Can I get a custom canvas print in a size not listed on your website?
We provide custom sizes from 8"x8" to 54"x54" in any width and length combination. If you are looking for a size beyond what we offer, we would be happy to talk to you! Email customer service at: cs@canvaschamp.com
What canvas options are there to choose from?
There are several options to think through when creating personalized canvas prints. Do you prefer a rolled print or a stretched canvas? If stretched, you'll need to choose between a thin gallery wrap (0.75") or a thick gallery wrap (1.5"). From there you'll decide on a border or a frame. Click on any red button on this page to explore these and other options in more detail.
Do you offer laminate protection for custom canvas prints?
Yes! To add a laminate protection to your canvas art, please walk through the steps in designing your canvas. At the end of the design process, in the "Options" category, you will see a checkbox for lamination. Please be aware that there is a nominal fee for lamination.
How do you hang canvas prints?
Step 1: Get the right kit
Our canvas photo prints are ready to hang and are delivered with free mounting hardware. If you prefer to use your own, be sure to opt out of the free mounting kit when designing your canvas.
Step 2: Mark the wall
With a pencil, mark the spot on the wall where you want to hang your canvas. It's important to remember that the top of the canvas will sit slightly above the pencil mark, so include that in your measurements.
Step 3: Place the wall hook
Carefully nail or screw where you've marked the wall with a pencil. If using a nail, be sure to position it at an angle. This will ensure that the wall supports most of the weight of your canvas. For screws or drywall screws, position straight into the wall as you would normally.
Step 4: Hang the canvas
Hang the canvas on the wall. To ensure it is hanging straight, place a level across the top and adjust as needed.
How do I maintain my photo canvas prints?
Here are a few tips for preserving your custom canvas prints. Hang print indoors out of direct sunlight to preserve color quality. Excessive exposure to humidity can invite mold or mildew to grow so be sure to hand in a cool, dry area. Periodically dust with a soft cloth or feather duster.
Made With Love!
Share the love with your family and friends when you give them canvas prints full of memories. Crafted with care, we give each design the attention to detail it deserves. Each piece of artwork is printed using HP certified printers and latex inks to give your photos incredible depth and vibrance.