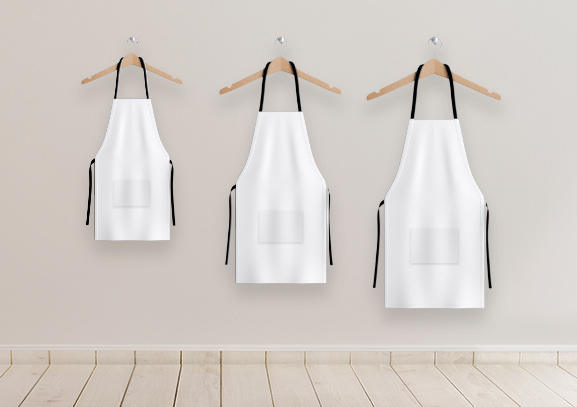 Custom Apron Details
Made of polyester and printed using sublimation printing, these aprons come in five different sizes. Choose the smaller sizes if you're shopping for a child or teenager, use the medium and larger sizes for older teens and adults.
Small: 32"x20"
Medium: 34"x22"
Large: 36"x24"
X Large: 38"x26"
XX Large: 40"x28"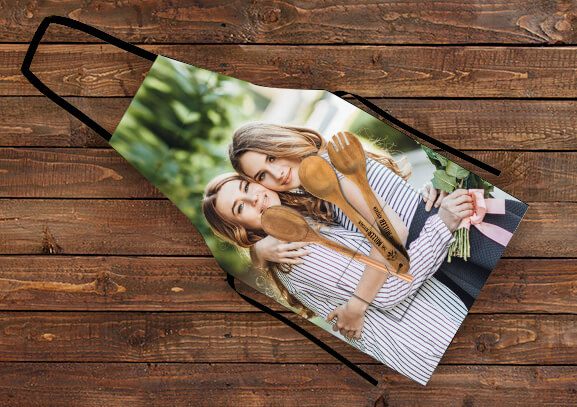 Aprons With Pockets
Oh yes, pockets! Carry spare measuring spoons, a recipe index card, or other small items within reach for exactly when you need them. Every apron has room to spare while you're cooking or baking. Additionally, we make our personalized aprons very easy to design and order. We'll walk you through our design tool, step by step, to help you create exactly what you're looking for.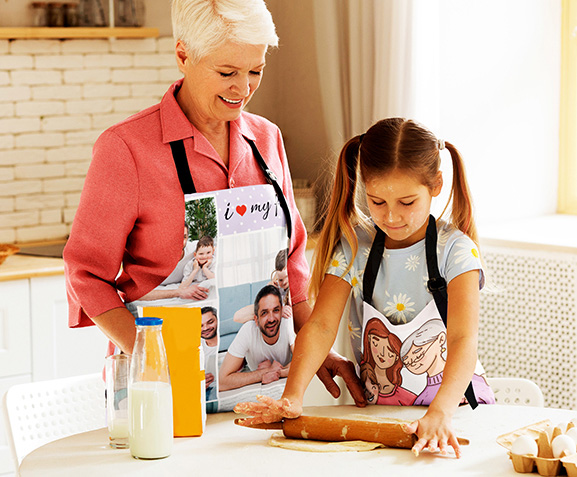 Think Beyond Photos
While it's pretty standard to use fun photos of family, friends or vacations to design an apron with, did you know that there are other ways to make your apron stand out? Use any standard graphic design tool to create an interesting image or text design instead! Or combine your photos together in a collage design and upload that to our apron design tool. There's no limit to the creative possibilities!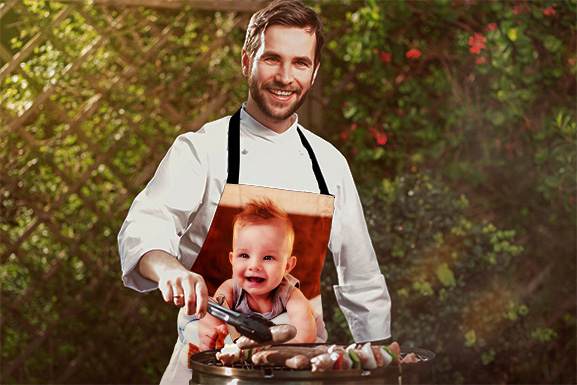 Custom Aprons are a Fun Gift
Gift one for the cook in your life on Mother's Day, or for the baker or grill master on Father's Day. Create a special holiday themed apron for any major holiday from Independence Day to Halloween, Thanksgiving or Christmas. Don't forget birthdays and anniversaries where a personalized apron will really stand out as a gift. Show someone how much they really mean with an apron as a thank-you or graduation gift. Did you know you can also order them in bulk for events like wedding parties, fundraisers, or as employee gifts?
FAQs
Q:

What type of files can I upload to create my custom apron?

A:

We recommend uploading .JPEG, .JPG, .PNG file types to create your apron. This ensures that your picture quality is not distorted and prints properly.

Q:

When will my custom apron arrive?

A:

Once you finalize your design and submit payment, please allow between 3-7 days for your order to ship out and deliver to your doorstep.

Q:

Can I add additional elements to my personalized photo apron?

A:

At this time, we are not offering additional elements or decorations to be added to our aprons outside of the traditional image, design, and text.

Q:

Is there a design template available to create my custom cooking apron?

A:

Yes. Our website design tool serves as a template for your apron. The design tool outlines the exact size and shape so you're able to see how your image will appear before finalizing the design.