Good Quality Stickable Photo Tiles
CanvasChamp Wall Tiles are super easy to install! Just peel off the backing strips from the adhesive on the back side of each tile. Then, place the tile where you would like it displayed on the wall. Once you are satisfied with the placement of each tile, press firmly to secure it to the wall.
Material & Shapes
Foam Board, Metal, Acrylic photo tiles.
Thickness - 5-6mm (0.19" - 0.23") thick.
Multiple shapes are available of photo tiles: square, Rectangle, Circle & Hexagon.
Sizes
Square: 6" x 6" – 8" x 8" – 12" x 12"
Rectangle: 6" x 8" – 8" x 10" – 12" x 18"
Circle: 6" x 6" – 8" x 8" – 12" x 12"
Hexagon: 6" x 7" – 8" x 9" – 12" x 14"
WALL PHOTO TILES LAYOUT IDEAS TO PRINT
There is an array of options for layout on CanvasChamp wall tiles! You can highlight your most treasured memories from one to four images on these minimalistic, sleek photo tiles.
One Photo

Two Photo

Three Photo

Four Photo
TRANSFER PHOTOS TO DIFFERENT SHAPES OF WALL TILES
Regarding photo tile shapes, four incredible options will fit any style. From hexagonal to classic square, you can create a unique statement for your space with CanvasChamp!
Hexagon Photo Tiles

Circle Photo Tiles

Rectangle Photo Tiles

Square Photo Tiles
Custom Shapes to Print Photo Wall Tiles
We've constructed picture tiles in many different popular shapes. Choose from squares, rectangles, circles and hexagons. Each shape is unique for so many different applications, from creating picture tiles for wall, photo mosaics to circle photo headshots. You're only limited by your imagination!
Square photo tiles are great for creating visual storytelling on a wall. Combine photos of similar styles and scenes to make a creative and fun statement. Rectangle photo tiles work exceptionally well for landscape shots of nature, the beach, forests, as well as large group photos of family reunions or corporate events. Try using circle wall tiles for your children's rooms to make funny emoji prints, for cartoon characters or amusing headshots of friends. Up your creative game with hexagon picture tiles to make mosaic designs that fit well together so you can keep adding tiles as you go. There are so many possibilities!
Custom Printed Wall Tiles
Made from durable hardboard material, these fully customizable and colorful photo tiles for wall are perfect for so many different uses. Thinner and more lightweight than large canvas prints, wall tiles exude a finished and professional look without the big expense. They are a great alternative to decorative ceramic tiles you can hang anywhere in your home, office or school. You can get them in square, round, rectangular or hexagonal shapes.
Hardboard is a synthetic wood product used in furniture and in the construction industry. A common use is for pegboards that you can hang tools and craft items on in a workshop or your garage. This material is an ideal substrate for printing with UV inks — that's our specialty!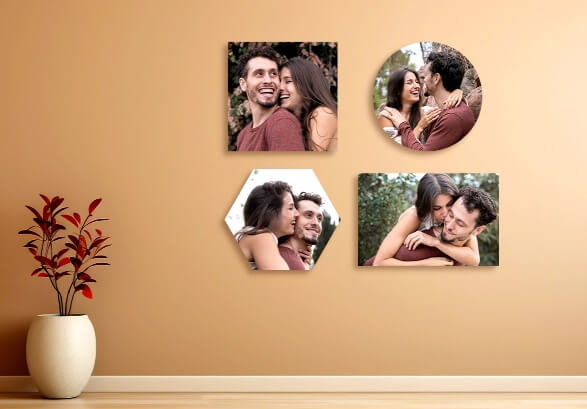 Personalized Wall Tiles Printed in Full Image, Many Sizes
Custom wall tiles are a lightweight, durable, and colorful printing option. Make these photo tiles with your artwork, text, photos, or business logos. Learn how to create these tiles for your home or as advertising for your business or event!
Need an idea for your next decor project? Well, CanvasChamp's got you. How about decorating your space with custom-printed wall tiles? Sounds fun!
So, whether you want to adorn your bathroom wall or fix that dirty kitchen tile, we have the best custom wall tiles that would wow anything which steps inside your home!
How to Make Custom Wall Tiles
Printed hardboard photo tiles have many practical uses when you add your own unique touches to match your personal style or your company's branding. Use them for presentations, temporary signage, or keepsake box covers. The square sizes are perfect for printing your Instagram photos, too!
You can upload photos, graphics, art images, text, logos, or anything you can think of. Take images from your phone, computer, social media accounts and easily upload them online.
Creative Uses for Printed Wall Tiles
Custom wall tiles are perfect for keepsake box covers, mosaic tile murals, decorative wall art, durable Instagram photo prints, indoor signage, promotional advertising and more!
We print all of our wall tiles using durable UV inks that resist scratching and fading. The process is quick and easy using our high-tech digital printers, ensuring faster production times. The hardboard material is sturdy and rigid, yet incredibly lightweight enough to hang or display just about anywhere.
Custom wall tiles are also ideal for use as promotional items, marketing campaign giveaways, advertising specialties, and trade shows. The different shapes available make them suitable for just about any situation. By printing your logo and business information on wall tiles, you get your business recognized anywhere!
As with many other personalized products available throughCanvasChamp.com, customers can create completely customized wall tiles totally online. Our site is very user-friendly to quickly and easily customize your order. All standard graphics formats are acceptable, and an array of fonts are available.
MORE ABOUT PHOTO WALL TILES AS GIFTS
Do you want to know even more about photo tiles as custom gifts? Here you can discover everything you want to know about CanvasChamp Photo Wall Tiles, from design ideas to the design process and wholesale shopping.
Custom Photo Tile Ideas
Family Portraits - Showcase your stunning family and cherished memories on personalized photo wall tiles from CanvasChamp. Mix and match shapes and sizes to create a one-of-a-kind gallery wall that fits your style!
Travel Memories - Display your favorite memories from your travels in your home. Be reminded of the wonderful landscapes and landmarks that you have visited every day on custom wall tiles!
School Picture Days - See how your little ones have grown by displaying their school pictures from each year on a fun gallery wall. Personalize photo tiles and add on to your display each year!
Painted Designs - Are you looking for a unique way to display your artwork? Design tiles with CanvasChamp and create a wall display to show off your work!
Buying Tiles in Bulk
Are you interested in purchasing wall tiles in bulk? You're in luck! CanvasChamp is happy to provide a wholesale option. Plus, the higher volume of items you buy, the more money you save on your order! The discount range is 10-20% per order, and you can also get free shipping on qualifying orders!
To register for a wholesale account with CanvasChamp, email our customer service email address, cs@canvaschamp.com. By doing so, you will automatically be registered as a wholesale account and be able to cash in on special bulk order savings on future orders!
How to Design Your Tiles
Select Shape: There are a few options regarding photo tiles. You can create a perfectly symmetrical wall display featuring square or rectangular tiles. Or get super creative and mix in fun shapes like hexagons and circles!
Choose Size: Depending on the wall you plan on decorating with these custom tiles, you can select assorted sizes of wall tiles. The available dimensions from CanvasChamp include 6" x 6", 8" x8", or 12" x 12".
Upload Images: Once you have picked the shapes and sizes, the real fun can begin! Add personal photos to the CanvasChamp design tool for each photo wall tile.
Adjust Placement: After the images have been added to the tiles, make sure the photos are centered or aligned how you want them. You can preview your work within the CanvasChamp design tool.
Add Text and Clipart: Want to add more elements to your photo tiles? Further, customize them with custom text and even clipart. You can choose from an array of clipart options from a drop-down menu in the CanvasChamp design tool.
Add to Cart: When 100% satisfied with your final design, add each tile to your CanvasChamp cart. Make sure to double-check each tile before checking out.
Insert Payment Information: During checkout, you must add your payment information. Please ensure the information is correct before placing your order for photo wall tiles!
Place Order: Once you have completed all the above steps, you can place your order. Your wall tiles will be created once the design is received and will ship directly to your door!
FAQS
What is a photo tile?
A photo tile is a custom-printed image on a stick-on tile. These tiles are a super stylish and effortless way to create your gallery wall. With CanvasChamp, you can easily design in minutes and preview your tiles before checking out. This ensures you are delighted with the final product before placing the order.
How much are photo tiles?
CanvasChamp's photo wall tiles are incredibly affordable. Our wall tiles start at just $5.99 per tile. This price point allows consumers to design an entire wall display on any budget!
How to arrange photo tiles?
There are numerous ways to arrange wall tiles; the possibilities are limited to your imagination! CanvasChamp inspires different display options on the product page and within the Idea Gallery, where real customers share photos of their creations.
How to display photo tiles?
There are endless ways to display custom photo wall tiles in your space. From classic gallery wall layouts to abstract designs, there are many ways to make this wall display stand out! Plus, when you shop with CanvasChamp, you can preview the tiles before placing the order, allowing you to make any adjustments based on the layout you are considering for your wall display.
How to hang photo tiles?
With CanvasChamp, hanging wall tiles is incredibly simple. Just peel off the adhesive backing from the tiles and place them on the wall where desired! You can even lay them out beforehand to make the hanging process quicker. It is that easy!
How to print photos on tiles?
You can create your photo wall tiles with CanvasChamp! Just upload your images to the easy-to-use design tool, adjust the alignment, preview the design, and place the order! These tiles will be shipped directly to your door, where you can display them to your liking.
How to remove photo tiles from the wall?
Ready to change things up? To remove your CanvasChamp wall tiles, lift the bottom of the tile evenly and carefully pull it towards your body. Then you'll have a fresh, blank wall to work with!
How to transfer photos to tile?
Seamlessly transfer personal photos from your device to photo tiles with CanvasChamp! Just upload your images to the design tool, align them where you see fit on each tile, review the final design, and place your order. Once the tiles arrive, you can effortlessly display them!
How to make photo tiles?
You can create personalized wall tiles with CanvasChamp! Select the shape, size, upload your images to the design tool, add text, add clipart, and place your order. You will have custom tiles in no time!