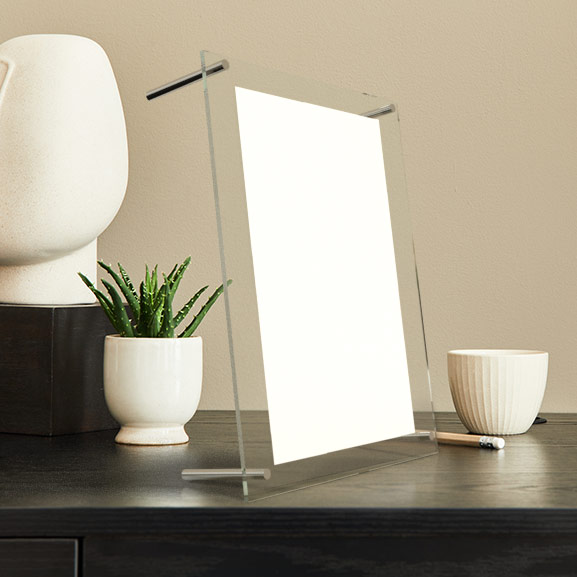 Clear Acrylic Frame Wall Art Specifications:
We print your favorite photos on quality acrylic material and offer multiple sizes and hardware options to best fit your needs.
Material: Acrylic
Thickness: 4MM
Hardware Option: No Hanging Kit, Table Stand & Front Mount
Take a look at our size options and their hardware options:
| Size | No Hanging Kit | Front Mount | Table Stand |
| --- | --- | --- | --- |
| 10"x8" | Y | Y | Y |
| 10"x10" | Y | Y | Y |
| 12"x12" | Y | Y | Y |
| 14"x11" | Y | Y | Y |
| 16"x12" | Y | Y | Y |
| 16"x16" | Y | Y | Y |
| 20"x16" | Y | Y | Y |
| 20"x20" | Y | Y | N |
| 24"x20" | Y | Y | N |
| 24"x24" | Y | Y | N |
Personalized Clear Acrylic Frames Wall Art are Great For
Birthdays - Another year of experience should be honored with a perfect picture on a clear acrylic frame.
Anniversary Gifts - Never miss to impress your spouse with a clear frame acrylic cherishing those first days.
Christmas Gifts - Embrace holiday season good time family moments better with a clear acrylic frame.
Corporate Branding - Leave a better impression with your brand logo and tagline on an acrylic frame.
Product Launches - Clear acrylic frames can display your best products with pride in your office!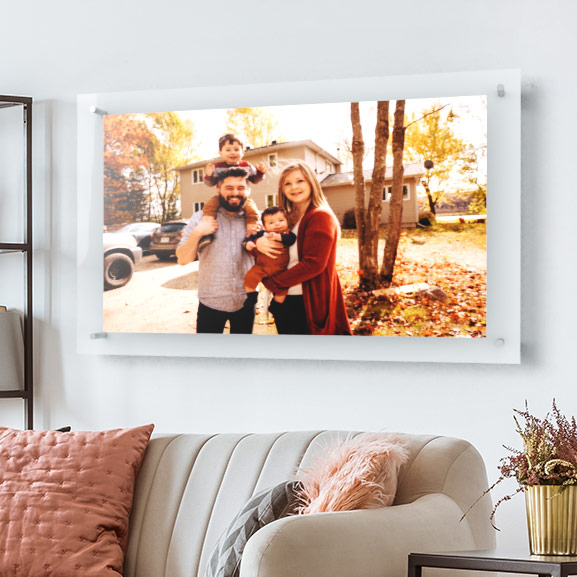 How to Create Your Custom Clear Acrylic Frame Wall Art
To bring your artwork to life, we recommend using high-resolution images. This will ensure that the vibance of your image is properly displayed against the acrylic material.
The best type of images to use for this acrylic frame are JPG, PNG, PDF, JPEG formats.
We make it easy to add your photos for customization. Simply drag and upload photos from your local computer drive, Google Drive, or social media platform to personalize your clear acrylic frame.
Our design tool provides a template to help you create your layout and correctly size your image against the acrylic frame before finalizing your print.
frequently asked questions
Q:

How do I add text to my acrylic print?

A:

Our simple design tool allows you to add text to your design after inserting your image. If you need additional assistance with personalization, please contact us via phone or chat.

Q:

Are clear acrylic prints available in circular shapes?

A:

Currently, we only offer rectangular shaped prints. This shape can be vertical or horizontal.

Q:

Are they scratch proof?

A:

Clear acrylic frames are not scratch resistance. We recommend handling them carefully while assembling and avoid placing them next to sharp objects.

Q:

How do I clean my clear acrylic print?

A:

We recommend avoiding any harsh cleaning products. For best cleaning results, simply use a cloth and lukewarm water and pat dry with a paper towel.