Create Custom Acrylic Photo Block Prints with your Favorite Photos
You can make your memories last a lifetime when you decorate your home with them. With CanvasChamp, we go the extra mile when it comes to transforming your family photos into unique home decor. Print your special occasions onto custom acrylic photo blocks from CanvasChamp.
The Best Acrylic Prints on the Web!

Hand Polished Crystal Clear Edges

Elegant Black Acrylic Base With Reflective Mirror

Your Satisfaction Is Guaranteed
Acrylic Photo Block Sizes to Match Your Photo and Display Surface
We offer 12 acrylic block sizes to help you select the best format for your treasured photo – whether it's vertical, horizontal, or square. Our acrylic block photo printing gives you high resolution for sharp images in sizes that range from 4 x 4 inches up to 8 x 12.
Your Photo On Acrylic Block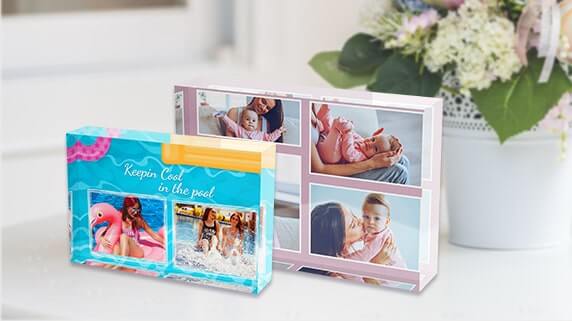 Features
High-quality prints face-mounted onto sturdy 7 MM (0.3 Inch) to 18 MM (0.7 Inch) acrylic glass brings maximum vibrancy and depth to your images. The polished surface will keep your acrylic blocks looking fabulous for years to come!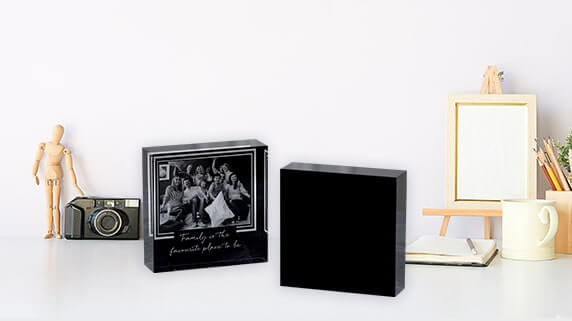 Backing
We finish our personalized acrylic blocks are with a black backing that keeps light from shining through the back. Vibrant details are highlighted through the block's crystal-clear front and sides.
Make Lasting Memories with Custom Acrylic Photo Blocks
Kids, Pets, Long-Distance Moves: Whatever the reason, frames are not always the best way to protect your most treasured photos. Our striking personalized photo blocks are lightweight, but durable enough to last a lifetime.
Premium Photo Papers

Secure Packaging pictures Arrive Safely

Brilliant Colors

A Special gift with Sculptural feel

Free Standing and Stable

Long Lasting Brand Name Quality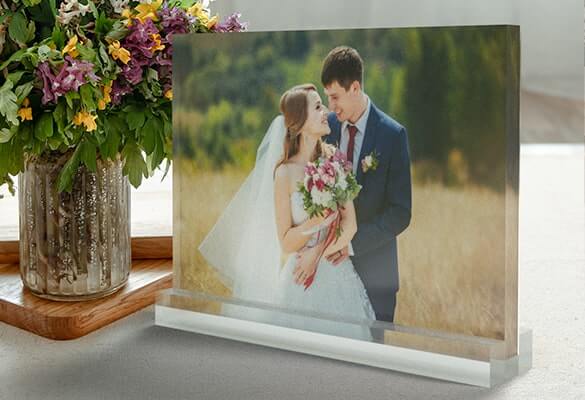 Photos Stand Out … with Acrylic Block Stand
Our acrylic blocks are free-standing on any flat surface. You can make your photo even more captivating by ordering the optional black acrylic block base with reflective mirror.
All the Info on Acrylic Photo Blocks
Custom acrylic photo blocks showcase your favorite moments
Highlight your favorite photographs of special events or stunning landscapes with a custom acrylic photo block. The transparent, polished acrylic sides and face of your photo block direct light onto your photo, making colors more vibrant and creating a 3-D effect. Because of this, these face-mounted photos are especially striking for portraits.
Your photos on acrylic blocks are ready to display right out of the package. You can set them on any flat surface, with or without the optional black base with reflective mirror.
A stunning acrylic photo block isn't just about the photo
While it's true that your images are the stars in a custom photo block, you can use text and clip art to further personalize your piece. Choose from several size options from 4 inches square to 12 x 8 inches. Can't decide on a single image? Create a collage with up to four photos using a variety of predefined layouts. Select a background border color to accent your photo's best features. Complete your unique photo block with text options: add a date, name, or individualized message wherever you like.
A custom acrylic photo blocks is as easy as point and click
Let your creativity out to play when designing your personalized acrylic photo block. While every image will be vibrant and lifelike when transformed into a customized acrylic photo block, our CanvasChamp design tool allows you to effortlessly test options to create the perfect photo gift for friends and loved ones. Upload your images and then bring your vision to life with sizes, layouts, and more to create a truly one-of-a-kind piece.
For unique, contemporary gifts, acrylic blocks are ideal
When selecting a gift for your loved ones, customizable acrylic photo blocks are an inspired choice! Personalized photo blocks from CanvasChamp deliver a high-quality, expensive look to your photo gifts at an affordable price, and they create an eye-catching focal point in any room.
Acrylic photo blocks showcase your best photos by highlighting colors and light. The polished edges reflect light onto your image, creating a 3-D effect that will make your piece jump with life.
Beautiful photo blocks are self-supporting and entirely at home on desks, tables, or shelves. Add a black support base for even more visual impact.
Acrylic photo blocks are the perfect treatment for keepsakes that last a lifetime
To enhance your very best memories, an acrylic block provides both beauty and protection. The 7 MM (0.3 Inch) to 18 MM (0.7 Inch) thick acrylic glass allows you to view your photo's details through the transparent sides for a unique perspective. Choose large personalized acrylic blocks prints for spectacular spotlights for family portraits. Easy to clean, the acrylic structure is scratch- and shatter-resistant, making it a sturdy way to protect those treasured pictures.
The acrylic glass on your custom photo block isn't just for looks
Printed on high-quality white photo paper, your image is face-mounted onto crystal-clear acrylic glass and then backed in black. This process results in a custom photo block that reflects ambient light for a vibrant color payoff. The 7 MM (0.3 Inch) to 18 MM (0.7 Inch) acrylic glass also adds an illusion of depth to your unique photos and is perfect for landscapes, flower photography, or any time you want the image to come to life. The polished acrylic glass is also an ideal protective medium, ensuring your images are safe from life's little mishaps. For beauty and durability, a personalized acrylic glass photo block is an unrivaled choice.
The design tool gives a sneak peek at your acrylic photo block
Sometimes, it's challenging to translate your idea into a final product. View your piece as you build it with the CanvasChamp acrylic block design tool. When adding text or clip art, change the font, color, rotate, or resize for the perfect accent. Can't decide between full bleed (to the edge) or a border? Try them both! Undecided on a background color for a multi photo layout? Test your favorites before you commit. No guesswork or angst involved; the design tool lets you be in charge and create the vision of your mind's eye!
Frequently Asked Questions
Ask about Acrylic Photo Blocks and get answer in email.