SPOTIFY MUSIC PLAQUE FROM CANVASCHAMP
Scannable Spotify Codes

Free Acrylic Bases

High Quality and Finished to Perfection

100% Satisfaction Guaranteed

90-day Returns
You just click on UPLOAD COVER IMAGE.

Then FILL ALL THE FIELDS you would like your song plaque to have.

Add to Cart and receive a beautiful song plaque to cherish!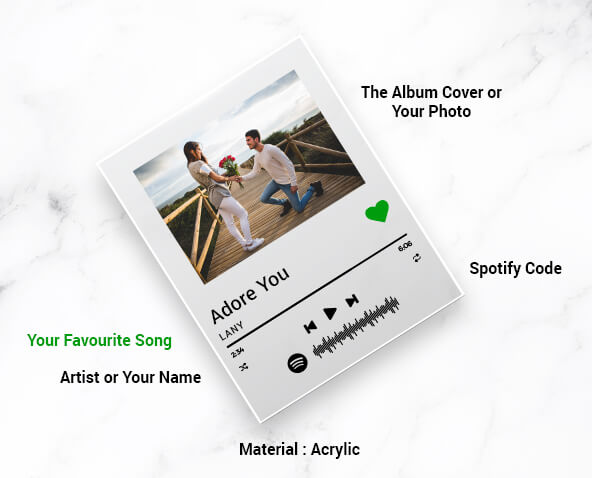 Taking Music and Memories to a New Scale Through Spotify Song Plaques
Do you have a song that you associate with a certain memory? The Custom Spotify Song Plaque brings your precious memories back to life by using your choice of photo and song. Scan the Spotify code and the song will play on your song on your phone!
These make fantastic decor in your home or office space. Create a Spotify Plaque as a signature piece with your favorite song or make several plaques for a playlist that represents you!
Create a Spotify Plaque as a romantic gift for the special someone in your life, or a unique gift for family and friends to celebrate a special occasion.
Simply upload images from your computer files, or photo library and type in the song title and artist you want for your design. Add your creation to your cart and our expert designers will create your masterpiece.
If you still need assistance with your Spotify Plaque design, our team of experts is available for a chat or call.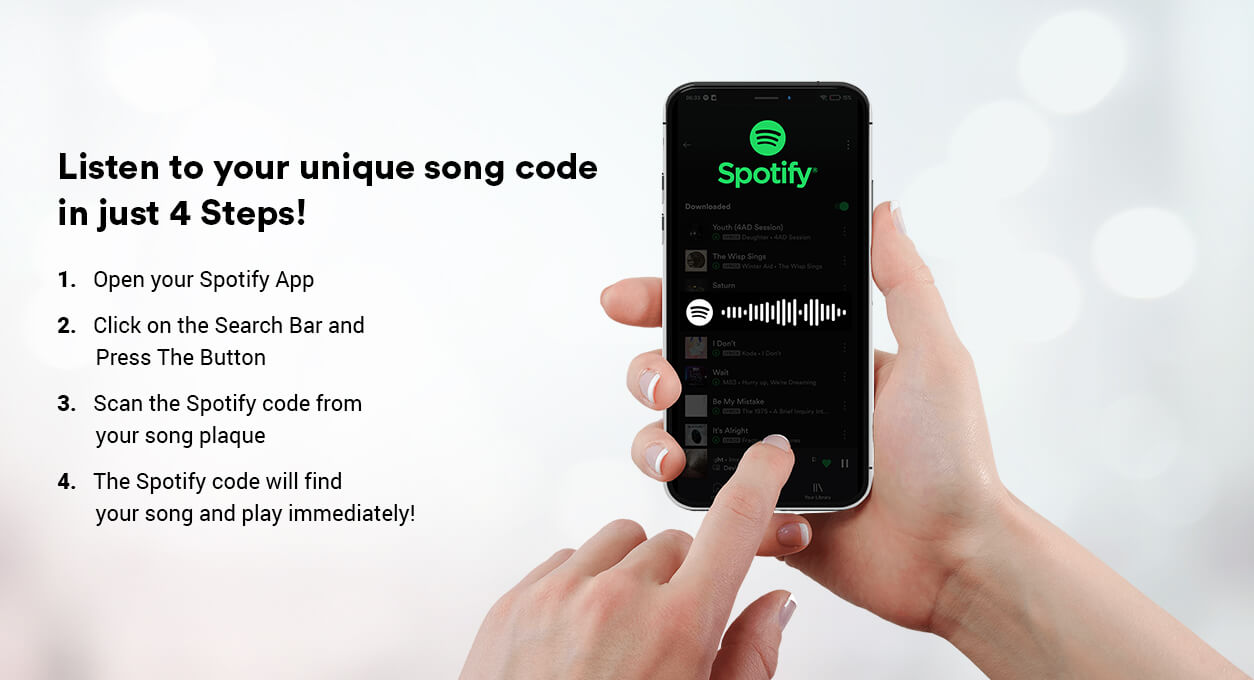 Personalized Spotify Song Plaques Specifications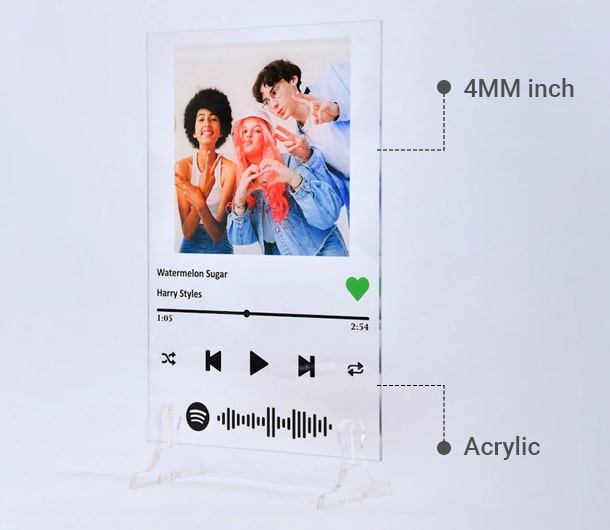 Material
We use heavyweight 4MM inch plexiglass with a gently smoothed surface. Laser printed directly onto the plexiglass to create a smooth, scratch-resistant surface to ensure the highest quality.
This plexiglass is tested to be light resistant for at least 100 years. Rest assured your Spotify Song Plaque will last for a long time or we will replace it for FREE!.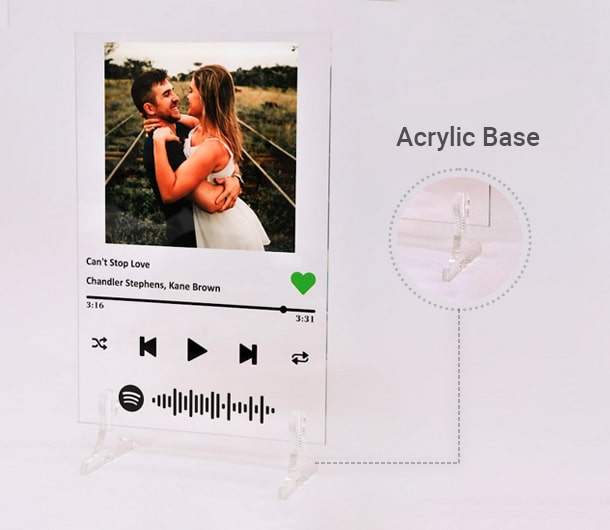 FREE Acrylic Base
Each Custom Spotify Song Plaque comes with an acrylic base stand to showcase your design.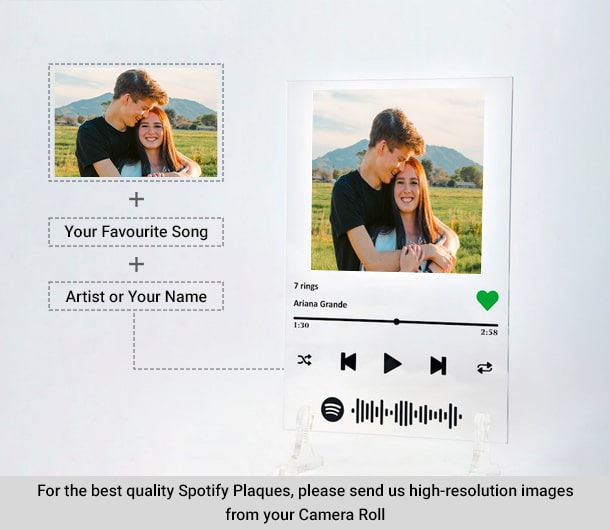 Printing
We also use the best UV printing technology on such material. It's the most advanced printing technology that allows achieving maximum color saturation and durability.
Our Spotify Song Plaques have rich colors, sharp text and never-ending reliability.
For the best quality Spotify Plaques, please send us high-resolution images from your Camera Roll instead of Whatsapp images or screenshots.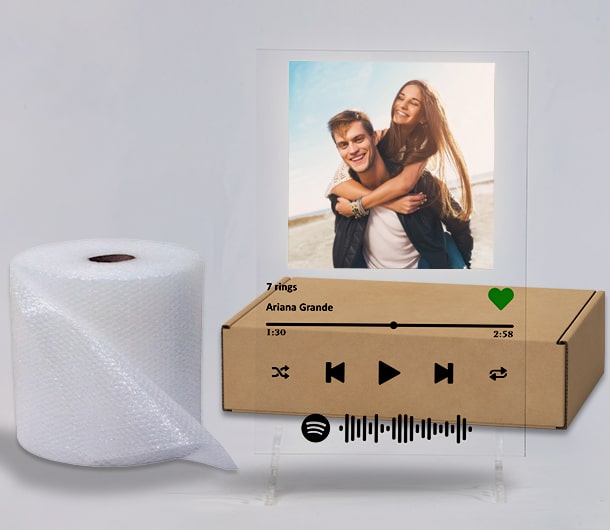 Packaging
Your order will be carefully packed with the use of plastic foam and bubble wrap. You shouldn't worry about the package safety as we have already taken care of it.
Returns/Replacements
If you have any problem regarding the product kindly mail us at cs@canvaschamp.com. We will try our best to assist you and arrange a refund or a return. We have a 90-days return policy.