LIVEN UP ANY ROOM WITH CUSTOM PHOTO PILLOWS
Our custom throw pillows are fully customizable, and come in 80% polyester 20% cotton. Start with a square or rectangle template to create your own throw pillow design with photos, text, and creative palette color option on back side. You can easily add photos from your phone, computer, FaceBook, Instagram, or Google Photos. All of our custom pillows are available to order in 10 popular sizes.
Personalized Photo pillows
Give a distinct touch to your living room with personalized pillows. Our wide range of customizable photo cushions don't just let you take a personalized approach but the soft fabric gives the luxurious feel which further enhances the experience. You just need to upload your photo or design the pillow using our online design system.
Select Size
Ships in 5-20 Business Days

100% satisfaction

100% Money Back Guarantee

Durable + Washable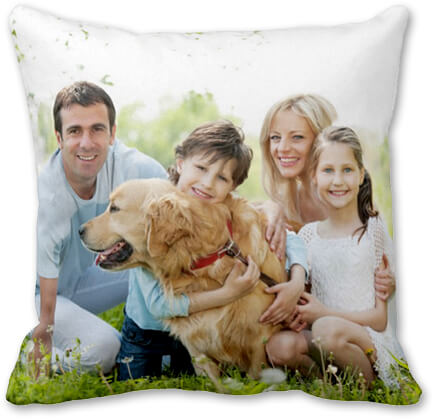 Personalised Photo Pillows for Any Room
Add Photos to Pillow for an extra-personal touch
Accent any room with custom built throw pillows. Our soft, photo pillows are amalgamation of comfort with best quality fabric. While on one side it gives a better feel and durability, on the other side the elegant touch makes it further adorable. Using the pictures of your family, friends, pets and others close to your heart and keep them forever by your side.
Make your own photo pillow
3 Easy Steps to Customize Photo Pillow
Upload Your Photo

Easily design your own pillow with our photo pillow tool which allows you to flawlessly upload your favorite photos from desktop, smartphone, or tablet.

Personalize your pillow

The user friendly tool lets you to customized pillow online very quickly while experimenting looks and arranging your pictures creatively.

It's at your doorstep

Once you have the live preview after final customization, now you can count on us. From here our team will take the charge and ensure creating your pillow with perfection and getting it delivered on time.
Cuddle Up every Memories with Personalized Pillows
Print your most loved pictures
Memories

Some memories have an invincible space in our heart. Whether it be your last trip or a click of your pet, bring them to life every time you walk into your room.

Family

The world might go digital, but pictures look splendid when they are printed. Make your loved ones feel special with custom throw pillows of the pictures of your loved ones.

Milestones

While each day holds a distinct significance, someday play a major role. Gift your loved ones with a special gift by printing the memorable moments on a personalized pillow.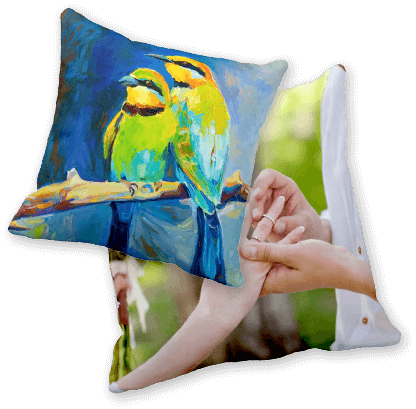 Durability augmented with Comfort
Made with 80% polyester & 20% Cotton, your own throw pillow comes with a removable cover. This eventually helps you keep your custom pillow clean forever. The amalgamation of comfort with durability indeed makes it a preferred choice of people globally.
Create Custom Pillows
Washable Pillows to Maintain hygiene
The zipped covers make it easy for you to clean your photo cushion from time to time and maintain their look and hygiene without any compromise. If hygiene is your concern, our custom pillows can be washed 'n' number of times, use of best quality fabrics and colors, ensure that your pillow remains gorgeous and vibrant like the first day.
Make a custom pillow
Turn your photos into pillows with stylish work of art
Custom Photo Pillows
You're going to love your photo pillow
At CanvasChamp, our motto is happy and smiling customers and we try our best to serve them better than before each time!! We're here to make sure you love everything about your photo cushions. You'll love the print or we'll refund the money