FEATURES OF GOLD COFFEE MUG WITH CUSTOMIZATION
Introducing our exquisite Gold Coffee Mugs, the perfect blend of elegance and functionality for your coffee and tea moments. Crafted with precision and designed to elevate your beverage experience, these mugs are a must-have addition to your collection.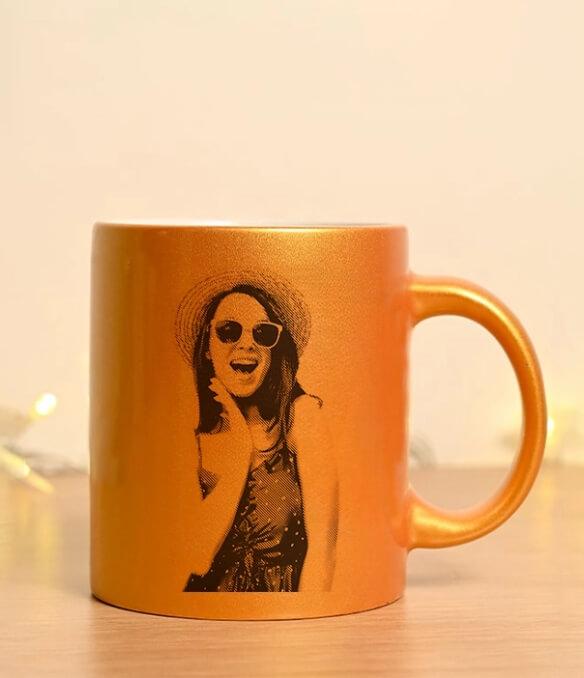 Key Benefits of Custom Gold Mug:
Luxurious Aesthetic: The rich, gleaming gold finish of these gold mugs adds a touch of opulence to your coffee and tea rituals. Whether you are drinking your morning brew or enjoying an afternoon coffee or tea these gold mugs effortlessly complement any setting.
Premium Quality: Our Gold Coffee Mugs are the result of meticulous artistry, crafted from top-grade ceramic to guarantee enduring strength and durability. The custom gold mug design effectively preserves heat, ensuring your beverages remain the same with the exact taste for extended periods.
Comfortable Grip: The appropriate design of the gold tea coffee mug handles offers a secure and pleasant grip for a beverage without concern for slippage. The gold coffee mug's considerate design prevents your fingers from coming into contact with the hot surface, ensuring a safe and enjoyable experience.
Generous Capacity: These personalized gold mugs hold an ample amount of your favorite coffee, tea, or any other beverage of choice with exact taste. The wide mouth of the gold tea mug facilitates easy pouring and prevents spills.
Versatile Use: While these personalized gold mugs are perfect for coffee and tea, their versatile design makes them suitable for a wide range of hot and cold beverages. Use them for hot chocolate, herbal infusions, or even chilled drinks.
Easy Maintenance: Keeping our Gold Coffee Mugs clean is effortlessly simple. These gold photo mugs are designed to be dishwasher safe, streamlining the cleaning process and saving you valuable time and energy while ensuring their immaculate presentation remains intact.
Great Gift Idea: These custom gold mugs make an excellent gift for coffee and tea enthusiasts, housewarmings, weddings, and other special occasions. Our refined packaging of gold mugs imparts an additional touch of sophistication to your considerate gift, elevating its overall presentation.
Add a touch of sophistication to your daily beverage routine drinking habits with our Gold Coffee Mugs. Elevate your sipping experience and make each moment a luxurious indulgence. Order your gold coffee mug today with CanvasChamp and relish the joy of savouring your favorite drinks in style.
Liked Our Golden Mug? Try Other Mug Products