Wall Murals for Home

Custom Wall Murals are a unique way to create an exciting, personalized look in your home. Elevate the look of any room with a wall mural to make it look classier, tell a story, or just suit your vibe. Use family portraits to create a family wall mural to bring warmth and comfort to the home!

Wall Murals for business

If you are looking for a way to improve the décor of your establishment, custom wall murals is the perfect solution. Try using photos of your staff, special locations, stunning art, or logos to show off what your business represents. Professional wall murals or decorative wall murals are certain to make your business more memorable!
Custom Size wall murals
Small

Create a personal haven with a small custom wall mural. Small murals are perfect for smaller walls that need to be covered. A custom wall mural will make a smaller space stand out and draw attention to that area.

Large

Large or oversized wall murals are the best option for covering larger walls or entire rooms. Create a large wall mural to reflect the theme of the room or business.

Square

Own any perfectly square walls? Fill them will a square-shaped mural to enhance your space! Your favorite patterns, photographs, or artworks make suitable choices for square murals. Select the shape in our design tool.

Panoramic

Create a custom panoramic wall mural with our design tool. Use photos to create an aesthetic experience people will never forget. The possibilities are endless to create an immersive, realistic, and breathtaking experience for your home or customers.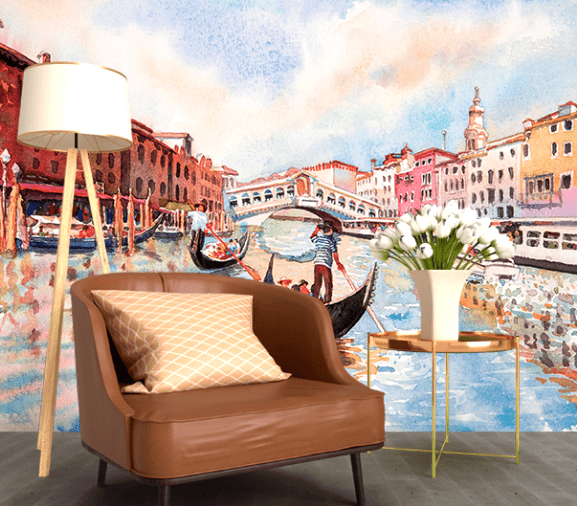 How to Make Custom Wall Murals
It's easy! Using our online design tool, you can upload images and choose any size that fits your room's decor. Then, make your walls unique by using your photos, graphics, or text.
You can quickly do an online upload of high-resolution images from your phone, computer, or social media account. You can size and crop images, add text, or even move them around as you go through the design process. Then, simply enter the width and height dimensions of your space in feet and inches, any optional features you wish, and the material you want to print on. Don't worry — we can print any size for any room!
Design Custom Wall Murals Online With These Easy Steps
Pick Your Design or Upload Your Picture

Get one beautiful design from our rebellious wall mural collection, and we are sure you will love them to the core. You can also upload your own design to give the final wall murals a perfect look.

Select Your Size

Pick one size from small, oversized, square, and panoramic, as per your space and add a fresh look to your ambience Also,add a custom dimension that perfectly complements your wall.

Add Effects and Checkout

Give uniqueness to your ordinary picture with many inbuilt effects of our designing tool. Also, retouch your picture as per your desire. Get a preview and proceed to checkout once you are satisfied.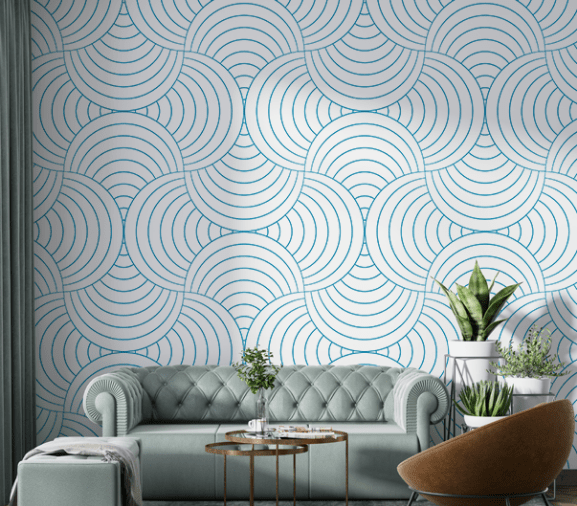 Creative Ideas for Wall Murals
Think of your empty walls as blank canvases. Easily create an atmospheric accent wall that makes a decorative statement in any room of your home by choosing a geometric pattern or landscape design. Consider using a favorite vacation photo to remind everyone of that fabulous beach or mountain trip in a family room. Pick some animal prints in soft, gentle colors and shades for a child's room nursery. Custom wall murals are also incredible for reception areas in a business office. Your company logo, mission statement, and a picture of your corporate headquarters are all welcome! Make a big first impression on your customers when they walk in your door!
Other creative areas for wall murals:
Dining room/kitchen, above or below a chair rail
Quick update for bathroom walls
The base of a bar or kitchen island
Decorate a headboard or bedside table
Desktop or inner desk drawers
Kids' dressers
Entryway wall or stair risers
The possibilities are endless!
FAQS - WALL MURAL
What Is A Wall Mural?
Murals are images that cover entire walls that show off your personality, travel destinations, culture, artistic style, and sense of décor.
Why is the mural important?
Murals are important because they can enhance the look of your home or business. Murals can tell stories to your visitors.
How to protect a wall mural
Our murals are high-quality and strong enough to withstand for a long time, but if you feel your mural needs extra protection, try using a clear self-adhesive film to cover your mural.
How to make a wall mural from a picture?
Wall murals can be created with your pictures on canvaschamp.com
How much do wall murals cost?
You can get custom wall murals for the low price of $70.45 at Canvaschamp.com.
How long do wall murals last?
The lifespan depends on a variety of factors. Murals can last many years in normal environments if they are properly installed. On average a wall decal mural can last 5 years.
How to create a mural wall?
Wall murals can be created with Canvaschamp's wall mural design tool.
How to remove wall murals?
Use a blow-dryer to apply heat to the corner of the mural, then pull the loose area away from the wall.
How to prep a wall for a mural?
Simply use a cloth or sponge with a gentle cleanser to remove dust, dirt and debris from the wall.
How to put up a wall mural?
Clean your wall of dust and dirt with a sponge and let the surface dry. To put up your mural guide your first part of the mural to line up correctly, run a plastic smoothing tool along the mural to remove air bubbles and continue until the mural is completely up.
Are wall murals tacky?
Wall murals can be stylish and classy, just make sure to choose appealing photos and patterns. Most of all the mural should make you happy.
How to install peel and stick wall mural?
Clean your wall of dust and dirt with a sponge and let the surface dry. To put up your mural guide your first part of the mural to line up correctly, run a plastic smoothing tool along the mural to remove air bubbles and continue until the mural is completely up.
What is the difference between wallpaper and wall mural?
Wallpaper tends to be continuous designs or patterns, while wall murals are often photographs, or artwork covering one side of the wall.