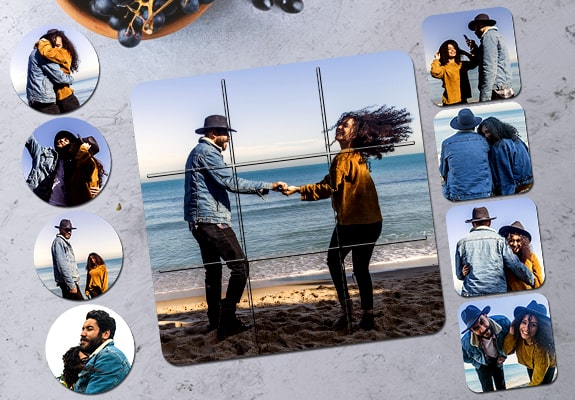 Custom Didactic Game Details
Simple games of strategy are fun for both kids and adults, and Tic-Tac-Toe is no different! It's even more fun, entertaining and meaningful when you can personalize it with photos you select yourself. Our didactic tic-tac-toe games are sized for big and little hands alike. Each game is constructed of durable hardboard, which is the same sturdy material we use to make our photo coasters. Each comes with an 8" x 8" customizable photo board engraved with the classic tic-tac-toe grid, and four 2" circle and square pieces each.
Size: 8" x 8"
Material: Hardboard
Thickness: 3 - 4mm
Tic-tac-toe is one of the first games children play and enjoy due to its fast setup and easy engagement. Now you can make it even more engaging by uploading your own custom photos. Using our exclusive online design tool, you can add family photos, pet photos, vacation scenes, graphics — whatever you want to make the game personal and fun!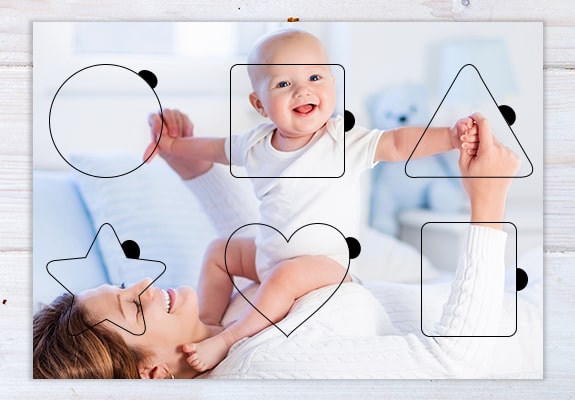 Didactic Geometric Shapes Memory Game Details
This memory game is perfect for young children to help them explore and learn all about shapes. Learning shapes helps children identify and organize visual information, building a foundation for other areas such as reading, math and science.
Size: 8" x 12" & 12" x 18"
Material: Hardboard
Thickness: 3 - 4mm
By selecting your own images and photos you will further engage your child with familiar and fun objects that make learning even more fun. Durable hardboard construction makes this game one that can be played many times over.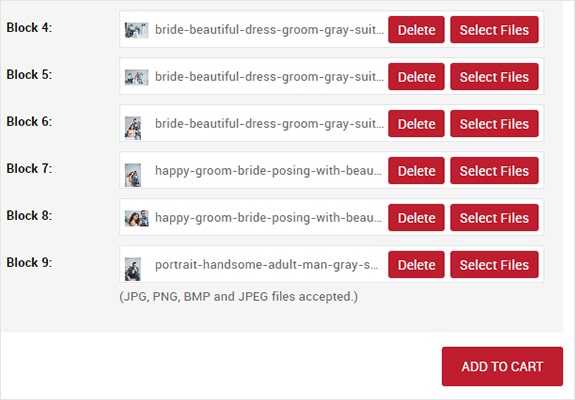 How to Design a Didactic Game
First, take a few moments to decide on a background photo or graphics for the playing board grid and individual pieces. Search through your phone, computer or social media pages to get some ideas. Once you've chosen your images, use our design tool to make your didactic tic-tac-toe or geometric memory games. We'll take you through the process one step at a time until you've completed the design to your liking. When you're ready, click the order button and we'll get started. Soon your personalized game will be shipped right to your door!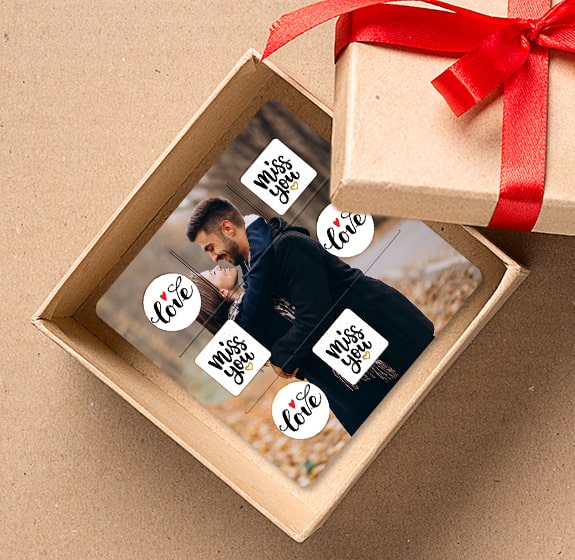 Great Gift Idea for Home or Business
Didactic tic-tac-toe games aren't just for kids; they're also perfect for business. Choose a group photo of your employees or corporate headquarters as the background, and your logo for the circles and squares. Make a bunch of them for advertising specialty giveaways at trade shows — recipients will remember your business!
The didactic geometric memory game is ideal for homeschooling very young children. The game is portable as well, so you can pop them into a bag and take them with you so your kids can play with them anywhere.
Custom didactic games make unique gifts and they're perfect for:
Birthdays
Holiday Get-Togethers
Homeschooling
Pre-K Classes
Church Youth Groups
Fundraisers
Advertising Giveaways
Take your tic-tac-toe game to the next level with our completely customizable didactic games. Also, geometric shapes memory games can be personalized with any photo or image you choose, making puzzle solving even more fun for your little ones. We make it easy for you to design them just as you like with photos, graphics, logos, and text. You're only limited by your imagination!