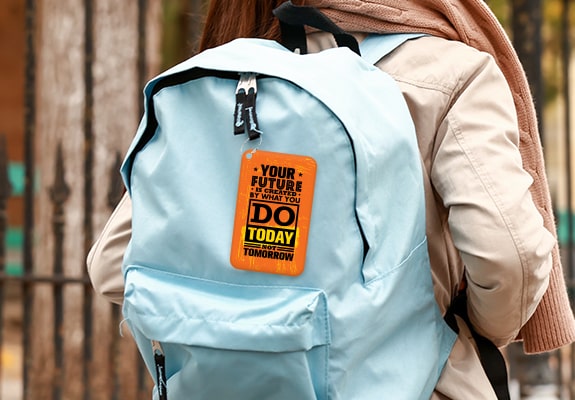 Personalized Luggage Tags
Custom luggage tags are an ideal way to make your bags stand out from all the other suitcases at baggage claim. You can make them as bright and unique as you want. And with double-sided luggage tags you can print photos, graphics, logos, or artwork on one side and your name and contact information on the other. So simple, yet so effective; it's no wonder they're so popular with travelers. But there's so much more you can do with them!
Do you have kids? If so, then for sure they have backpacks, bookbags and lunchboxes for school. Custom luggage tags are perfect for all of these, virtually guaranteeing that if these items are lost they'll be returned to you.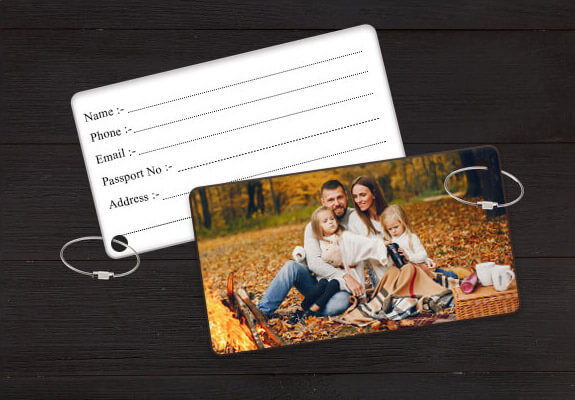 Custom Luggage Tag Details
You can make your own personalized luggage tags that are as unique as you are. We have all the sizes that are just right for any situation, and all are made with durable acrylic printed with the latest digital technology:
Sizes: 2" x 3", 2.5" x 3.5", 3" x 4", 2.5" x 4.5"
Material: Acrylic
Thickness: 2mm
Printing Technology: UV Printing
Attachment Hardware: 2mm Stainless Steel Cable
Each luggage tag comes with its own stainless steel cable so you never have to worry about your tags snapping off your bags. Both sides of these custom luggage tags are printed using our state-of-the-art ink technology for superior adhesion – no peeling or cracking!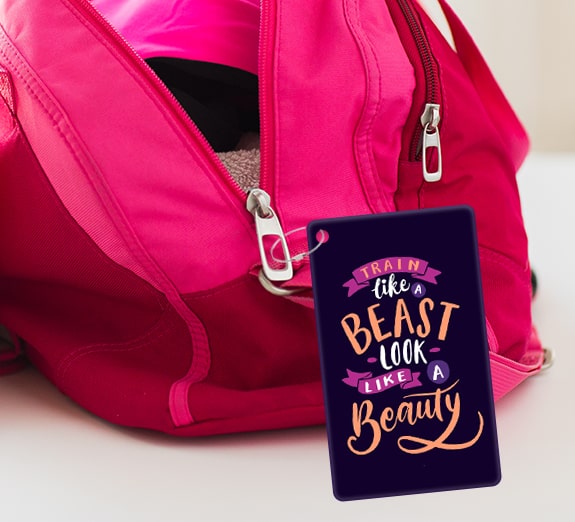 Other Creative Uses for Custom Luggage Tags
As we mentioned before, there are lots of practical uses for custom luggage tags. We pride ourselves on suggesting creative uses for all of our products. Here are a few of the many ways you can use custom tags:
Sports Bag Tags
ID Badges
School Backpack Tags
Laptop Bag Tags
Event VIP Passes
Festival Backstage Passes
Trade Show Giveaways
Advertising Specialty Gifts
Whether you're traveling across the globe or across town, personalize your adventures with fun custom luggage tags with your favorite photos, designs and more. Remember to add your contact info so you never lose a bag again.
As with so many other personalized products available through CanvasChamp.com, customers can create completely customized luggage tags totally online. Our site is very user-friendly to quickly and easily customize your order. All standard graphics formats are acceptable, and adding text is super easy. Shop today for yours!