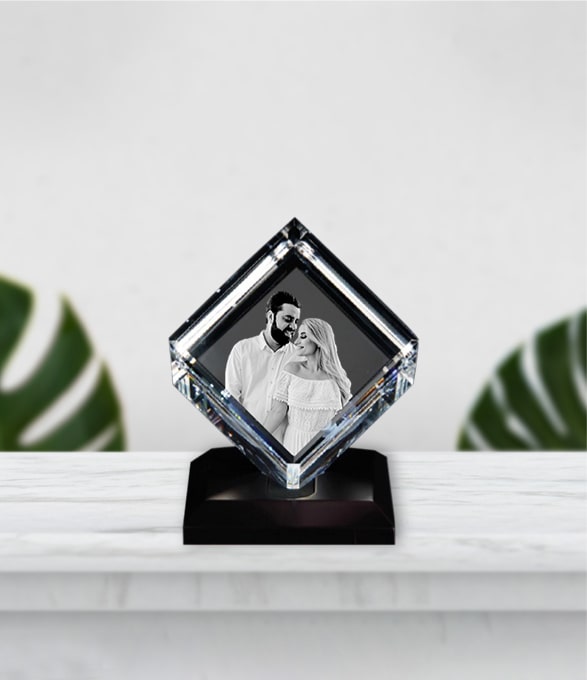 3D Crystal Photo Details
These personalized 3D photo crystal gifts come in a wide variety of shapes and sizes, including rectangle, heart shaped, cube shaped, and diamond shaped. With so many options, you are sure to find one that will work right for you. For enhancing the look of your 3D crystal gift and giving the crystal a soft sparkling glow, pair it up with a beautiful LED light and choose a base which you can add from our design tool at a nominal cost.
Each photo crystal is an especially poignant gift for anniversaries, birthdays, remembrances, and other meaningful occasions you'd like memorialized. These 3D crystal engraving gifts also work well for employee recognition and other corporate occasions where award plaques are often handed out.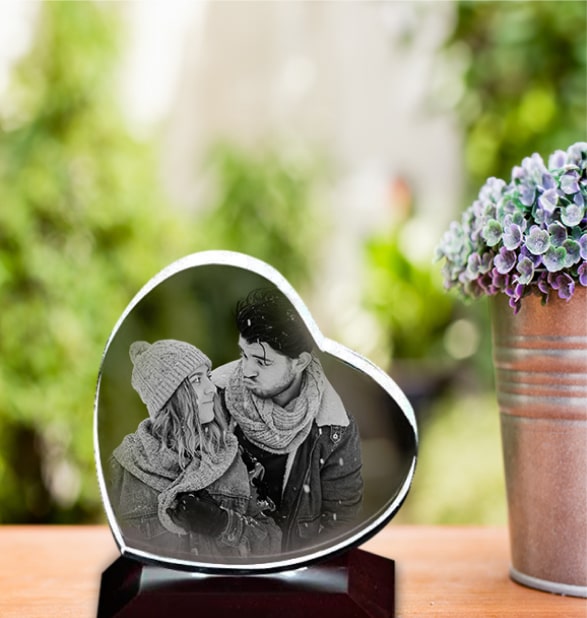 3D Crystal Photo Shapes & Sizes
No matter the occasion, we've got just the perfect shaped crystal for you. Each is expertly engraved with your image converted from 2D to spectacular 3D! Also, every crystal comes with a custom LED lighted base for an impressive display.
Shapes and available sizes (inches) are as follows:
Round Shape 6.1" x 6.3"
3.54" x 3.34"
Heart Shape3.74" x 3.93"
4.92" x 5.71"
5.51" x 5.51"
3.93" x 3.93"
Apple Shape

1.37" x 2.75"

Cube Shape 3.14" x 3.14"
2.7" x 2.7"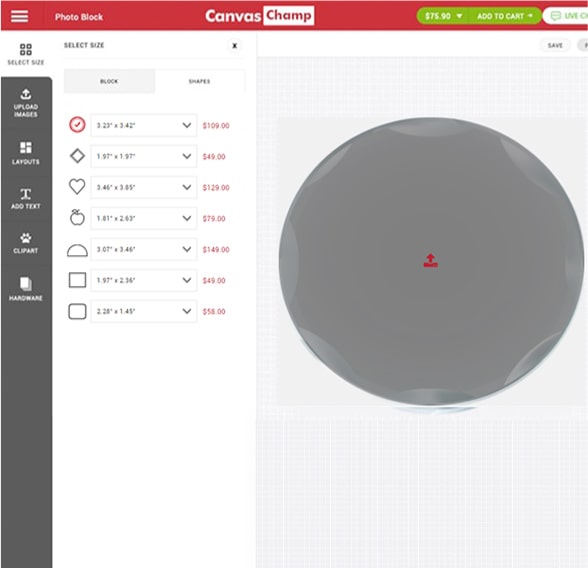 How to Design a 3D Crystal Photo
To get the best results possible when designing your 3D crystal photo, be sure to start with the highest possible resolution of your photo. Upload this photo into our design tool, add any text you would like to see engraved along with the photo, and we'll convert your image and text to 3D art ready for engraving. Once your art is converted to 3D, we'll get it engraved, put together and carefully shipped directly to you.
Frequently Asked Questions
Q:

What resolution is best for an engraved image?

A:

We recommend using a minimum of 200 dpi or larger for images or graphics that are uploaded. Text entered through our design tool is already primed for optimal resolution and needs no further adjustment.

Q:

Can I order personalised 3D crystal photos in bulk?

A:

For all questions regarding bulk orders, please reach out to our customer service team. You can call our toll-free number +1 (800)-(993)-0992 or email us at cs@canvaschamp.com. In addition to those two options, we also offer a chat feature on our website that will immediately connect you with a member of our support staff.

Q:

What material is the crystal made of?

A:

Each 3D crystal photo is made from K9 glass crystals. This highly refractive glass crystal has high clarity and is known for its durable quality.

Q:

What if I want only an image and no text?

A:

We recommend uploading your desired image and then leaving the text area blank in the design tool. This will ensure that only your image appears in the 3D crystal photo.

Q:

Will the LED light make the 3D crystal photo hot?

A:

LED lights are renowned for their brilliance and the low amounts of heat they release. This makes it the ideal light for glass and crystal displays.