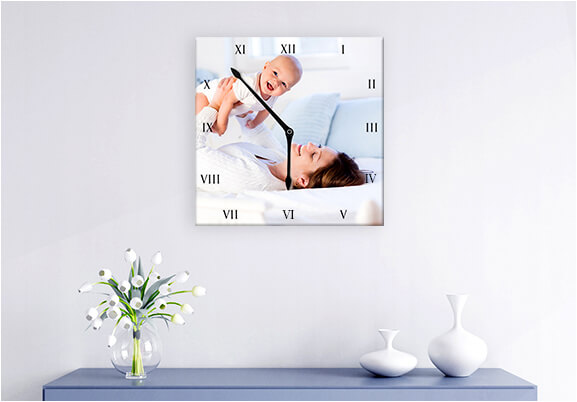 Personalized Wall Clock Details
Our custom wall clocks are available in three styles: round, square, and heart-shaped. All are available in three sizes to match whatever space you have in your home or office.
The different shapes and sizes are perfect for just about any occasion or decor style you have. Each clock comes with metal hardware so you can hang them securely on your wall. For an extra charge, you can order a sturdy acrylic stand to place your custom wall clock on a table or desk. Each can accommodate portrait photos, group photos, logos, quotations, or whatever you want:
Material: Acrylic
Thickness: 4mm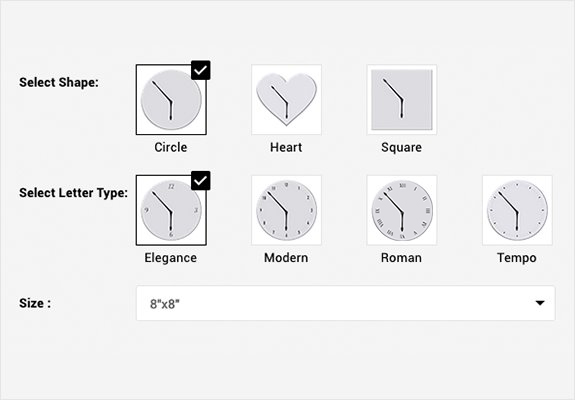 How to Design Your Custom Wall Clock
Like most things these days, you can do it all online. That's right! From start to finish you can design one or more wall clocks in any shape or size you need. These also make clever gift ideas for friends and family.
You can design your custom wall clock directly on CanvasChamp.com using our simple online design tool. It's as easy as choosing photos from your computer, social media accounts, or from your phone, and then uploading them to our site. You'll be taken step-by-step through the easy design process and directly to checkout. You'll soon have your personalized wall clock delivered directly to your door!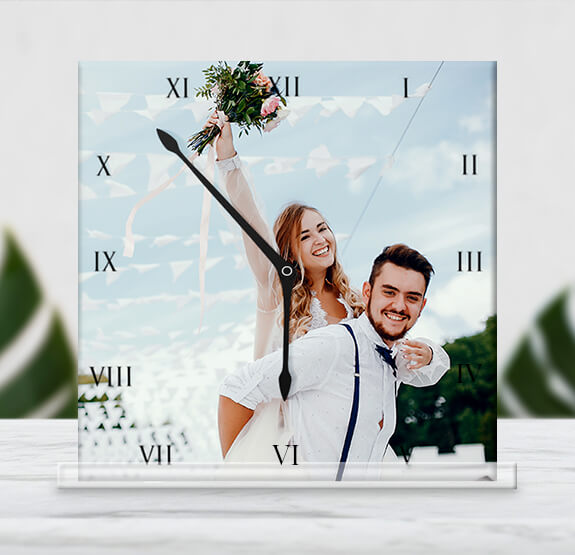 Creative Ideas for Custom Wall Clocks
If your kids are always asking you what time it is, get them to help design a clock for their room. They can choose cartoon characters, superheroes, animals, their favorite sports teams or silly photos of themselves.
Make one for your kitchen with images of fruits, veggies, or your favorite style of food. Upload photos of a favorite vacation for your family room or den. Go a step further and add text to your images. The different size clocks can accommodate photos, graphics, and text all in one clock. So go ahead, put it all on there!
Heart-shaped clocks are ideal for Valentines Day gifts, wedding anniversaries, or just to let someone know you care for them all the time! There are so many fun and clever ways to design custom wall clocks with these awesome, one-of-a-kind items. All three shaped clocks are great for any occasion and make unique gifts:
Office & Business Advertising
Valentine's Day Gift
Vacation Memories Clock
Unique & Functional Home Decor
Think about including your business logo on a clock. Add your tagline so customers will notice it when they visit your store or office.
The possibilities are endless with these unique wall clocks that you create yourself online. See for yourself how much fun it is to design these amazing timepieces. Custom wall clocks are guaranteed to catch everyone's attention. Ordering is fun and easy, and they complement your decor and add personality and functionality to your walls!