Personalize your gift certificate
Gift certificates are the ideal way to quickly and conveniently send your loved ones a special gift. Personalize your gift certificate with the recipient's name, the dollar amount, and add it to your cart. It's just that simple!
Choose gift certificates in any amount from $10 - $99999.
No activation fees. No purchase fees. Certificates never expire.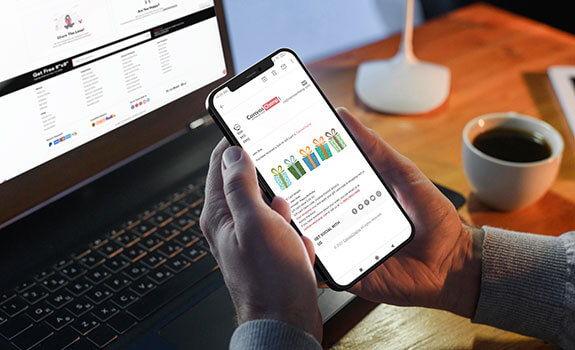 Why CanvasChamp's Gift Certificate
Customize the gift certificate with any amount listed above, add it to your cart, and you're done!
Gift certificates are a safe and easy way to give someone a special gift.
People love choosing their personalized gift after they receive a certificate from you.
FREQUENTLY ASKED QUESTIONS
Q: What is a gift certificate, and how does it work?
A: A gift certificate is a perfect gift for those hard-to-buy-for loved ones and friends. Certificates can be used to purchase customized photo prints, canvas prints, acrylic prints, wall art, or any personalized item in our vast selection.
Q: What will the user receive on purchase?
A: Once you purchase a gift certificate on our website, you will receive an email confirming that you sent the certificate to the recipient according to the information you entered in the gift certificate form. After that, all the recipient needs to redeem the certificate is to include the verification code when prompted for payment at checkout.
Q: How to Buy, Send, & Redeem Gift Certificates
A: You can purchase gift certificates directly from our website quickly and easily. Our gift certificates are outstanding for special occasions like birthdays, anniversaries, graduations, retirement parties, baby and bridal showers, and much more. After you purchase the certificate, we will send an email voucher code to the recipient. To redeem the gift certificate, the recipient will add their customized items to their cart and enter the gift card code in the designated box when prompted for payment.
Q: How to Check The Balance of the gift certificate.
A: After purchase, the recipient will receive an email showing the balance on the gift certificate after each use.
Q: Benefits of gift certificates.
A: Take the guesswork out of last-minute gift ideas by letting the recipient choose the perfect gift for themselves. There are no more "not quite right" gifts when you give someone a gift certificate. Gift certificates are perfect for those times when you're in a rush or need to purchase for someone difficult to buy.
Q: Is there any amount limit on my CanvasChamp Gift Certificate?
A: Feel free to choose any amount starting from $10 , whatever you're comfortable with and the recipient would appreciate. Simply fill in the amount on the gift certificate form, add it to your cart, and you're done!
Q: Do Canvas Champ gift certificates have an expiration date or service fees?
A: Gift certificates purchased from Canvas Champ have no expiration date or service fees. You and your loved ones can use them whenever and for whatever you wish!
Gift certificates from CanvasChamp.com take the guesswork out of gift-giving. Since we have so many exciting products, it's easy to pick something you would want. But we understand it's challenging to choose the perfect gift for someone else — gift certificates to the rescue! No matter the dollar amount you choose, your gift certificate is sure to brighten your special friend or loved one's day!