Custom Light Switch Panel Details
We use a very durable acrylic and state-of-the-art graphic technology to print your custom light switch panels. You can upload photos, graphics, artwork. Each panel is sized and constructed as follows:
Size: 4.5"X2.75"
Material: Acrylic
Thickness: 2mm
The unique thing about custom light switch plates is that they are completely customizable to match the decor in any room of your home or office. Do you have a favorite sports team? Design some switch plates with your team's logo, colors, and mascot for a truly unique "man cave" or rec room.
Make color-coordinated light switch cover plates four your living room, dining room and kitchen that match your decor. You can even upload your company's logo and make some for the office to impress your clients.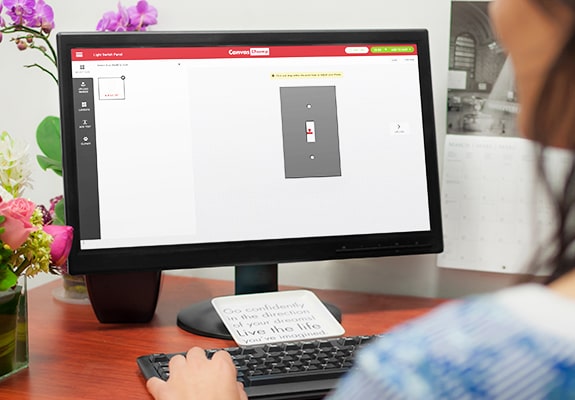 How to Design Custom Light Switch Plates
Like most things these days, you can do it all online. Yes! From start to finish you can design as many light switch plates as you need for every room in your home or office right from the comfort of your own couch.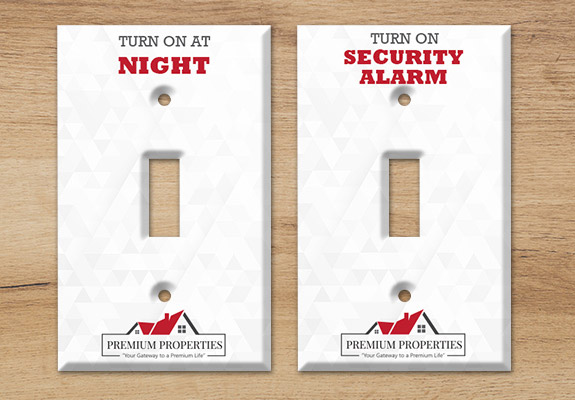 So Many Uses for Custom Light Switch Plates
You never know just how much more unique your rooms can be until you start designing some custom light switch plates. Since you can also include text in your light switch plates, think about including permanent lettering reminding family about an outdoor floodlight: "TURN ON AT NIGHT" an office switch by the door reminding employees to "TURN ON SECURITY ALARM" when they leave. There are so many possibilities:
Fun custom child's room decor
Decorative living room and dining room accents
Clever kitchen decor
Sports-themed rec room or "man cave"
Office with business logo
Safety and informational plates
Frequently Asked Questions
Q:

How do I clean my custom light switch plates?

A:

Simply wipe them with a mixture of warm water and mild dish detergent.

Q:

Can I order custom light switch plates in bulk?

A:

For all questions regarding bulk orders, please reach out to our customer service team. You can call our toll-free number 1-800-993-0992 or email us at cs@canvaschamp.com. In addition to those two options, we also offer a chat feature on our website that will immediately connect you with a member of our support staff.

Q:

What resolution is best for printed images?

A:

We recommend using a minimum of 200 dpi or larger for images or graphics that are uploaded.

Q:

What technology is used for printing?

A:

We use the highest quality ultraviolet screen printing technology. We use a Pantone matching system to ensure quality color correction, and all of our custom printed light switch plates have a protective clear coat for stain resistance and easy cleanup.