Pop Art Info
Customer Reviews
Answered Questions
What is Pop Art?
Pop art is a form of art that is based on mass media and popular culture. It started as a movement where artists created art by using famous icons such as movies, advertising, and people. The American and British people were mostly responsible for initiation of this art type in the 50s and the 60s. We offer amazing pop art on canvas using the pictures that you provide to us so that you can get a personalized canvas printing made either for yourself or someone you know. We take our inspiration from some of the greatest pop artists in the field such as Andy Warhol and Lichtenstein.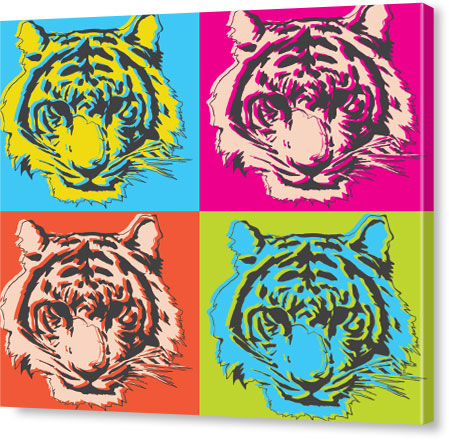 Andy Warhol
Our unique Warhol style is a collection of personalized portraits of pop art that are amazing personalized gifts to give to someone.
Start Order
Lichtenstein
This amazing art on canvas has been inspired by the famous pop artist, Roy Lichtenstein and features a comic style portrait that is original, modern, and a lot of fun with great attention to detail.
Start Order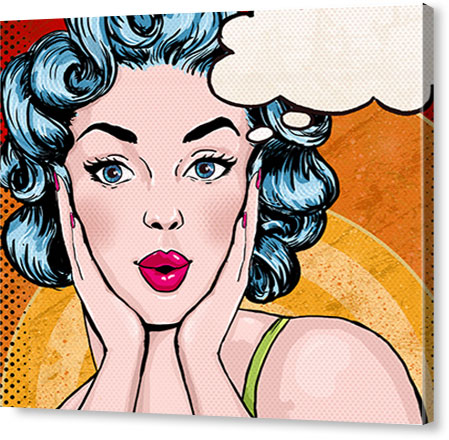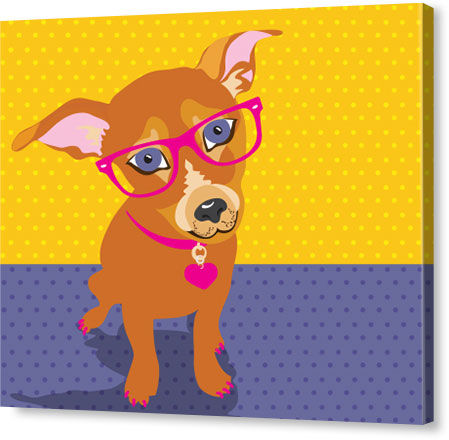 Glo Portrait
These unique and mesmerizing pet portraits make use of realistic texture, brush strokes, and bright colors to capture your pet's personality in its truest and most creative sense.
If you wish to get in touch with us regarding our product offerings, give us a call. We would be more than happy to chat with you.
Start Order
What We Offer in Pop Art Canvas Print
At CanvasChamp, we offer different styles of pop art Canvas Prints. These include Warhol Style, Lichstyle, and Pet Glo Portrait. For each canvas, we carefully handcraft your high-quality mixed media and digital illustrations with the help of the photos you provide to us. Each canvas we make is a unique piece of artwork that we take pride in.
We guarantee 100 percent satisfaction in the work we offer and ensure that our products are high in quality. If, however, for any reason you are not fully satisfied with our offering and your purchase, you can return the purchased goods within 30 days of receiving them. We also offer a full refund of the product's price or a free replacement.
We also provide proof before the final printing if it is applicable.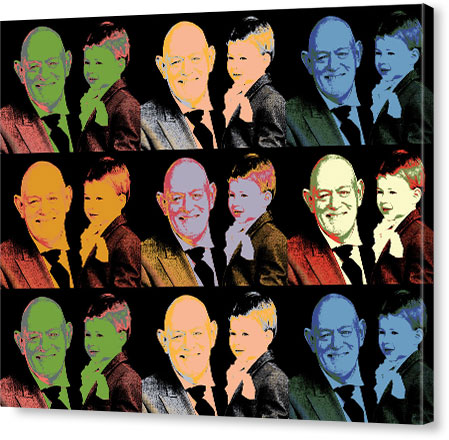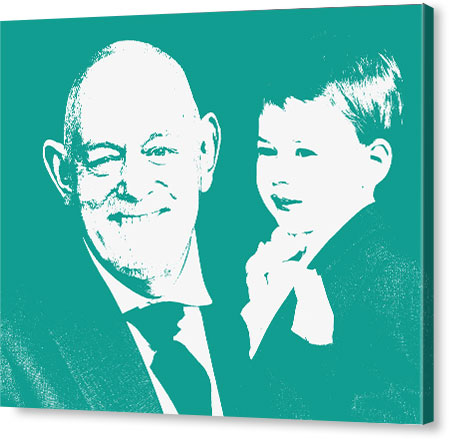 Cool Designs We Offer of Pop Art on Canvas
We offer a variety of designs to our customers to transfer Pop Art on Canvas, some of which are mentioned below along with their details. You can choose whatever style you like so we can offer you something that is best tailored to taste.
Ask about Pop Art and get answer in email.
Question and answer about Pop Art
Q: I'm ordering several pop art canvas, but what is the lamination, not sure if I want that or not. Does it create a reflection?
A: Hello there, Greetings! The lamination is basically a chemical layer which is applied onto the print after the printing process by a specialized roller The lamination has two benefits.The first one is it will add 10-12 % more glossy/Shinny effect to the print as compared to the standard prints and the other is it will add life of the print up to 10 years by protecting it from dust, moisture etc. It is basically recommended Thanks, Ronnie Canvas Champ
Is this question useful?
Yes
No
Q: Hello, I am interested in Pop Art Warhol style but would like to see more details about the color combos and styles of brushwork available. Are there more examples of finished products? I am interested in a gallery wrap product and also want to get a better idea of exact price. I have one photo with 2 people in it. Thanks.
A: Greetings! Thank you for reaching out to us. Please note that we do not have the examples of design drafts for the pop art canvas prints and for every order that we receive we work on it from the scratch and depending upon the image and any specific instructions the pop art will be different for different customers. For the price you can go to our web site and check the details as prices vary with the size. Please let us know if we can assist you any further. Thanks, John Canvas Champ
Is this question useful?
Yes
No
Q: Hello! I'm interested in ordering but I have some questions. Say, I'm in the Philippines and I'd like to ask if you do customized pop art, how much will be the shipping fee, how many days before i receive the item and lastly how's the payment gonna be? I'm really interested. I hope you get my message. Thank you and we will be waiting for you response.
A: Hello there, Thank you for your inquiry regarding Custom Canvas Prints from CanvasChamp. We are proud to introduce ourselves as one of the largest Canvas Prints Manufacturer's in the world with a daily exports in key markets such United States of America, United Kingdom, Canada, Australia , New Zealand, and other countries as well. As a Custom Canvas Prints supplier our prime motive is to leave the creative in your hands, Any image procured from Google or designed In-House canvas be converted into wall ready decorative pieces; With no minimum quantities feel free to turn the creativity on and delve further in your precise requirements for your Art piece. Thanks, Ronnie 800-993-0992
Is this question useful?
Yes
No
Q: Does the Pop Art come in gallery-wrapped canvas, ready to hang? How deep is the canvas?
A: Greetings! Thank you for reaching out to us. Pop-art canvas comes pre-stretched over a wooden frame and it will be ready to hang. You can select the thickness of the frame, we have two options with us 0.75 inch and 1.5 inches. Please let us know if we can assist you any further. Kind regards, John Canvas Champ
Is this question useful?
Yes
No
Q: I bought the Groupon. Put in the correct size, checked the pop art box, and uploaded my pictures. Hightail sent me a confirmation email. Do I pay yet? Will they automatically send me the proof over email even without requesting it? Now what? Thank You
A: Dear Kerra, Greetings! Thank you for your email, Please know that the hightail is the option is used just to upload the image and after upload is completed you need to close that pop-up tab and go to your original order page and continue placing the order by redeeming the coupon at the checkout page and making the payment.If you need any assistance in placing the order than do let us know. Please let me know if there is anything further I can help you with. Kind regards, Mike, Canvas Champ.
Is this question useful?
Yes
No
Q: I saw the question about how to get multiple pictures in the Warhol style-pop art but when I click to make one its only letting me select one picture... how can I upload 4 photos to the Warhol pop-art?
A: Hello there, Greetings! Please know that there are two links to upload the images.Make sure to select the link which says upload more than 15 MB , and you will be able to upload 4 images. Thanks, canvas champ
Is this question useful?
Yes
No
Q: Does there have to be a cloud included with the Lichstyle print?
A: Dear customer, Greetings! We will create the effect required for the Lichtenstein print. You just have to upload the original image at our web site. Kind regards, John Canvas Champ
Is this question useful?
Yes
No
Q: I don't see where on the screen there is a place for me to type the text I want to appear in the cloud for the Lichstyle print. How do I do this?
A: You can just write us an email on cs@canvaschamp.com stating your order number and the text you would like to print in the cloud. Our design team will send you a proof of that for your approval soon.
Is this question useful?
Yes
No
Q: How do I order a Pop Art that has multiple photos in one canvas? Like the one of the girl on your website...and is that a Warhol background?
A: Pop art basically consists of two categories: Warhol and Lichstyle. In Warhol, you can have a single picture with 4 different effects or 4 pictures with 4 different effect boxes on a single canvas print. Where as, in Lichstyle, you can only have a picture of a single image printed on a canvas print. So if you want to have multiple pictures printed on a single canvas print, then you would have to go with the Warhol style. For more detailed information you can contact us at cs@canvaschamp.com and get in touch with our design team to send you a proof of your pictures.
Is this question useful?
Yes
No
Q: Is the pet Glo Portrait style in pop art only for pets?
A: We can do any picture in pet glo style, but it would look best with your pet's photo! You can also have your pictures with your pets done in this style of pop art.
Is this question useful?
Yes
No
Q: What kind of pictures are ideal for pop art?
A: Pop art would work perfectly with portraits or those pictures which captures a person's facial expressions! We definitely would recommend selfie pictures for pop art as they give a lovely output with the right effects and backgrounds.
Is this question useful?
Yes
No
Q: What is the exact difference between a Warhol style and a Lichstyle pop art?
A: A Warhol style pop art will print your portrait in different shades and effects as listed on the website and a Iichstyle pop art will give similar background colours and effects as shown in the displayed picture with a cloud . Additionally you can also get some text written in that cloud. In Warhol style, you can also have 4 different pictures with 4 different effects printed on a single canvas. For more details send us an email at cs@canvaschamp.com
Is this question useful?
Yes
No
Q: How can I see the preview of the effect I select on the picture in pop art ?
A: You would not be able to see the preview in pop art at present. But after placing your order and uploading the file, you send us an email asking for a proof of the final output to know how your image would turn out to be. You can also ask for applying a different effect in case you change your mind. For more details, email us at cs@canvaschamp.com
Is this question useful?
Yes
No