Photo into Andy Warhol Style Canvas Pop Art
Need to give someone a unique gift? Well you will be surprised to know that the artists we have are well capable of
turning your photos into personalized Andy Warhol style pop art
portraits on the best paper or canvas!
About Andy Warhol and Pop Art
A key figure in the history of Pop Art, Andy Warhol (1928-1987) started an art movement which emerged in the US and everywhere else during the 1950s thanks to which he became prominent for the next two decades. During the 1960s, Mr. Warhol created multiple images using celebrity photos such as Jackie Onassis, Elvis Presley, and Marilyn Monroe.
Warhol used photo-stencils with screen-printing, he added photos in his screen-prints. For the process of these prints, the screen is created through a photographic process after which different colors of ink are printed with the use of a rubber squeegee for pressing the paint onto this painting through the given screen.
It goes without saying that Warhol was quite intrigued with the concepts which is why he created many. This style of art is so expansive that the results are indeed quite astonishing sometimes. One brilliant example of Warhol's colored images includes Marilyn Monroe's canvases which were created using silk screen printing.
Shop now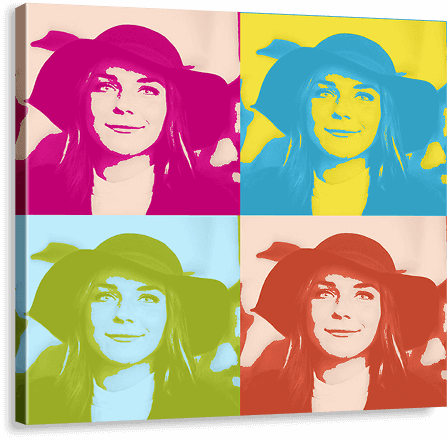 Museum-Quality Canvas Prints
We only produce prints of museum-quality lignin-free, acid-free heavyweight cotton-poly blend which is elegantly textured on the canvas. The surface of our canvas provides a matte, non-reflective area having bright white point fantastically high in terms of wide color gamut and Dmax for topnotch quality reproduction prints. Get one for yourself today!
Shop now
Number of Different Faces
(One, 2 Four, Couple Photo, 2 Couples Photo)
4-panel pop art also features the same picture in as many as 4 different schemes and styles of color created from one photo on a single canvas. This means you can get as many as one, 2 four, couple photo, as well as 2 couples photo printed on a single canvas for pop art style!
Shop now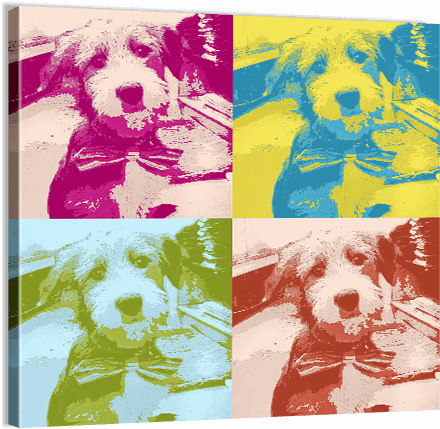 FREE Digital Proof
We also send you free digital proof prior to printing the artwork on paper or canvas. If you aren't happy with this, we will do whatever we can to make it approvable for you. If you don't like it anyhow, we will refund you everything except for the design cost. Design costs for this product begin from $80 (prior to any promotions). So what are you waiting for!? Order today!
Shop now
4 Panel Custom Andy Warhol Style Pop Art Portrait as Canvas Print
We can create an Andy Warhol style pop art canvas using any ordinary image. Canvases are printed with fade-resistant ink of pigment on archival bright-white quality canvas with the Giclee method. Our canvases also provide sharp detail, vivid color, as well as striking contrast.
Shop now