CHOOSE WRAP THICKNESS OPTION FOR CANVAS PRINT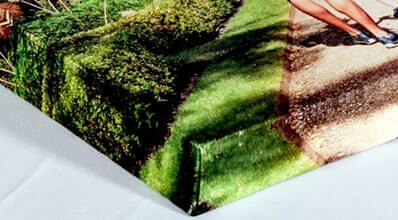 Thick Wrap Canvas (1.5")
For a gallery-like effect, choose a 1.5" wooden frame to increase the durability of your canvas. Printing your canvas with our thick wrap canvas will allow you to give deeper depth and pop-up to your wall art.
Upload Your Photo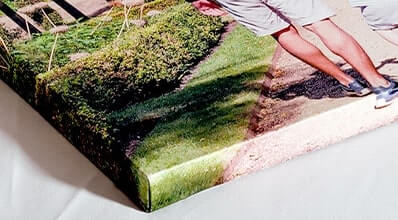 Standard Wrap Canvas (0.75")
You can use a pine stretcher frame of the highest quality with a thickness of 0.75" to produce your photo canvas. With this wrap, your image will flow to the very end of canvas and give a vibrant look to your home décor canvas.
Upload Your Photo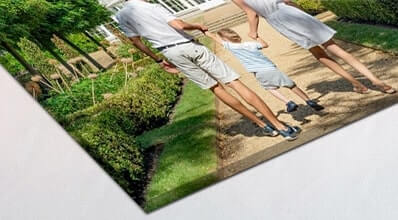 Thinnest Wrap Canvas (0.5")
We provide 0.5" lighter-than-air wrap canvas for displaying your small prints in a life-like manner. This print is perfect for placing on shelves, desks or tables making it easy to relocate from one place to another.
Upload Your Photo
Multiple Wooden Frame Options for Canvas Prints
We offer a wide range of custom canvas wooden frames to enhance your artwork or printed pictures. Our selection includes three distinct qualities: standard wooden frames, premium frames, and floating frames.
Black Wooden Frame

Silver Wooden Frame

Golden Wooden Frame

3D Floating Frames

Different Size Frames
ENHANCE YOUR SPACE WITH CANVAS PRINTS
Add Your Artwork or Photo Memories on Canvas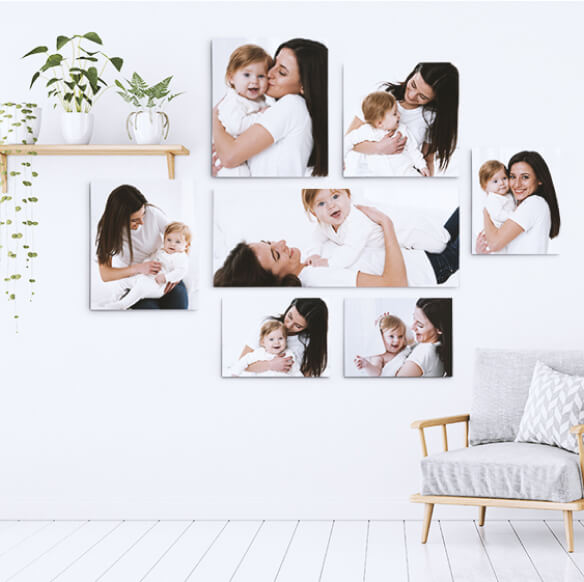 Transform your photos or artwork into personalized wall decor for your home or office space with ours museum quality canvas prints. We make it easy to design your canvas and guarantee 100% satisfaction with your creation.
Can I select photos from smartphone to canvas?
Yes, you can choose images from your smartphone or social media profile which will perfectly go on small photo canvases. If you have higher resolution photos like those taken from digital cameras, you can perfectly choose them for large canvas prints and panoramic canvas prints customization.
Our Canvas Prints Are Easy to Order
With our easy-to-follow steps, you can design your own canvas prints online in less than 60 seconds:
Choose your canvas style from multiple display options.
Upload and print your photo or artwork on canvas from any device.
Select your canvas sizes from small, square, panoramic, large to add photo on it.
After that, choose from different color wrap canvas options, borders, hardware options, canvas frames.
You can retouch your photo, laminate it and finally you can add to cart.
We guarantee 100% satisfaction with your canvas prints and offer a lifetime warranty on each prints. Our canvas photo prints are created with professional printing technology and coated with a protective, scratch-resistant UV laminate to ensure they last for years to come.
Custom Canvas Wall Art Printing with CanvasChamp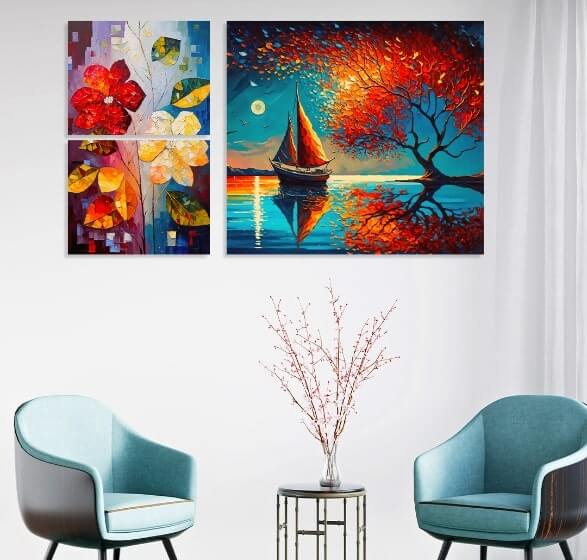 If you're looking to add beautiful artwork to your office space or home walls, canvas wall prints are the right personalized product to hang on wall and make the décor more splendid. You can print your own artwork or print famous artist paintings on canvas to decorate with authentic artworks.
Make your artwork more special by trying multiple options like split canvas, mosaic canvas, canvas photo collage. Or easily customize your oil paintings into digital oil painting on canvas using our design tool.
4 Unique Canvas Art Prints Usage Ideas:
Idea 1: Turn artwork into excellent personalized wall hanging gifts for your loved one's special moments like birthdays, graduation day, anniversaries, Mother's Day, Father's Day, valentines' day, Christmas, or Halloween etc.
Idea 2: Display stunning multi-piece canvas sets in living rooms, bedrooms, hallways, gallery, or even kitchen, adding a personal touch and enhancing the overall aesthetics of the space.
Idea 3: Display canvas into art galleries to showcase and sell artwork after you print digital files on canvas and turn them into museum quality wall art canvas.
Idea 4: Wall ready canvas art also find their way in corporate setup and are used to decorate office spaces, lobbies, conference rooms, personal cabin or reception areas.
MORE ABOUT CANVAS PICTURE PRINTS– DETAILS, SIZE, IDEAS
Before you turn your photo file image to canvas with CanvasChamp check out everything about personalized canvas art prints, materials, cost, types of canvas, printing techniques, customization ideas, shipping & delivery, wholesale buying, and more.
Specifications of Canvas Photo Prints :
| | |
| --- | --- |
| Material | Our canvas photo prints are made using poly-cotton canvas material which stays wrinkle-free and offers superior texture and longevity making your canvas pictures, drawings, and artwork look stunning. |
| Cost | Our smallest size 5"X7" of canvas in the USA starts with $3.89 and goes up to $471.90 for biggest size canvas prints. |
| Custom Sizing | We provide custom canvas sizing options right from compact 5"X7" stretched canvas to large 54"X54" canvas prints. |
| Unique Shapes | From classic square, triangle and rectangles to circle, oval, heart, and panoramic we have bespoke canvas print shape options to help you create a wall with canvas prints using beautiful photos and quotes. |
| Hardware Options | Choose from multiple canvas hardware options including easel stand, easel back, Nail Free hooks for hanging, dust cover back, sawtooth hanger and more to hang with ease. |
| Image Effects | Get access to varied canvas image editing features like red eye removal, dust removal, color enhancing feature, image darkening/lightening and date stamp removal. |
| Printing Technology | We utilize cutting-edge printing technology (HP Design jet z6100) and latex inks to deliver textured canvas photo prints with crisp and vibrant look. |
Our Best-Selling Canvas Print Wall Decor Ideas:
Advantages and Usage of Canvas Photo Prints :
Canvas photo prints offer exceptional image clarity and sharpness, providing a beautiful representation of the original photograph.
The canvas material adds a unique texture and depth to the printed image, giving it a more sophisticated look.
They are highly durable and resistant to fading, scratches, and moisture, ensuring the longevity of the printed image.
You can customize in terms of size, shape, and framing options, allowing for personalized art.
Wall ready canvases require minimal maintenance, as they can be easily cleaned with a soft cloth or brush.
Create a Gallery Wrapped Canvas with Ease
Looking for an effortless way to create stunning gallery-wrapped canvas to add pictures or text? Our user-friendly design tool allows to upload photo memories, artwork, text and filters to create effortlessly canvas photo print and modify the edges using different options to turn them into the best canvas prints ever made.
Shipped Within 24 Hours with Quick Delivery
Get your canvas print shipped in 24 hours with swift delivery anywhere in USA from CanvasChamp. We prioritize your order and ensure that it is produced and shipped within 24 hours of timeframe, so you get your black and white or colored canvas quickly.
Receive gorgeous canvas prints from CanvasChamp in any of the major USA cities, including: Canvas Prints in New York, Los Angeles, Chicago, Boston, Houston, Dallas, Philadelphia, Pheonix, and more!
Buy Your Canvas Prints in Bulk
CanvasChamp is rated as a reputable online printing service and is the best platform for those looking to order canvas prints in wholesale quantities. We provide a range of options for bulk orders, allowing you to purchase canvas prints in larger quantities at discounted prices.
FAQS ON CANVAS PHOTO PRINTS
What Kind of Photos Can be Printed on Canvas?
Canvas printing is a versatile option that allows you to bring various types of high-quality photos to life including personal photographs, artworks, landscapes and nature photography, fine art photography, vintage and retro images, or abstract and contemporary art. Whatever photos you choose, just ensure that you choose only high-quality photos.
How to print a picture on canvas
Printing with pictures on Canvas is easy with CanvasChamp when you follow the below steps:
Step 1: Select the desired size and shape of canvas.
Step 2: Use our online design tool to add your favorite memory in the form of image, text, and clipart that you want to print on canvas. Choose from varied hardware, image customization options, wrap & borders options.
Step 3: That's it. Proceed to checkout. CanvasChamp will handle the rest of the process for you and ship your printed canvas to your doorstep anywhere in the USA.
How to print text on canvas?
It's super easy to print letters on canvas with CanvasChamp's online design tool. All you need to do is add a text box to your design in our tool, choose your font, type your message, and voila! You have a lovely message printed on a high-quality canvas that everyone will love.
Made With Love & Care
Share the love with your family and friends when you give them canvas prints full of memories. Crafted with care, we give each design the attention to detail it deserves. Each piece of artwork is printed using HP certified printers and latex inks to give your photos incredible depth and vibrance.