60+ Best Halloween Gift Ideas Guide to Personalise with Photos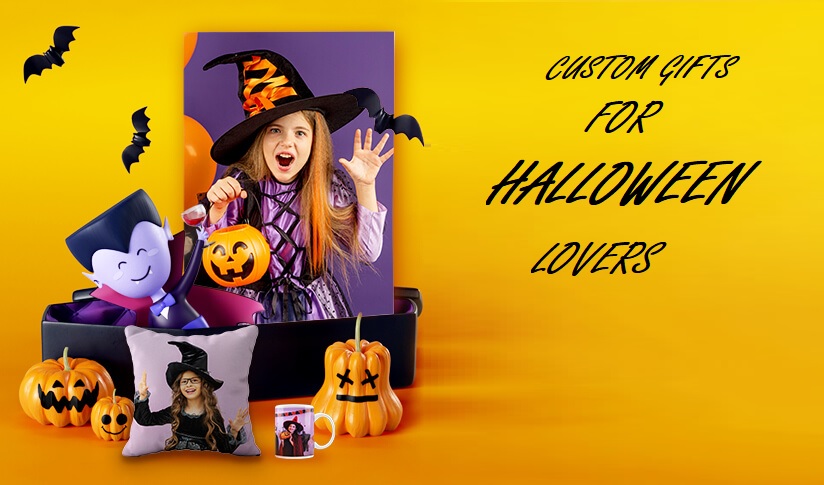 Halloween Gift Ideas for Kids or Teens 
Halloween is a fun time of year for kids and teens. There's candy, there are costumes, and a bounty of fall-themed activities. If you want to make their Halloween extra special, consider giving them a gift from CanvasChamp. There are so many fun options for gifts that they're guaranteed to love, from puzzles to bags. The best part? All these gifts are good quality and cost-effective. 
Halloween Didactic Game

- Kids will love these fun games. Add a fun, spooky photo to make it the perfect Halloween toy, or use a photo of your kid in their favorite costume. 

 

Halloween Playing Cards

- Host a spooky game night with these custom playing cards. Kids and teens will love these cards with a fun Halloween design.

 

Halloween Magnet

- Make your fridge Halloween ready with a custom photo magnet. Choose any spooky photo or logo you like and make an awesome new decoration.

 
Halloween Gift Ideas for Adults  
Halloween gifts are a fun way to commemorate all the great times you had with your friends. There are so many items you can put your photos on, and all of them are great gift choices. Pictures on their own are an easy gift choice, but just a photo can get boring. Why not spice it up by putting your favorite photo on a mug or a blanket? Now your friend has a truly unique gift unlike anything else available. 
Photo Puzzle - Take a favorite Halloween photo and make it into a gift for your friends. They'll love putting together the puzzle and remembering the great times after the picture is done.

 

Halloween Coffee Mug

- Halloween is a prime time for coffee drinks. Make it official with a Halloween themed mug for all your pumpkin drink needs.

 

Photo Ornament

- Want to keep a little bit of spooky season with you into the winter? Turn your favorite spooky photo into a photo ornament. 

 
Corporate Halloween Gift Ideas  
Finding the perfect corporate gift isn't always easy. There's a lot of pressure to get something you know your boss or coworker will like. Luckily, CanvasChamp has loads of customizable gifts options for you. Everything from mugs and mousepads to posters and table tops. You're guaranteed to impress everyone with a gift from CanvasChamp. 
Halloween Diary

- If your coworker who loves to write everything down, get them a custom photo diary. Choose a spooky photo for the cover and they'll be sure to love it!

 

Halloween Poster

- Make a custom Halloween poster and get the whole office in the Halloween spirit. Keep it up all through October to really get them in the spirit.

 
Halloween Wedding Gift Ideas 
Having a wedding during spooky season is a fun idea. It allows for a lot of fun decorations and a great party. But if you're struggling to find the perfect gift for the happy couple, look at what CanvasChamp has to offer. There are lots of photo gifts and prints to commemorate the special day. They'll love a gift that allows them to display how much fun they had that day. 
Halloween Canvas Prints

– Commemorate your spooky special day with a canvas print. It's the perfect gift for remembering all the fun you had that day.

 
Halloween Wall Decals

– Do you want to add a fun and unique Halloween decoration to your wedding? Choose from one of our several wall decals and find the perfect one.

 

Engraved Photos on Wood

– Save the memories of your special day with an engraved photo on wood. A fun way to display your wedding photos in your home.

 

Halloween Framed Canvas

– Your wedding photos will look beautiful in a framed canvas. They'll stay vibrant and bright for years to come, so they're perfect for displaying your wedding photos.

 

Wedding Photo Book – If you can't choose just one photo, keep all of them in a special place with a photo book. You can look back at them and remember whenever you want.

 

Custom Chopping Board

– A beautiful addition to your new home, a photo chopping board is the perfect gift. It's great to bring to a wedding shower. 

 
Canvas Banner – Canvas banners make perfect wedding décor. Add your names, a lovely quote, or something a little spooky to keep the theme going.

 
Halloween Birthday Gift Ideas   
If you know someone who has a birthday around Halloween, or someone who just loves Halloween, then these gifts are for you. Halloween birthday gifts are all about celebrating the fun of Halloween and a birthday. There are gifts that will help keep them warm and cozy and gifts for decorating their space. It all comes down to what you think they will love the most. So, look around at the different gifts you can give for a Halloween birthday. It's guaranteed to be a spooky good time! 
Halloween Woven Blanket – Who doesn't love cuddling under a blanket during the fall? Give them the perfect fall gift for their birthday that they'll use the rest of the season.

 

Halloween Throw Blanket – Perfect for those nights spent inside watching scary movies. If you've got a scary movie fan in your life, they're sure to love this gift.

 

Halloween Birthday Banner – Take your party décor to the next level with a Halloween birthday banner. Customize your banner with your choice of graphic or photo and let the party begin.

 

Halloween Photo Prints

– Know a spooky season fan who always has the best costumes? Why not give them photo prints of their best costumes to remember forever.

 

Halloween Photo Collage

– Can't choose just one photo to give your friend or family? Give them a collage of the best and celebrate everything about them.

 
Halloween Pillow Cover

– With this comfy pillow cover, scary movies keeping you up all night will become a thing of the past. Decorate it with your favorite photo!

 

Halloween Ornament – Have someone in your life that loves both Halloween and Christmas? Give them a gift that combines both of their loves. Put a spooky picture on an ornament for them.

 
Halloween Gift Ideas for Employees or Coworkers  
Halloween is a time of year to have loads of fun, so spreading some of that fun to your employees or coworkers is always a good idea. Keepsakes are a great way to celebrate the great times you've had with your employees or coworkers, and they'll appreciate that you've taken the time to give them such a meaningful gift. It's all about thinking about what they would love the most, and if you're feeling a little stumped you can look at our list to get some ideas. No matter what you choose, your employees or coworkers will be so grateful for your gift. 
Halloween Wooden Ornament

– Ornaments are an excellent gift, and they don't just have to be for Christmas. Give your coworker an ornament with a fun Halloween picture on it for them to display.

 

Halloween Metal Ornament

– Metal ornaments are fancy and hold up well. They're a perfect gift for your coworker, especially if you include a fun group photo.

 

Halloween Acrylic Ornament

– Want to commemorate a favorite spooky season photo with your coworkers? Give them an acrylic ornament with this photo on it.

 

Halloween Coffee Mug – Coffee gets people through the day, especially at work. Make the coffee break even more fun with a Halloween mug they can use for pumpkin lattes.

 

Halloween Socks

– After a long day at work, there's nothing better than curling up at home with a good book or show. Halloween socks will make it even better.

 
Halloween Coaster – Help your coworkers keep their desks looking nice with Halloween coasters. Choose a favorite Halloween photo to make it look awesome. 

 

Halloween Diary – It's important to keep notes while at work. Your coworkers will appreciate the gift of a Halloween diary to keep up in meetings.

 
Halloween Gifts Ideas for Girlfriend or Boyfriend  
If your significant other is all about Halloween, then a little Halloween present is a lovely way to show them you care. Surprise them with a custom Halloween mug filled with candy, or gift them cozy Halloween socks for those cool fall nights. Or gift them a print of you two in a fun couple's costume. That's the thing about custom gifts like these – they show you want to make your girlfriend or boyfriend feel special. After all, there's no other gift out there quite like the one you make for them. 
Pumpkin Flipflop

– Want to keep something with pumpkins on it even when the weather is warm? Make a pair of flip flops with a pumpkin photo on them.

 

Halloween Pillow Covers – Guarantee sweet dreams after a scary movie with these pillow covers. Add a fun Halloween photo to keep the spooky feeling going.

 

Scary Halloween Bag – Customize a fun Halloween bag and fill it with candy for a gift they're sure to love. Nothing but treats here.

 

Couple Halloween Prints – Want to keep photos of those couple costumes all year round? Put them on a print. They make great wall art, and you can appreciate how great you looked.

 
Halloween Ornament – Have a special someone who loves spooky season as much as the holiday season? Combine their loves together with a Halloween ornament. 

 

Heart Handle Mug

– Just because it's Halloween doesn't mean you can't give a cute gift. This heart handle mug combined with a fun and spooky photo is perfect for someone who loves Halloween.

 

Photo Socks – Get your significant other the coziest gift ever! Customize these socks with a photo of you or a Halloween graphic to make them extra spooky.

 

Halloween Beer Mug

– Beer is a great fall drink, and it's made even better with a custom beer mug. Add your favorite Halloween photo and they'll be sure to love it.

 

Halloween Mousepad – A cute and creative way to keep a photo of your favorite person on your desk. It's fun and functional, what more could you ask for?

 
Halloween Custom Diary – Does your special someone love to write ghost stories? Give them a truly spooky diary to get their creative juices flowing.

 
Halloween Teacher Gift Ideas  
We all know fall is a busy time for teachers, and as Halloween rolls around it can be nice to get them something to show that you value their work. A gift can help make this time of year as fun for them as it is for the kids. Personalize a mug with a lively and uplifting quote or a nice picture. Your teacher will love looking over and seeing your thoughtful gift on their desk. 
Golden Mug

– Show your teacher you value their hard work with a golden mug. Personalize it with a photo or a favorite quote and they'll treasure it forever.

 

Tea Mug

– Who doesn't love a good cup of tea in the fall? Let your teacher enjoy a cozy cup of tea with this mug.

 

Silver Mug

– This silver mug will look beautiful on your favorite teacher's desk. Add a fun fall photo to make it even more special.

 
Halloween Décor Ideas for Home or Office  
Decorating the house for Halloween is a highlight of fall. All the pumpkins, ghosts, and other fun decorations are so pretty to look at. But maybe you're in the mood for something a little different. If that's the case, try out some of the décor options from CanvasChamp. Not only are their products high-quality, but you can personalize them to give your home a truly unique touch. 
Photo Wall Tiles

– These will make a perfect decoration for Halloween. Choose from a variety of shapes and photos to make some truly unique artwork.

 

Photo Coasters – Photo coasters look great on your coffee table and theming them to Halloween adds the perfect touch to your space.

 

Canvas Prints – Do you have favorite Halloween pictures you'd love to display? Put them on canvas prints for excellent wall décor to elevate your space.

 
Pillowcase – Cuddle up with your favorite fall memories with a custom pillowcase. You can also add a fun graphic to add to the spooky feeling.

 

Framed Prints – Want to make your beautiful Halloween photos into wall art? Turn them into framed prints for your home. It'll add a beautiful touch.

 

Wall Clock

– It's time for fall! Create a custom wall clock featuring your favorite photos and add a cool touch to your space.

 

Photo Pillow

-

Photo pillows are equal parts creative and cozy. Add an extra cozy touch with fall photos to keep the cozy family feeling going all season.

 

Metal Prints

– Vibrant, rich colors and sturdy construction make this print a great choice. Photos of autumn leaves will look beautiful, or brand-new family photos.

 
Acrylic Prints

– Choose this bold print for your home. Your favorite photos will look lovely and add a modern and sophisticated air to your space. 

 

Split Canvas Prints

– Want to spread your favorite photo over multiple canvases? Choose a split canvas print for a fun take on canvas prints.

 

Pop Art Canvas

– Add something a little different to your space. If you have a friend or coworker who loves bright colors, get them a pop art canvas.

 

Photo Coaster – Photo coasters are much more fun than plain coasters, and they're a great way to display your Halloween memories. Choose your favorite family photos for a nice living room set.

 

Table Mat

– Custom table mats are perfect for decorating your dining room. Have all your favorite photos in one place and reminisce about those memories every time you gather together.

 
3D Photo Print

– What better way to display gorgeous fall photos than a 3D photo print? This unique print will add an artistic touch to any space.

 

Panoramic Canvas Prints

– Have a panoramic Halloween photo you want to display? Whether it's a family photo, or a nice spooky photo, display it on a panoramic canvas print for fantastic wall art. 

 

Photo Blanket – Halloween is time for spooky movies, and those spooky movies are even better when watched cuddled up in a personalized photo blanket.

 

Photo Collage – Want to display multiple Halloween photos? Choose all your favorites and make them into a collage. CanvasChamp offers several templates for your collage, so it's easy to put together.

 

Photo Coaster – Photo coasters are perfect for displaying multiple pictures. Want to display a full set from Halloween? Decorate them with spooky pictures? The possibilities are endless.

 
Ornament – The ultimate when it comes to home décor, an ornament is the perfect choice for displaying your favorite Halloween picture. Customize the shape for a special added element.

 

Canvas Banner – Get in the Halloween spirit with a canvas banner. Use your own designed graphic or a photo to make it perfect.

 
12 Unique Halloween Gift Ideas   
Are you looking for gifts that are a little different from the same old thing? Perhaps you want gifts that you can personalize. That way there's nothing else in the world quite like it. CanvasChamp can help you craft unique gifts that'll wow everyone, and they'll appreciate the personal touch. 
Magic Photo Mugs – Have a magical Halloween with this photo mug. Surprise your friends and family with a personal favorite photo on their mug. 

 

Custom Rubik's Cube – This one's for the puzzle lover in your life. Customize it with your favorite Halloween photos from over the years.

 

Photo Socks – Nothing says unique gift quite like socks with a picture on them. Choose your favorite picture to turn into a fun gift for your friend or family member.

 

Playing Cards – Cards is a great way to wind down after a long night of Halloween activities. Why not spice them up by adding your favorite Halloween photos to them? 

 
Light Switch Panels

– Perfect for adding some subtle Halloween flair to your space. Your friends and family are guaranteed to love this special gift celebrating a favorite Halloween memory.

 

Moon Lamp

– What says spooky season better than a full moon? Keep the feeling going with a moon lamp customized with a fun picture? It doubles as a picture display and decoration. 

 

Photo Puzzle – Can't find the right picture on other puzzles? Why not make your own! Choose a favorite picture and turn it into a super cool gift everyone is sure to love. 

 

Caricature Photo Stand

– A fun decoration featuring your friends and family. Choose a fun template, a photo, and create a gift unlike anything else.

 

Custom Aprons

– Fall is the ultimate time for baking. Give your friends and family a perfect baking gift with a nice photo on it.

 
Table Top – A fun way to display photos that isn't a simple framed photo. It'll look beautiful and you can choose from canvas, metal, acrylic, and engraved.

 

Flip Flop – Flip flops with funky Halloween designs are an excellent present. Let your friends take Halloween with them all year long.

 

Sequin Magic Pillow

– Sequin pillows are fun on their own, but how about one with a surprise picture? This gift is incredibly fun and guaranteed to be a hit.

 
Cheap Halloween Gift Ideas 
Giving your friends high-quality, personalized gifts doesn't have to cost a fortune. CanvasChamp offers a great variety of cheap gifts that look amazing. Even if the gifts cost less, the sentiments they represent are priceless. So don't worry about choosing a more cost-effective option, because your friends will still appreciate being thought of. 
Photo Mugs – A cheap but charming gift for your friends. Use it to celebrate your favorite memories with them. They'll love seeing their favorite memories every day.

 

Luggage Tags

– For your friend who loves to travel. Use your own art or photos for the tag. A great gift that is also practical.

 

Poster Prints – Posters are always a great gift. Create your own poster of a favorite memory or a custom poster print to create a unique work of art.

 
Photo Prints – If you want to give your friend a high-quality print of your favorite photos, look no further than these photo prints.

 
Halloween Gift Set or Bundle -  
BOSSBOGO, B2G1, B6G3, B9G4 
If you'd like to buy some lovely gifts from us, be sure to use one of our discount codes. There's nothing better than saving a little money while buying something to make your friends happy. Check out our deals and save today! 
Halloween Gift Certificate -   
https://www.canvaschamp.com/gift-certificate 
Do you know someone who'd love to buy some new canvas prints? Gift them a CanvasChamp gift card. They'll love getting to pick out beautiful new prints for their home. The gift of new prints is one that's always appreciated. 
Halloween Things To Do (List) 
Go trick or treating

 

Carve pumpkins

 

Go costume shopping

 

Sew your own costume

 

Watch scary movies

 
Eat Halloween candy

 

Drink pumpkin lattes

 

Tell ghost stories

 
FAQs on Halloween Day  
Where can I wholesale Halloween gifts?

 
Ans – At www.canvaschamp.com 
Where can I get cheap Halloween products wholesale?

 
Ans – You can buy affordable Halloween gifts at https://www.canvaschamp.com 
What's a perfect Halloween gift for kids?

 
A perfect Halloween gift for kids is anything they can play with, like a photo puzzle or a Rubik's cube. You can also give them a photo book or a photo bag. 
Why do Halloween decorations go on sale so early in the year?

 
Halloween decorations go on sale early in the year so you have plenty of time to decorate. If you're thinking of throwing a big party be sure to take advantage of this. 
What can be a perfect gift for a Halloween party?

 
The perfect gift for a Halloween party would be something small, like a table top print, or something fun like a photo mug or a photo ornament. 
What are some spooky DIY Halloween decorations ideas?

 
The best way to make DIY Halloween decorations is to make iconic Halloween characters out of items around your house. Paint paper plates to look like jack-o-lanterns, or cut them to look like bats.  
What are some Halloween party ideas for teenagers?

 
Some Halloween party ideas for teenagers are carving pumpkins, watching scary movies, eating candy, and having a costume contest. 
What are the new ways to celebrate Halloween?

 
How to make Halloween special for my kids?

 
To make Halloween special for your kids, consider making them personalized gifts with a photo of them in costume on it. It's a gift they'll treasure for years to come.