The Best Photos for 3D Printing
We want your 3D photos to look great, and the first step is to choose a great 2D photo! Some pictures take better advantage of 3D images – here are a few hints to help you choose photos that will bring eye-popping results
Look For Images That Have A Vertical Orientation

Look For Pictures With Depth

Look For Good Foreground Lighting
If you have questions about a photo, remember that our experts are standing by to help!
Personalized 3D Pictures
Now you can create a sensational custom 3D picture from any photo! These exquisite 3D personalized picture frames are beautiful and last for fifty years or more. Our custom 3D printing process delivers a crisp 3D image that seems to float in the modern black frame. Personalized 3D pictures are a unique choice for.
Gifts

Special Occasions

Just for Fun!
How about a personalized 3D gift for the person who has everything? Customized 3D picture frames make a remarkable addition to any room or a striking decoration for any office. Use our design tool to create your own 3D picture today!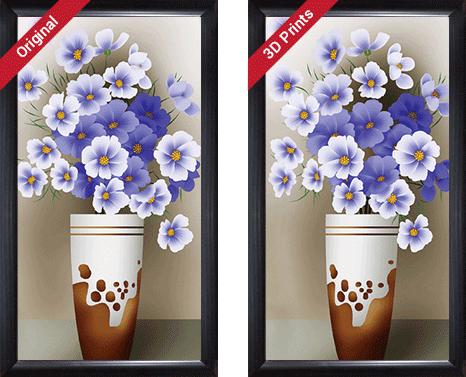 Stunning 3D Picture Frames Bring Your Photos to Life
Imagine your images etched inside a sleek, high-tech frame in mind-blowing 3D! Your photos appear to be floating in space with the illusion of three dimensions. What a marvelous way to commemorate special occasions memorialize a loved one or event. With sizes up to 24"x24", these heavy, durable frames look great in any room. 3D picture frames are a truly unique expression for your memories.
Features That Magnify 3D Prints
A certain peculiarities make 3D photos the best choice. Here they are
Custom 3D Photo Printing – Now Available for Your Home
New processes in printing technology mean 3D printing is affordable for any home. Lenticular printing on high-quality 3D PET sheets in a stunning modern frame with your custom image "floating" in jaw-dropping 3D. Edge band protection means these heirloom-quality images are as durable as they are lovely. 3D frames are guaranteed for 50 years of indoor use! Washable and waterproof, your memories are safe – and unforgettable – with our 3D printing technology.
Personalized 3D Photos Make Incredible Gifts
What makes a great gift? Personalized? Enduring? Unique? Customized 3D photos are all those things, and more! These lovely frames make great keepsakes for special occasions, gifts for those hard-to-buy-for relatives. With our durable, heavy construction and a sensational 3D image, your friends, family, and co-workers will enjoy 3D photo frames for years to come. 3D photos look great on the wall, on a desk, or even in a trophy case. Make your next gift a spectacular 3D photo frame!
It Really is 3D! 75-80° Visual Angle
You won't believe your eyes when you see your photos reproduced in a splendid 24" 3D photo frame! Digital 3D photo frames feature a 75-80° visual angle – you'll be amazed at how the image retains its 3D look from near and far, or at virtually any angle. Your photos seem to come to life! A modern black frame looks great anywhere. Turn any photo into a spellbinding image you and your guests won't soon forget.
3D Printing from Any Photo
When you see the miraculous sparkle of custom 3D photo printing, you'll have only one question: Which photo will I choose for a lustrous 3D look? The best news is that 3D printing is remarkably affordable – you can have an array of stunning 3D photos in your home or office. What photo wouldn't look better, more alluring, floating in a beautiful black frame in three dimensions? Any photo makes a lovely 3D print!
Digital 3D Printing Brings a New Look to Old Photos
Throw those old photo albums away! You've never seen your photos look like this! Your photos just got a new lease on life with digital 3D printing. Your guests will be amazed at the hypnotic power of three dimensions when your images are printed with the latest 3D technology. You'll adore the way these frames look in your home, and you'll love how easy they are to clean and maintain. These water-proof frames last for fifty years or more! Bring your old photos into the 21st century – in sparkling 3D!
Your Personal Photos Come to Life in Stunning 3D
Take any photo from nice to spectacular with custom 3D printing. Your images have a new look with a phenomenal 3D sheen and set off by a sleek black frame. 3D photo frames add a modern touch to any room in your home or office and they give new life to photos or art. Ever feel like your wall photos are fading into the woodwork? Give your walls a new spark with 3D photo frames!
Customer Gallery
Need inspiration? Check out these great 3D photo ideas from our customers!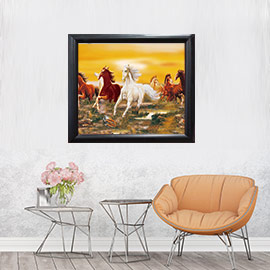 @hellosplendidblog created a kid-friendly gallery wall!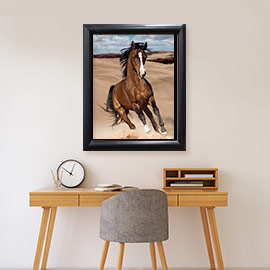 @hellosplendidblog created a kid-friendly gallery wall!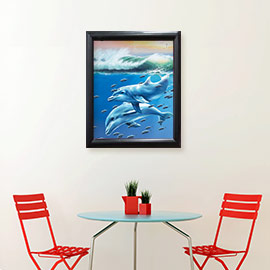 @hellosplendidblog created a kid-friendly gallery wall!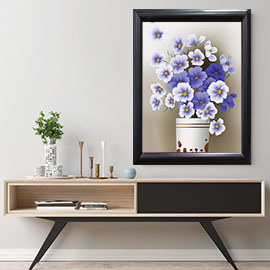 @hellosplendidblog created a kid-friendly gallery wall!
Love our 3D photo prints?
Need inspiration? Check out these great 3D photo ideas from our customers!