Holiday Gift Buying Guide 2022 - 60 Custom Photo Gifts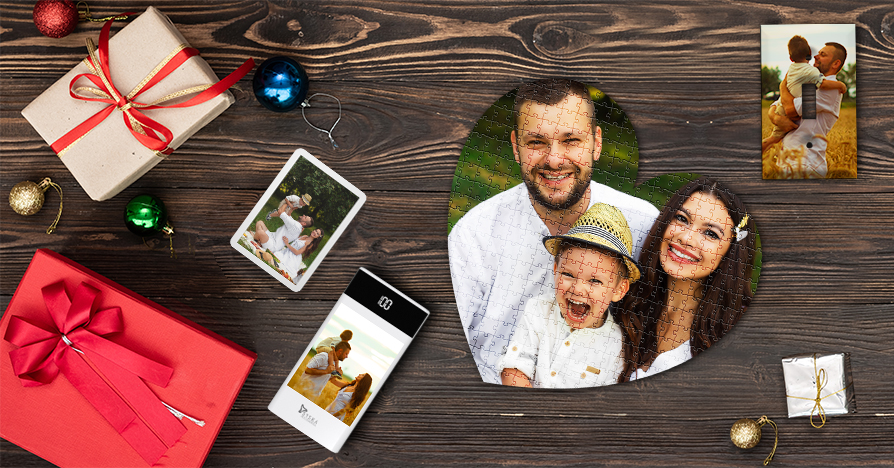 Let's face it, coming up with good holiday gifts for everyone on your list can get tricky. If you've searched every holiday gift guide you could find but still couldn't come up with those perfect holiday gifts for 2022, then CanvasChamp is here to help you. We made this list, checked it twice, and we think these gifts are pretty nice. Check out our ultimate holiday gift guide for those perfect presents.  
At CanvasChamp, we take pride in creating the best holiday gift guides for you. Scroll through our list to find the best presents for this holiday season. 
Shop by Category for Holiday Season
Cheap Holiday Gifts

 

Holiday Essential Gifts

Holiday Gifts for Pet

 

Holiday Gifts for Home

 
A)

Cheap Holiday Gifts

 
CanvasChamp has a great selection of cool holiday gifts that won't break the bank. A custom gift is sure to make an impact because it's special and different from any other gift you could get at the store. Plus, these are perfect for white elephant gift exchanges or secret Santas. 
When it comes to holiday home gifts, you can't go wrong with a photo mug. Imagine how delicious hot cocoa will taste out of a custom mug. 
Have a friend who loves to travel? Give them a custom luggage tag. You can customize it with their favorite photo from their travels to take with them always. 
Poster prints make great décor. Use a photo or a custom design to create unique holiday gifts for your friends and family. They're sure to love it! 
As far as holiday photo gifts go, you can't go wrong with photo prints. Customize the size of these prints from small gifts to big photos for display. 
The perfect holiday gift for your favorite bookworm! Give a custom photo bookmark to help them keep their place, and remind them of a great memory you share.
B)

Holiday Essentials Gifts
Looking for gifts for people going on holiday or holiday gifts for travelers? CanvasChamp has plenty of travel gifts to take on holiday to choose from, and they're all customizable. Turn a favorite travel photo from the past year into a lovely gift, or use a photo of you and your friend to make it extra sentimental.  
You always need a pillow when you travel. Why not make it special with a fun photo? Travel will be so much more comfortable with this gift. 
Add a favorite photo to this tote bag to make a unique gift. It'll work great as a carry-on or a small overnight bag for quick trips. 
Is there anything worse than forgetting your charger for a trip? Keep your friend from losing power with this custom power bank. Customize it with a photo they love. 
You always need an umbrella when you travel. Customize your umbrella with a lovely photo to make gloomy travel days brighter. 
Turn travel photos into magnets so you will always remember the fun times you had. This is one of the more thoughtful holiday gifts because it's so sentimental. 
Nothing says going on vacation like a good pair of flip flops. Take your favorite picture and create something special to take on your next trip. 
Who doesn't like receiving a nice pair of socks for Christmas? These photo socks will be perfect for staying cozy while you travel. 
If you know someone who loves to document their travels, then this photo diary is the perfect gift. Sentimental and functional, it's a gift everyone will love. 
Whether for the trip or hanging out in the hotel room after a long day, custom playing cards are a must for any travel lover.  
This gift is perfect for those long trips. Your friend can stay occupied and be reminded of a great memory when they finish the puzzle. 
If you have a friend who travels often, you have to get them a luggage tag. They'll love that they can find their luggage by looking at a lovely photo. 
C) Holiday Gifts for

Pets
If you looking for gifts that celebrate your four-legged friends, check out these holiday gift ideas from CanvasChamp. Our photo gifts can be personalized with pet photos to decorate your home and your friend's homes. Find the perfect pet gift with this holiday gift buying guide. 
This gift is equal parts cute and cuddly, just like your pet. Cuddle with this pillow while watching tv, or make it a toy your pets will love. 
Highlight an exceptionally good photo of your pet with a pet canvas print. You'll have a great new photo to hang up and make your pet feel special. 
Do you have an entire folder on your phone dedicated to pet photos? Turn your favorites into photo prints and display them all over your house. 
A picture in a nice frame is a classic holiday gift. Think of how much your friend will appreciate having a beautiful pet photo in a lovely frame. 
Can't choose just one pet photo? Create a collage featuring all of the best ones to truly make your pet feel loved and special. 
D) Holiday Gifts for Home

 
Feeling confused about what to buy this year? You're in luck, because you can buy the best holiday gifts online from CanvasChamp. These classic gifts will make any house feel like home, especially if they feature lovely photos. After all, some of the best holiday gift ideas come from the heart. 
A staple of holiday gift giving, you can never go wrong with a blanket. Personalizing it with a photo will make it that much more special. 
Liven up a plain throw pillow with a custom pillow cover. It adds a lovely touch to any living room and will be cherished for years to come. 
Give this to someone who loves to cuddle up on the couch. These gifts pair perfectly with cozy holiday movies on those cold winter nights. 
While this is one of the more unusual holiday gift ideas, it's no less cute or sentimental. It's perfect for the animal lover in your life. 
Add a little holiday sparkle with this sequin pillow. You can add a photo for an extra surprise that everyone is guaranteed to love. 
Have a favorite photo from the past year you want to give to a friend? Turn it into a framed print to add a special touch. 
Turn a beautiful photo into equally beautiful wall art. Whoever you give this to will love the elegant touch it adds to their home. 
Wall decals make awesome bedroom décor. You can choose from CanvasChamp's decal designs or create your own to make something truly special. 
A truly beautiful way to display your photos, these engraved photos can make any home feel like a cozy winter cabin all year long.  
Your friends and family will love having nice, framed photos to add to their homes. In addition to looking lovely they're sentimental and a reminder of your best memories. 
Compile your best moments from the year into a photo collage for your friends and family. Look back on the good times as you look ahead to another great year. 
Combine style with function with a custom wall clock. Customize the photo and the shape to create something that is wholly unique and beautiful.  
This is a gift that's guaranteed to last. Beautiful and durable, metal prints are perfect for commemorating the best moments in your life. 
Acrylic prints add a vibrant touch to any home. The colors on these prints really pop, and are guaranteed to make a perfect focal point on your wall. 
These prints are different from your standard canvas prints, but make just as much of an impact. They add an extra flair to your photos. 
Make your favorite photos into unique works of art by turning them into pop art canvases. If you know someone who loves eclectic art, this is the gift for them. 
Feel transported every time you look at a photo with a 3D photo print. These are perfect for if you want to bring the outdoors inside your home. 
Combine the fun of a collage with the classic touch of a canvas print with these photo wall tiles. Your friends and family will love arranging the tiles at home. 
You can never go wrong with a gift that makes a house feel like home. Personalized wall art will do just that, especially if it includes beautiful photos. 
Floater frames make canvas prints look even more special. Your friends and family will love the unique touch this adds to their photo prints. 
Beautiful canvas prints make the perfect holiday gift. Incredible and eye-catching, this gift is sure to be a big hit this holiday season. 
If you know someone whose tastes tend towards the unique and artsy, give them a shaped canvas print. They'll love the special touch this adds to their home.  
Custom photo posters make excellent holiday gifts. You can customize these with a photo to make a great decoration for any room. 
This gift works for everyone on your list. Add city names for someone who loves travel, or a nice quote to add positivity to your friend's life. 
What's even better than a canvas print? A print that looks like a work of art. Turn your photos into a digital oil painting to add an extra special touch. 
Quotes on canvas are perfect for when you need a little extra motivation. This gift is sure to be the perfect pick me up any day of the week. 
This is a beautiful gift to give a spouse. Personalize it with lyrics from your favorite song for a truly sentimental piece of artwork. 
As the year draws to a close, most people start to think about the new year. Help them get a jump on things with a custom photo calendar. 
Guaranteed to make any photo pop, a double layer acrylic frame makes a perfect gift. It's truly a unique way to display your favorite photos. 
This type of print will add a sleek and modern look to any space, and will make your photos pop in a great way. 
Photo blocks make perfect desk or living room décor. Customize them with all the good times you had throughout the year, or highlight your best moment. 
Holiday Gift Certificate
Holiday gift certificates are still some of the best holiday gifts in 2022. They take the stress out of gift giving at the holidays while still being a great gift.