Canvas Prints Vs Metal Prints: Choose Right For You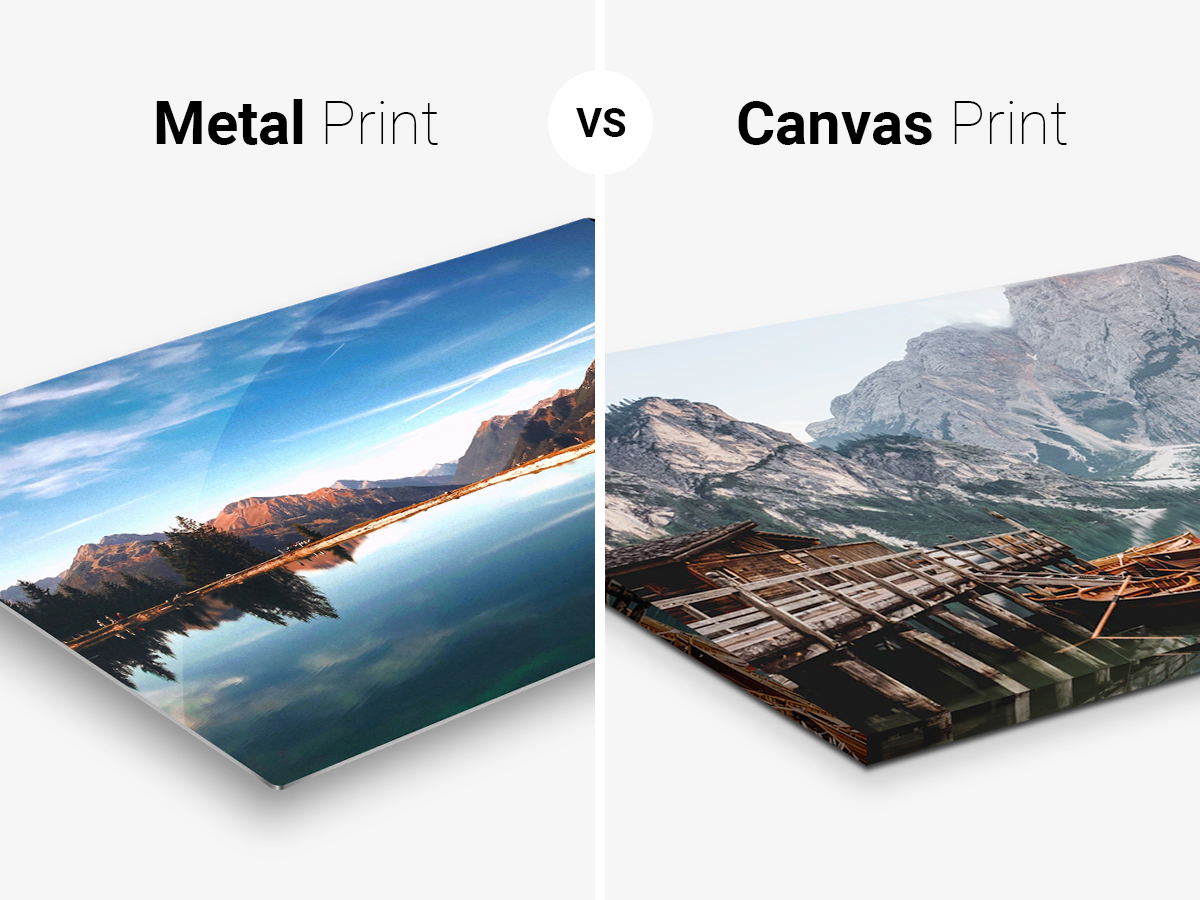 Print Showdown: Canvas Prints vs. Metal Prints
It can be overwhelming to decide what type of print is the best choice for your custom photo gifts. All CanvasChamp products use the best quality products and cutting-edge technology. However, there are some interesting differences between Canvas Prints and Metal Prints you should know.
How They are Made: Canvas Prints vs. Metal Prints
Canvas Prints use UV-resistant pigment dyes printed on an archival-grade poly-cotton blend canvas. This type of canvas marries polyester's elasticity with cotton's breathability for a robust and lightweight product. After printing, Canvas Prints are stretched over kiln-dried pine frames with rounded edges to create a professional, ready-to-hang work of art. 
For a rugged, durable finish, Metal Prints are created using dye-sublimation. The process infuses your image directly onto a white, matte aluminum base. The result is a hard coating that gives your photo gifts more depth and sharper contrast than traditional photo printing. It also means that your Metal Print will stay lovely for decades, with or without an optional gloss coat.
What's Special in Both: Canvas Prints vs. Metal Prints
Just like a hand-painted canvas, Canvas Prints are wonderful teammates for photos with softer color palettes and subtle images. They also are saviors of that treasured but slightly low-resolution photo you dream of making a statement piece on your mantle. The natural texture of woven canvas helps bring the best out in a small data file image without pointing out the bit of fuzz on the edges. 
Metal Prints are ideal if you have landscapes, sunsets, or other images where you want the color to pop. Metal yields high vibrancy, contrast, and sharp edges to high-resolution photos. Conversely, Metal Prints are also the perfect choice for black-and-white pictures, enhancing the variances between light and dark. When the devil is in the details, Metal Prints finish strong. 
Pros & Cons: Canvas Prints vs. Metal Prints
Metal Prints are the clear winner in the durability race. They are scratch-resistant, waterproof, and easy to wipe clean of surface dust. They also offer lower-profile mounting options, which may be necessary when displaying in high-traffic areas. The trade-off for all this strength and flexibility is that Metal Prints weigh significantly more than their canvas counterparts of the same size. 
This extra bulk means you need to carefully consider your placement to support that weight on your wall, and it could be a constraint for a large piece. Additionally, Metal Prints are typically more expensive than Canvas Prints due to material costs. While maybe not a factor if you are looking for a single piece, it could be prohibitive for a wall display of several photos. 
Canvas Prints are the workhorse of the art print world, providing excellent results with a variety of images and offering more versatility in display options. Their texture produces a hand-painted look to any image, which helps hide small image flaws. They come ready-to-hang out of the box, and because of their lightweight, they often don't need more than a nail to rest comfortably on your wall. Canvas Prints are an affordable option for your artwork, making it cost-effective to create a gallery wall. 
With proper care, your Cheap Canvas Prints are crafted for the long haul. However, they are less durable than their metal counterparts. Canvas is more susceptible to scratches, punctures, water damage, and fading. Its textured surface can be more challenging to clean than a Metal Print, and Canvas Prints are not as happy in high-humidity environments.
Which Settings Suits Best: Canvas Prints vs Metal Prints
As mentioned earlier, Canvas Prints have the versatility to fit into many environments. But they really shine with simple, classic, and traditional styling. Their soft yet arty look is stunning paired with wedding photos and portraiture. When you want a large, statement piece, a Canvas Print is a cost-effective yet easy-to-hang option.
Love contemporary settings, clean lines, and polished surfaces? This type of modern décor is where Metal Prints win the race. But Metal Prints also have an ace in the hole: their sturdy construction is ideal for outdoor or high-humidity areas. In covered patios, a pool house, kitchens, or bathrooms, Metal Prints are ready to hang out and stay strong!
And the Winner Is…
Honestly, it is too close to call. Both Canvas Prints and Metal Prints are outstanding options to display and gift your personal photos. What works for your family reunion photo may not be as effective for your waterfall panorama. Consult our design team if you are unsure of which option is right for your dream concept. Or get a preview of your next work of art right now on our design tool at https://canvaschamp.com.