2023 Holiday Gift Guide - Custom Photo Gifts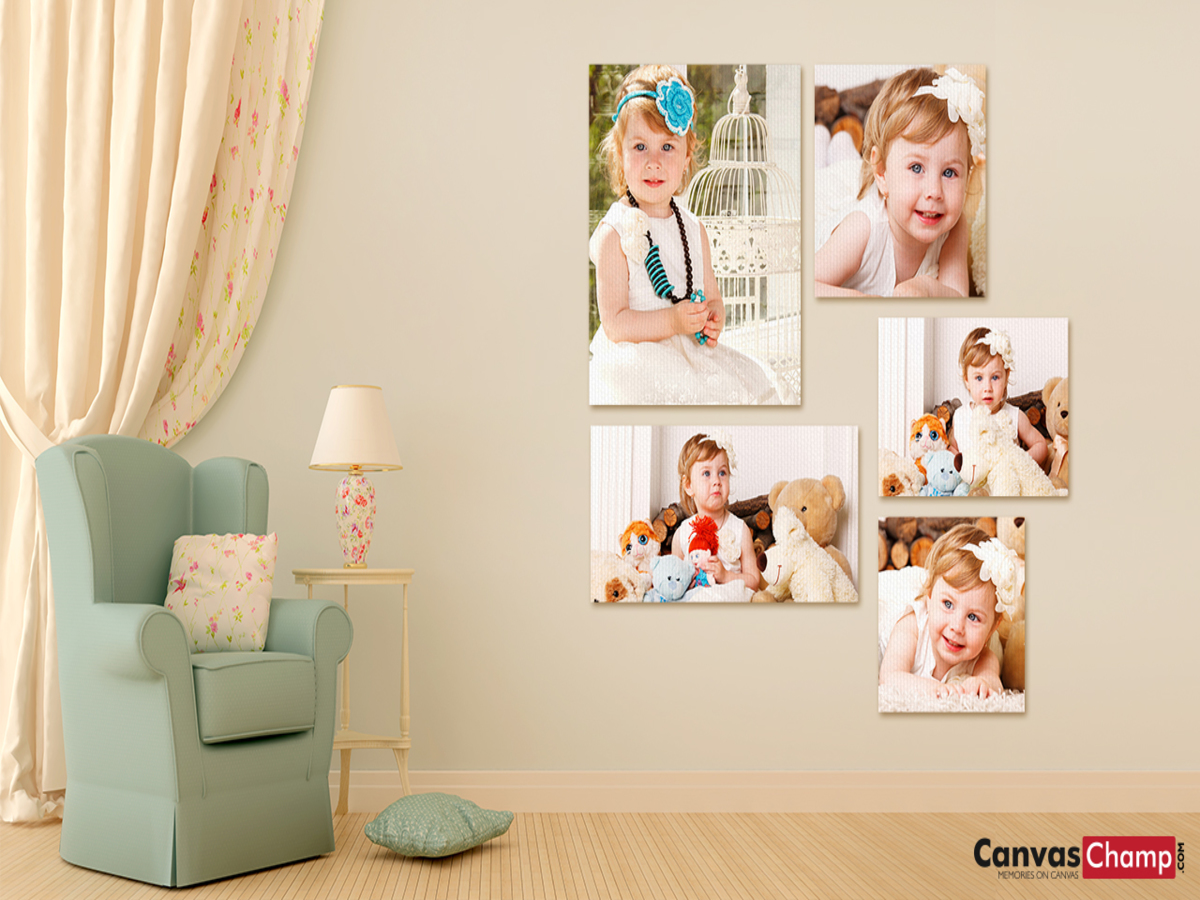 It's not too early to think about custom gifts for everyone on your list. From family members to coworkers, CanvasChamp has great items made extra-special when you add your unique photos. Need some inspiration? 
For the Classicists
These are the ones on your list who prefer their art with timeless style and vintage flair. 
Wall Displays: Ideal for photo collages or storytelling. Highlight your favorite family portraits, vacation pictures, or memories from college. Canvas Multi Wall Displays are a simple way to create a stunning gallery wall from everyone's new favorite artist – you!
Wood Prints: Printing directly onto the wood surface results in reflections of the natural wood grain to further enhance your outstanding photos. Choose a single image or a three- or four-piece collage to create stunning Wood Photo Prints with a vintage feel.
Framed Prints: Use the colors and textures of frames and matting to accent the beauty in your photos. When you want to give the complete package, Framed Prints are the answer.
Hanging Canvas Prints: Reminiscent of schoolroom maps and calendars of yesteryear. The twine-and-wooden-rail construction has a clean look that blends with any décor. Hung singly or in groups, these Hanging Canvas Prints make your photos a  unique addition to your living space or office. 
For the Artists
Color, light, and a bit of avant-garde is what they are all about. So if you can add your own spin to the artwork, all the better!
Acrylic Prints: Boasting a contemporary look with a vibrant color payoff, Acrylic Prints create a focal point anywhere they are displayed. And since the image is mounted behind the acrylic, your worries about everyday damage can fade away.
Digital Oil Paintings: Choose traditional brushstroke, modern knifework, or a quirky comic art treatment to accent your landscapes and still lifes. For a hand-drawn look, transform your portrait photography using a charcoal effect. Digital Oil Painting will make everyone call you Maestro! 
Photo Books: You provide the images and copy; we provide the layout! There is something in our gallery sure to offset your story perfectly. Guaranteed to be a page-turner your recipients can't put down! https://www.canvaschamp.com/photo-books.
Hexagon Canvas Prints: Connect them, arrange them, or hang them singly for a distinct design touch. Whether it's a family tree, a vacation collage, or a pet gallery, the versatility of these small-but-mighty custom canvases can't be beaten! https://www.canvaschamp.com/hexagon-canvas.
For the Contemporaries
High style and clean lines top these people's lists when it comes to home décor. Make their dreams come true with personalized art.
Metal Prints: Create sharper details, richer colors, and enhanced depth with superior strength! Metal prints ensure your photo gifts will remain bright and vibrant for a lifetime. 
Bus Rolls: Originally used to list destinations on commuter routes, Bus Rolls have become a fantastic word art. Create a list of family members, simple recipes, or inspirational quotes, and take advantage of the versatility of Bus Rolls.
Canvas Prints: Canvas Prints of your photographs make gorgeous gifts for any occasion and are ready to hang in the time it takes to drive a nail! There's a Canvas Print for every size image, from desktop to statement piece! You provide the inspiration; we provide the result!
Lyrics on Canvas: A picture is worth a thousand words, but a few choice words won't hurt. Enhance the beauty of your images with your favorite song or saying. It's a hangable story people will love to display! https://www.canvaschamp.com/custom-song-lyrics-on-canvas.
For the Comfort Seekers
Soft and cozy are the way to these people's hearts, so wrap them up with warmth!
Photo Pillows: Everyone on your list will love to snuggle up to this gift! Available in a plethora of sizes, colors, and photo layout choices, our Custom Photo Pillows are machine washable and will stay vibrant, wash after wash! 
Photo Mugs: Help friends and family start the day! Choose your base color, photo layout, clip art, and text to craft a genuinely one-of-a-kind functional piece of art! And, this 11 oz. beauty is dishwasher-safe, making it the perfect gift! https://www.canvaschamp.com/photo-mugs.
Magic Mugs: A hot beverage is all it takes to reveal this mug's secrets! With nearly the same choices as our Photo Mugs, Magic Mugs come with an inky black overlay and a black background, so your photos are center stage after the big reveal! 
Photo Blankets: Take them anywhere and everywhere; there is a perfect weight for any time of the year. Photo Blankets are up for any adventure! Large enough to share, but everyone is going to want one of their own!
For the Quirky
Not content to keep their art on the wall, these people love to interact and play with their displays.
Photo Puzzles: Create an interactive pastime for the whole family! Our 252-piece Photo Puzzle comes in a metal tin highlighting your photo on the cover. Of course, once you have mastered it, you may not bear to take it apart again!
Photo Umbrellas: Choose your favorite photo or create a spinning gallery of fun and color! Whether single-sized or big enough to share, Photo Umbrellas make great gifts. Ward away the gloom while staying dry with a Custom Photo Umbrella! 
Photo Coasters: Available in sets of two to 12, our photo coasters incorporate shapes, colors, and text to enhance photos and match any room! Pick a single image for uniformity, or opt for a different picture on each and tell a story. Either way, no more water rings here! https://www.canvaschamp.com/photo-coasters.
Photo Magnets: Easy to clean and vibrantly beautiful, Photo Magnets are an excellent way to showcase your photographic artwork on a small scale. If you are going to post notes, do it in style with Photo Magnets!
With CanvasChamp's easy-to-use design tool, creating unique photo gifts for everyone on your list is fast and fun! What are you waiting for? Gift-giving season is just around the corner! For more outstanding product ideas, go to https://www.canvaschamp.com.