How To Print On Canvas: An Incredibly Easy Method That Works For All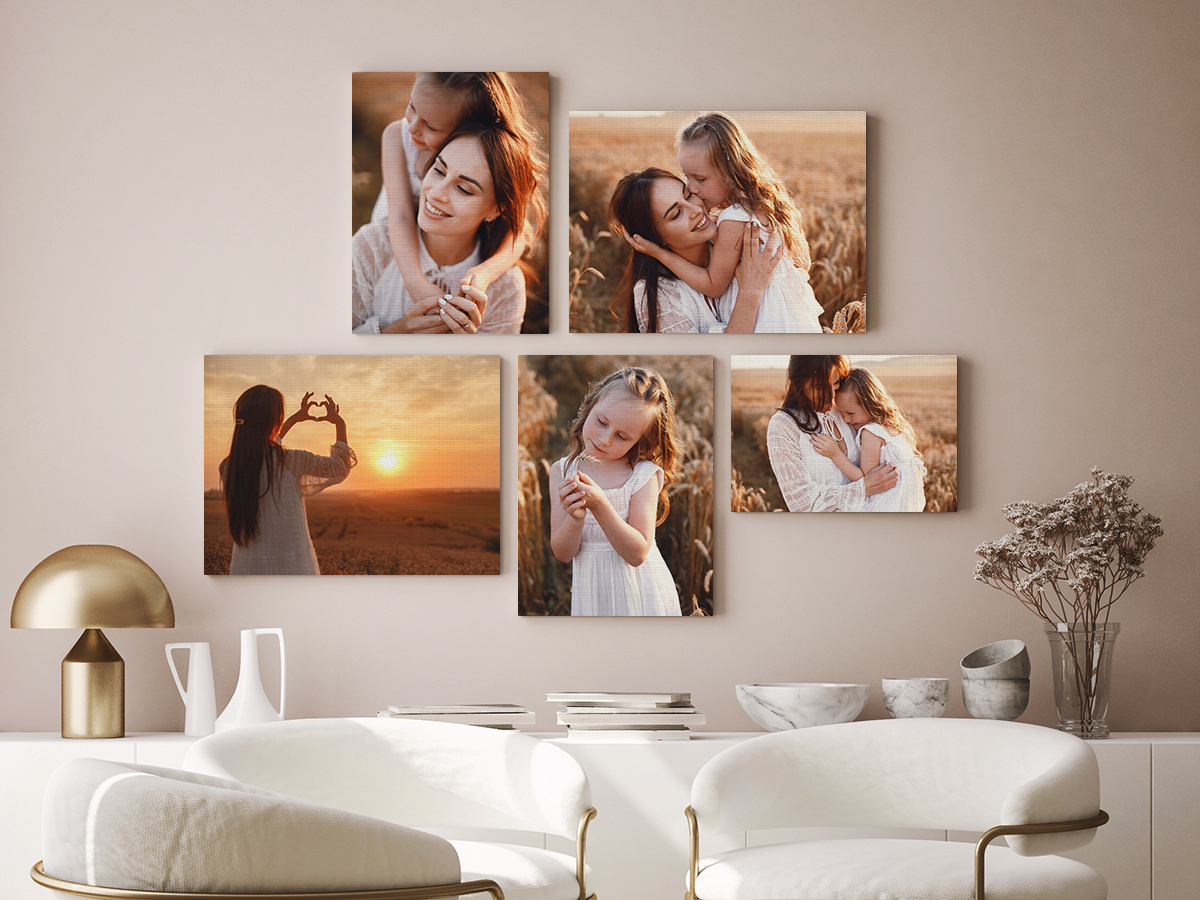 Canvas is a beautiful medium to display your art, creativity, and paintings. But that is not the only way you can use them. You can also use canvas for your most valuable possession - Memories. Now use the smooth surface of the canvas to display photographs, especially of friends, family, scenery, and more.
So How to Print Pictures on Canvas Online Hassle-free?
Some of the most popular conventional techniques used to print photos on canvas are:
Rustic transfer for black & white and Sepia tone images
Clean transfer for color images
Even though both techniques can turn your everyday picture into art, these techniques require a lot of work, fuss, professional tools, and material to make the end product beautiful and per standard.
But today, you can solve these problems through refined digital printing. How? Let's discuss further!
How To Print On Canvas Through Refined Digital Printing?
Before answering this question, let's have a clear understanding of canvas print.
A canvas prints is an amalgamation of refined digital printing and premium quality canvas fabric. It works best to display your memories, special moments, quote inspiring words, sceneries, and more.
You might think that this sounds so simple, right?
But, whenever you find things too simple, just know a lot of work is happening behind the scenes!
It was difficult to print on canvas before; however, it has become much easier to use canvas prints with the latest technology shift. Today, digital platforms provide you with a very easy-to-use design tool to customize a canvas print online without any inconvenience.
Personalization and custom products are the two trending topics in every business, including printing. CanvasChamp is one such platform that gives you advanced options to customize various unique custom products, including how to print canvas prints.
This takes us to our next point: How to print on canvas at home?
CanvasChamp offers premium-quality products and choices to its users with professional printing technology. In addition, our cheap canvas prints are coated with a protective scratch-resistant UV laminate to make them long-lasting. Thus, we guarantee you an immaculate finish and 100% satisfaction with our creation.
You can now design the whole look of your photo canvas prints in the comfort of your home.
How To Print On Canvas - A Step By Step Guide
Let's uncover how you can customize your canvas prints within a few minutes and get them delivered to your preferred location. Follow the steps mentioned below and let your house look more beautiful with photo canvas prints.
1. Choose Your Product
Choose canvas to make your own "wall of memories" displaying all your favorite moments, quotes, memories, and more. They will make your home warmer and cozier. CanvasChamp offers you a variety of landscapes for you to print your photos in a variety of ways.
Choose a canvas style as per your needs from many unique options like:
Single Print
Wall Display
Photo Collage
Hexagon Prints
Split Canvas
Photo Mosaic
Lyric on Canvas
Digital painting
Quotes on Canvas
Buss Roll
Canvas Banner
Word Art
Pop Art
2. Add Your Favorite Memory To Your Creation
Now it's time to design the best part of your canvas print, i.e., upload your hand-picked picture from your phone's gallery, laptop, computer, or cloud. We accept all types of image formats as we want you to make maximum use of your canvas print space.
Pick any image format JPG, PNG, BM, and JPEG files as we don't want you to leave any memories. Once you are done with the upload, just drag and drop that to the space given on the site.
3. Pick Your Size
Want to hang your canvas print on the wall or put it on a side table? Choose a perfect size as per your needs from the three sizes available at CanvasCham:
Small: 11 x 17 inches
Medium: 22 x 34 inches
Large: 33 x 51 inches
(P.S. - You can also customize the size of your canvas print as per your preference)
4. Choose The Perfect Wrap And Border For Your Artistic Canvas Print
Every product you design on CanvasChamp is of the finest quality as we use high-quality raw material, keeping in mind their preferences and choice. So you can hand-pick your canvas print's wrap as per your use. They are:
Thin Gallery Wrap (0.75 inches)
Thick Gallery Wrap (1.5 inches)
Rolled Canvas
Hanging Canvas
You can also customize the border to elevate the design of your canvas prints, from classic elegant designs to bright colors and antique designs. Some of the borders available in CanvasChamp:
Mirror Image Free
Image Wrap Free
Border Color Free
Golden Thin Max
Metal Floating Frame
Brown Golden
Golden
Black
Black Curved
Modern Black
Jet Black Antique
5. Pick Your Perfect Hardware For A Complete Finish.
Choose the best hardware option and style to display your finished canvas print. Some of the options that canvas champ offers are:
No Hanging Kit
Hooks for Hanging Kit on your walls
Sawtooth Hanger to hang anywhere in your room
Easel black for your side tables
Easel Stand to hand your canvas print as a centerpiece, as they put in museums.
Dust Back cover to protect it from dust mites.
Hand-pick your favorite filter to balance the color in your canvas and give it a complete finish. Here are a few options:
Basic - Original, Sepia, Grayscale
Advanced - Pixel painting, Glo-Portrait, Andy-Warhol, Liechtenstein, Caricatures, and more.
6. One Last Option To Make Changes!
Once you are done selecting everything, just go to the option, and this is your last chance to make any changes to your custom canvas print.
Worry not; you get to see the preview of your canvas print with all the specifics. Apart from that, you just need to choose your lamination option and any re-touch to your canvas print, if required.
After you have completed all the above options, we will send a proof request to you by email. Once you agree to it within 24 hours, sit back and relax for us to deliver you your custom canvas print. It's that easy. We do all the hard work!
The Parting Note
As you now know how to print photos on canvas, why not try printing these Canvas Print for your next special moment too!
With CanvasChamp, enjoy every moment in style. Some of our most popular products, along with Canvas Prints, are:
So what is your next order?