10 Easy Ways To Hang Canvas Art in 2021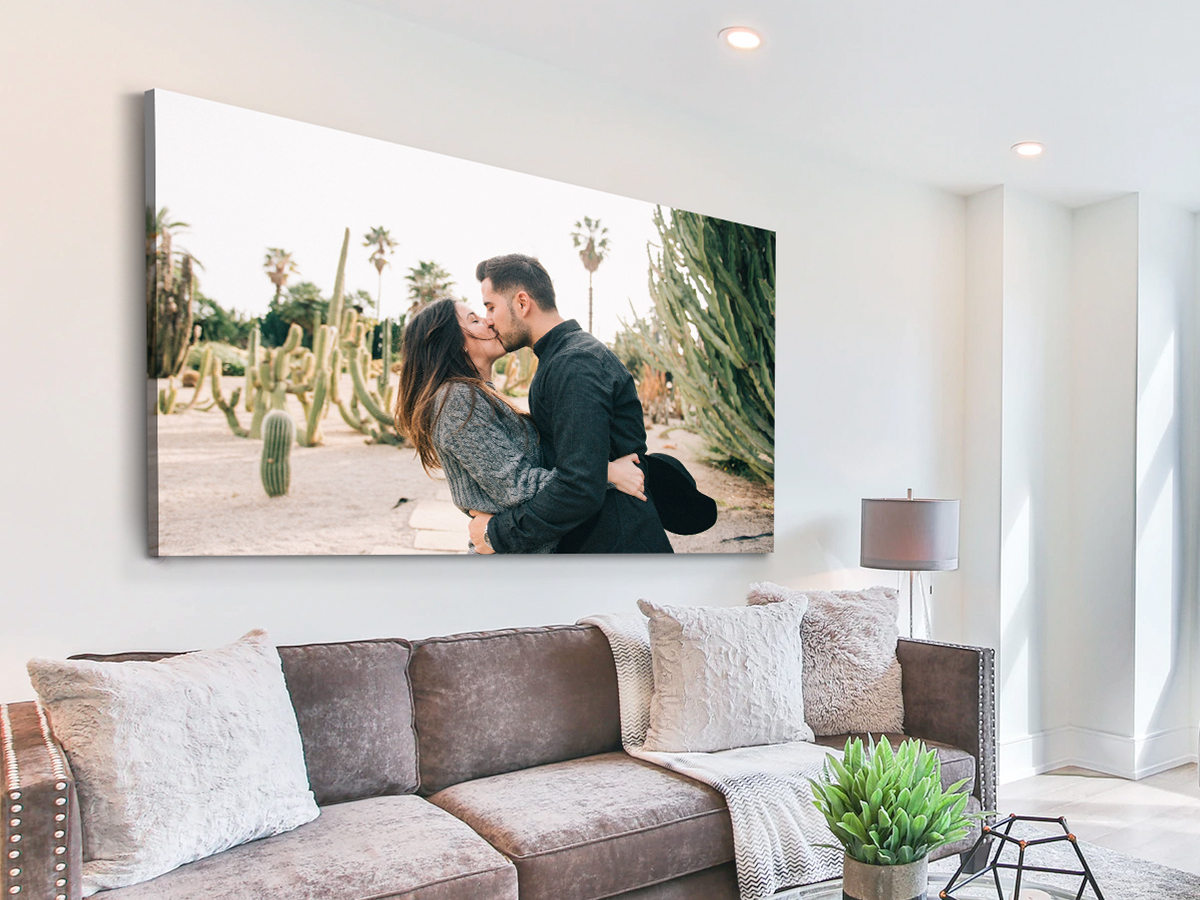 One of the easiest ways to decorate and personalize your home is with canvas prints. They're versatile, affordable, and available in many different sizes. Printing technology of today is so advanced that just about any photo, graphic, fine art, printed poem or song lyric, or any combination of text and photos looks stunning on stretched canvas prints. And all of this amazing canvas wall art can be created and printed totally online!
After you've chosen the images you want and the sizes of your canvas prints, and once they've been delivered to your home, the next step is to properly hang them. However, it's not quite as simple as pounding a nail into a wall and hanging up your canvas print. There are a few things to consider beforehand, but they're fairly simple. That's why we've come up with a list of 10 easy ways to hang canvas art and other helpful tips you'll need along the way.
Proper Arrangement of Wall Art
Wall Space

— Measure the wall where you plan to hang your art and order the corresponding canvas size to fit the proportions of that space. A good rule of thumb: art should take up between 50-75% of the available wall space.
You could apply this to one large canvas print or many canvases. Possible combinations include one large canvas with any number of smaller canvases surrounding it, or small to medium sized canvases all of about the same size. You could also choose to create a gallery wall display , which is a collection of framed or unframed artwork, photographs, collages or posters. Gallery walls are timeless and never go out of style. Best of all, you can create one that is uniquely your own and elicits emotions and memories that add beauty and life to your home decor.
Placement

— Hanging your canvas prints at the proper height will make a big difference in their visual impact. The center of your canvas, or a group of canvases together, should be at eye level when you are standing in front of it. To do this, measure the canvas' height from top to bottom, then divide by two to get the exact center of the canvas. If you're measuring in inches, add 57" to that number to get the measurement of how far from the floor the top of the canvas should be.
For instance, your canvas is 20" in height, so the center would be 10." Add to 57" and you get 67." The top of the canvas should be 67" from the floor. Why 57"? Because this is eye level for the average person, and it's what museums and art galleries use when hanging artwork. Of course, you can adjust this for your own height, or whatever you think looks best. A 5'10" person's eye level is around 65."
If you're hanging canvas prints over a piece of furniture or a fireplace, hang the canvas between 6-12" above the top of furniture or object.
Composition

— If you are hanging multiple canvases, place the largest one in the center, with the smaller pieces surrounding it. A good trick is to map out your wall's area on the floor with masking tape. Place your canvas art prints on the floor first to see how they fit together, and make note of the spacing you'll need between each piece. This way you'll know exactly where to place them on your walls, saving wear and tear by not having to hammer and remove nails numerous times.
Spacing

— Between multiple framed or unframed canvases, you should leave approximately 2 - 5" between each print. Again, you're aiming for visual balance, so spacing should be proportional to the available wall area and the number of canvas prints you're hanging.
Framed vs. Unframed

— Your canvas prints can be all unframed,

custom framed canvas

, or a combination of both to create visual interest. Follow the basic spacing rules outlined above, but also experiment to find out what looks best to you. Again, mapping out pieces on the floor first to see how they fit together is an excellent idea.
Hardware Options to Hang Canvas Art
Nails

— Using broadhead nails to hang your canvas art is the quickest way to do it, but not the best. Sure, it works, but it's not ideal and the chances are your canvas won't stay level very long. Even if it is level when you hang it, the slightest vibration (your kids or your dog running through the house, or your surround sound speakers) will throw them off-kilter.
Sawtooth Brackets

— A better way to hang your canvas art is to use these specially designed brackets made just for this purpose. To attach a sawtooth hanger, center it on the top of the back

stretcher bar

, then nail it in place. Insert a nail into the wall and set the center "tooth" of the bracket onto the nail. With a bubble level, check to be sure the canvas is straight and level.
Eye Hooks

(with wire and a nail) — Eye hooks are basically wood screws with hooks on one end to thread wire through. Measure ⅓ down from the top of your canvas, and attach an eye hook on the left and right inside of each of the wooden stretcher bars. Be careful to make sure each hook is the same distance from the top of the canvas.
Cut a piece of steel wire that's the width of the canvas plus 8." Secure it though each eye screw with a simple knot, then wrap the excess wire around each screw. The stretched wire should be, at its midpoint, 2 - 3" below the top of your canvas.
J-Hooks

— These are good options for wide canvases. J-hooks come in various sizes and with either one or two nails that can accommodate heavy or large canvases. Although you can use one hook for smaller canvases, it's best to use two hooks for large canvas prints and to assure it stays level on the wall. You'll need to measure accurately so that the hooks align perfectly, otherwise your canvas will hang crooked.
Adhesive Strips

— These are probably the easiest of all methods, and the least impactful on your walls. Adhesive strips are simple to use and usually come with a combination of adhesive and velcro. These strips come in different sizes with various weight limits, so be sure to choose the right strips for the size and weight of your canvas prints.
One side of the strip attaches to the wall with "magic" removable adhesive, and has a velcro surface that attaches to the other strip that you attach to the canvas frame. The strong velcro will securely hold the canvas to the wall, but can easily be removed if you decide to relocate your canvas.
No matter how you choose to hang your canvas wall art, displaying artwork and photos with custom canvas prints adds a personal and beautiful touch to your home's decor, in any room you choose. Creating cheap canvas prints is easy to do entirely online and at prices anyone can afford. It's rewarding and fun to design your own wall art, and CanvasChamp is here to help you achieve that with our simple online design tool which takes you through the process step by step. Start creating your own canvas wall art today!