How Long Do Fridge Magnets Last?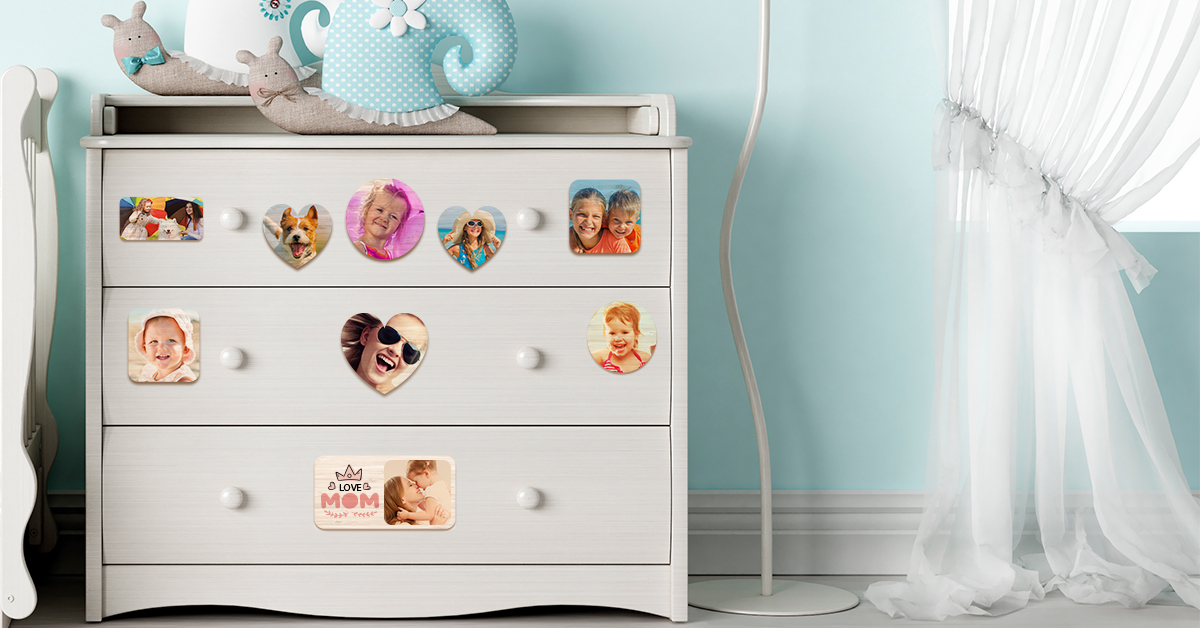 We have all been the victim of magnets that became torn, bent, or stained. And let's not even talk about the ones that just failed and scattered paper everywhere. A large percentage of a Photo Magnet's lifespan depends on materials and construction. When choosing personalized photo gifts, an exceptional Photo Magnet provides a powerful visual impact in a small but sturdy package. Using superior components, CanvasChamp Photo Magnets are built to stand the test of time.
Choose the Right Look
When considering Photo Magnet gifts with staying power, what you print your image on counts. CanvasChamp offers three sturdy materials on which to print your photos, each with unique accent properties. Transparent acrylic bounces light, creating eye-catching vibrance. Metal provides a modern backdrop with a subtle sheen and rigid durability. For a rustic feel, a wooden base allows a bit of wood grain to peek through your printed image. Try them all on for size with the magnet design tool; you may be surprised at which one is your favorite!
Make Your Pictures Pop
Your photographs will always be the focus on a customized Photo Magnet. But perhaps they need a little help getting the point across. Add text and clip art to enhance your images with names, event titles, or your favorite quotes. Magnet shape also adds visual emphasis. Go simple and classic with a rectangular or square magnet or lend a softer touch with heart or round shapes.
Create a Group
There are several options for your magnet set, the first being how many you want. Magnets come in sets numbering 4 to 12. Choose a single image for a single set, an excellent option for sharing a family photo with aunts, uncles, and grandparents. A collection of magnets with a different image on each is a fabulous way to highlight a scenic vacation or tell a story. Too many fantastic photos to choose between? Multiple photo layouts allow up to four images per magnet and are ideal for capturing all the excitement of a special event.

Designed with Holding Power
A fantastic Photo Magnet should do two things: hold its beauty and hold a load—whether a menu, chore list, or business card. CanvasChamp Photo Magnets feature powerful earth magnets covered with a black polypropylene back to hold heavy papers firmly. This strength makes them perfect for file cabinets, lockers, whiteboards, and refrigerators. An essential tip for your art displays: magnets begin to lose their properties when heated above 176° Fahrenheit (80° Celsius). So, they will not perform well on your oven door for very long.
Mini Masterpieces that Last
A beautiful Photo Magnet would not stay that way without some additional help. CanvasChamp uses UV-cured, fade-resistant ink to print your photos. These ink properties ensure that your Photo Magnet will remain vibrant and colorful, regardless of where it is displayed. To further protect your design work, a Mylar PET polyester film covering ensures long-lasting endurance to your artwork. This film provides a barrier against scratches, splashes, and dust while allowing cleaning with a damp cloth. It also provides a brilliant shine that will draw attention wherever your Photo Magnet sits.
Back to our original question: How long do Photo Magnets last? By taking advantage of CanvasChamp's materials and know-how, you will already have the makings of a functional piece of art. With proper care, your Photo Magnet should stay as useful and gorgeous in 20 years as it did when you got it out of the package. Creating your miniature masterpieces is simple with the CanvasChamp photo magnet design tool. Upload your photo, make your design choices, and let CanvasChamp do the rest. Visit https://www.canvaschamp.com to get started!