Delight Mom with a Photo Mug Designed Just for Her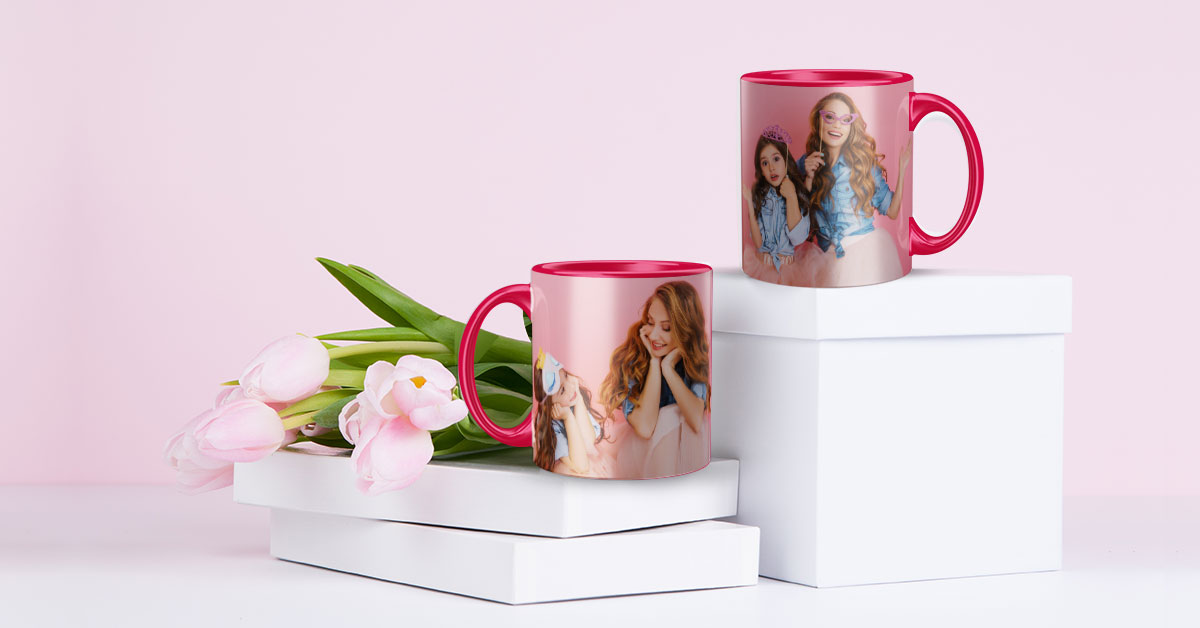 This year, create a special Mother's Day gift guaranteed to bring smiles long after it's opened. Mom will use it for her morning coffee, afternoon tea, or evening hot chocolate. And with each use, she'll think of you.

The gift? It's a Custom Photo Mug.

Browse your favorite photos and decide which would delight your mother, grandmother, or a special female role model. You can add from one to four photos with a personalized message. There's even a directory of clip art for your consideration.
All our mugs are made of sturdy, dishwasher-safe ceramic and feature a wrap-around panoramic print.You can pick from a white or colored mug that is 3.75 inches tall and 4.5inches in diameter plus a handle. It also is microwave safe, so it's easy to heat up hot water.

Follow a Few Steps to Create Mom's Mug.

Ready to start designing your 11-ounce photo coffee mug? Get your photos ready and away you go.

Here's the process:
• Upload your images from your computer, a gallery of images, or your Facebook or Instagram accounts

• Decide if you want a standard ceramic mug in white, black, red, green, yellow, blue, brown, or pink

• Select your layout using one to four photos

• Add customized text, choosing your font size, color, alignment, and style (such as italic or bold)

• Add clipart, if you so desire
• Check out your preview, before you place your order

Experiment as you create your custom mug. Perhaps you want to use one photo. If you like, upload two to three images. Try out different layouts to see which one looks the best with your special photos. Or upload four vertical images. You also have the option of enhancing your mug with clipart.

Have Fun with a Magic Mug.

Here's another fun option to surprise Mom. Select a Magic Mugs. After opening her gift, Mom will think she's received a plain black mug. But then when she pours in a hot liquid, your custom photos will appear!
Ordering an 11-oz. Magic Mug just requires one step. You upload your image as a JPEG, PNG, JPG, or BMP. When your mug arrives, it will be black. But the photo will appear once Mom adds her hot coffee or tea.
Do you need ideas on creating that special – yet affordable –mug?

Photo Ideas.

Look at your Facebook or Instagram accounts. Did Mom or Grandma really like a few of the photos? Here are some other ideas:

• Vacation photos
• Wedding photos
• Historic family photos
• Baby photos
• Family reunions
• Scenic photos
• Pet photos

You can also personalize your photo mug by telling Mom how much you appreciate her. Or add her favorite saying or Bible verse. If you want to go the extra mile, fill her coffee mug with candy, coffee beans, or tea bags after it arrives.
You know Mom loves her morning coffee. Now her special time will be even more fun as she enjoys her personalized mug. She will thank you many times over for this very special Mother's Day gift.

Order today so you're sure the custom mug will arrive in time for Mom's special holiday. We offer a 100% "Love-It" Guarantee.