Affordable Art Using Photo Magnets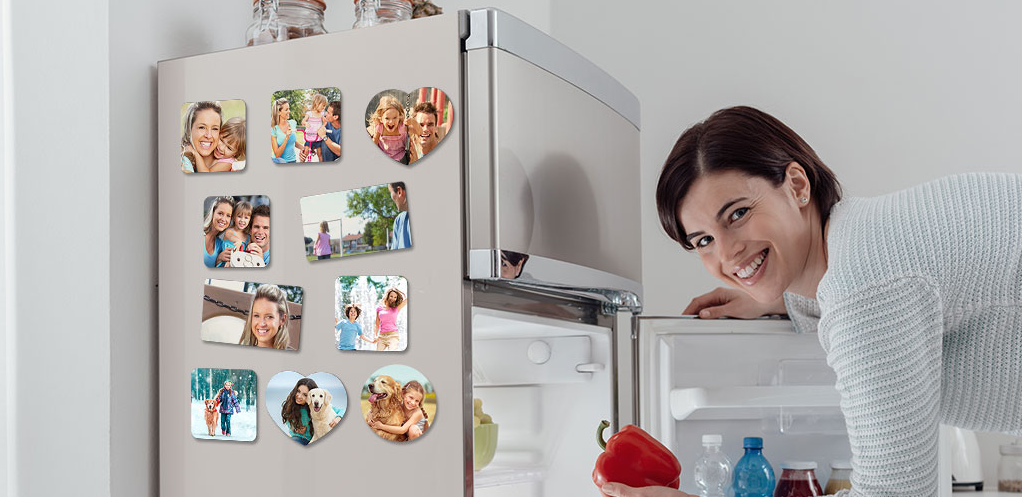 Photo magnets are an easy and inexpensive way to share your photographs with loved ones. The most popular place for magnets is on the refrigerator, where we often see design chaos.Treating the flat surface as a mini art gallery will look more organized and bring more attention to the photos displayed. Here are some ways to bring flair to your displays.
Shapes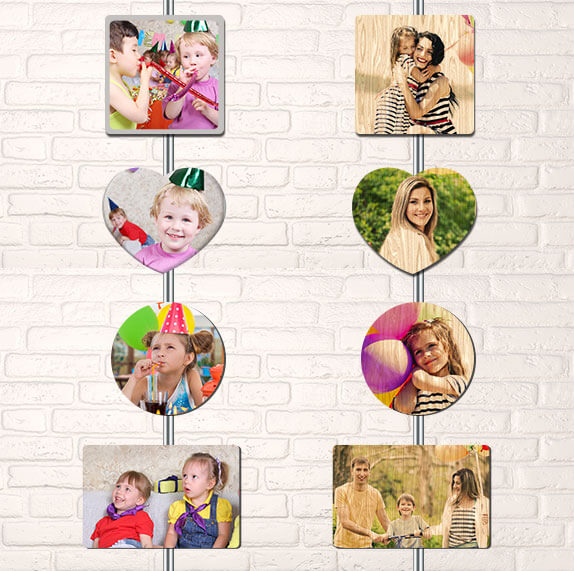 When creating a custom photo magnet display, break out of the box and venture into shapes. Hearts and circles bring new interest to your display space and provide new design options. Create a flower shape from a round magnet forming a single center circle with heart-shaped magnets forming the "petals" around the outside edge. This would be a whimsical way to feature photos of children, pets, or a special event. Or stay in the box and arrange rectangular or square magnets to mimic a window pane on your display space. Photos of your family and pets on the same background create a look reminiscent of the opening screen in the Brady Bunch television show. Another idea is to use photo-editing software to crop a single photo into four pieces. Craft the pieces into a magnet and reassemble the components with white space as separators.

Sizes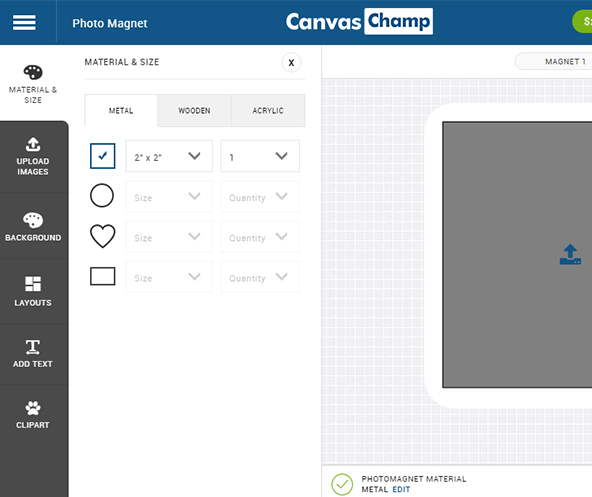 There is no rule that all your magnets need to be the same size. Use the same shape with varying sizes to create visual movement in a series of related photographs.Successively larger images tend to appear to advance toward the viewer, and successively smaller ones seem to recede.Varying sizes are also a unique way to guide the viewer along a series of images to tell a story.

Collages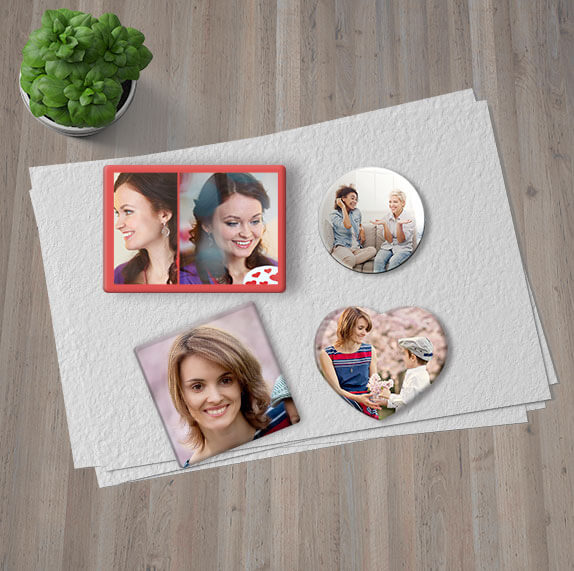 For a small gift with a big punch, create a collage. A collage magnet is a simple way to group several photos for a single statement. Two-to-four photographs on a single magnet can tell a story about an event or vacation. Use multiple imagesto highlight favorite scenery, holidays, family photos, or pets.

Text and Clip Art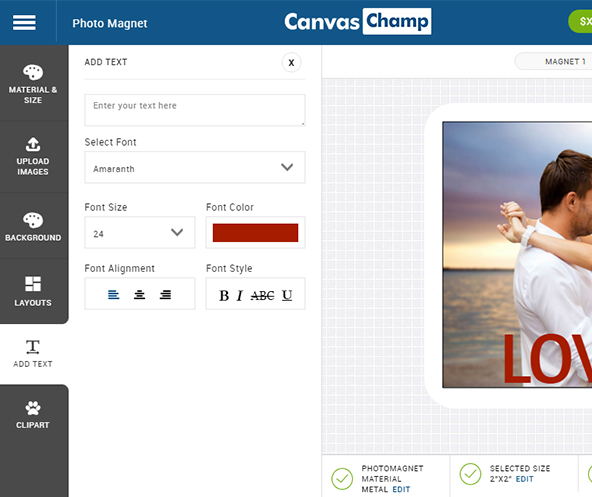 Have a beautiful photo that needs a little bit of something extra? Add text or clip art to accent your unique photo gifts. Attach an inspirational quote to a peaceful beach scene or use clip art to create a corner accent for a bit more visual interest—such as pairing that special pet's photo with a pawprint.Text or clip art can also create amusing and useful organizing tools. How about magnets for each of your kids with their name and favorite photo to help secure chore lists, practice schedules, or notes?
Color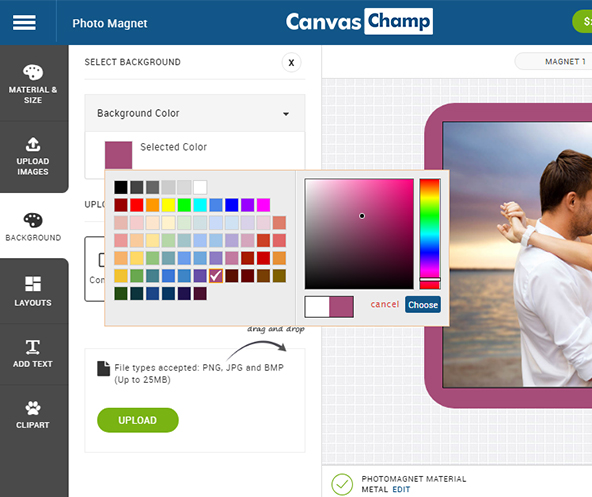 Consider color when outlining a magnet's image, whether by itself or as part of a collage. Using a theme color from your event helps to tie your magnets back to that day. Taking a secondary color from your photo and using it as a background will bring that color forward in your picture, providing a bit of highlight.

Materials

Choosing a background material will also result in different finishes to photo magnets.Brightly colored photos pop on acrylic and highlight the vibrancy in your picture. A wooden background shows a bit of the inherent grain and provides a rustic look.The sturdy construction of metal is perfect for high-traffic areas with its long-lasting durability while offering a bit of sheen.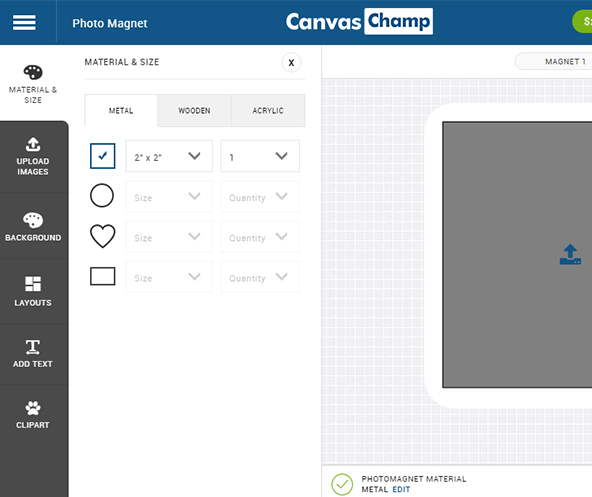 While you could certainly create your own magnets at home, professionally crafted magnets produce sturdy miniature works of art for years to come!Creating magnets with CanvasChamp's design tool is fun and easy. With choices of materials, shapes, and multi-photo templates, there are endless ways to turn your photos into custom magnets. You won't be able to design just one!