5 Fun Ways to Celebrate Mother's Day at Home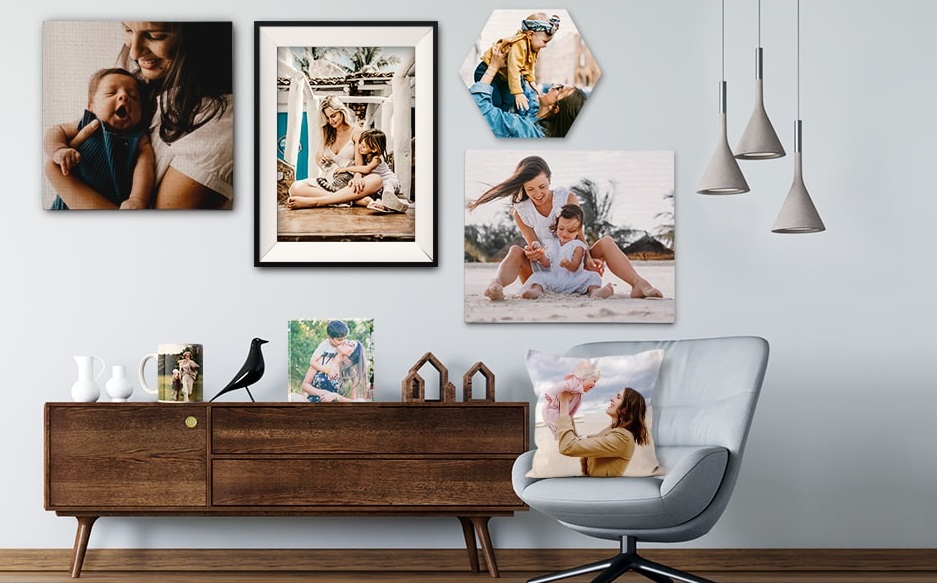 Mother's Day is just around the corner and while normally we'd be thinking about which restaurant to make a reservation at to celebrate Mom, this year calls for a little something different. With that in mind, here are 7 fun ways to celebrate Mother's Day while still hanging out at home.
Brunch
Start her day off right with brunch or breakfast in bed. If you're not so gifted in the kitchen, see what local restaurants around you are offering curbside pickup or delivery. If cooking is your jam, whip up some fresh cinnamon rolls, eggs benedict, and keep the Mimosas pouring all morning long. But don't stop there! Remember to do all the dishes once brunch is over.
Gifts
Showering moms with gifts on mother's day is a time-honored tradition, but you don't have to get just any old thing, and neither do you necessarily have to make something from scratch. Our customers tell us some of the best photo gifts they've given moms were ones that showed her lots of love from family. How to do that? Grab some of her most treasured family photos and create a photo mug for those early-morning caffeine moments. Or instead create a canvas photo collage she can hang on her wall to look at every day.
At-Home Spa Day
If going out to a spa isn't in the cards, create a spa day at home for her. Offer to give her a manicure, or even better, offer to give her space. Run a warm bath, hand over some bath salts, and keep the kids occupied for as long as she wants. Being a mom is a never-ending job, so take over her portion of it for as long as you can. Make it extra relaxing by creating a playlist of her favorite music to listen to while she soaks.
Clean The House
If the mom you know is one who responds to acts of kindness, then do her a solid and clean the house for her. Declutter the countertops, scrub the floors, and do all the dishes. She will truly feel like she's had a day off if she's not having to pick up after someone every five minutes. This is an easy one to get the kids involved in, believe it or not. Even if they're young, give them small things to do to help out. They'll feel proud to have done something to help give mom a nice day.
Springtime BBQ
If your mom isn't the cake and tea type, then throw her a backyard BBQ complete with all her favorites. Brew up some iced tea, chill some cocktails and fire up the grill. Find her favorite lawn chair and let her kick back and relax while you take care of everything. Don't forget to make it look nice, too. String up some lights, pull out the good canning jars, and decorate the table with lots of wildflower bouquets.
If you love these ideas for celebrating Mother's Day and are wanting even more, check out some of our top-selling photo gifts that are sure to please! In addition to photo mugs and canvas photo collages, we have photo magnets, custom coasters, wood prints and more.