What Are Glass Pictures?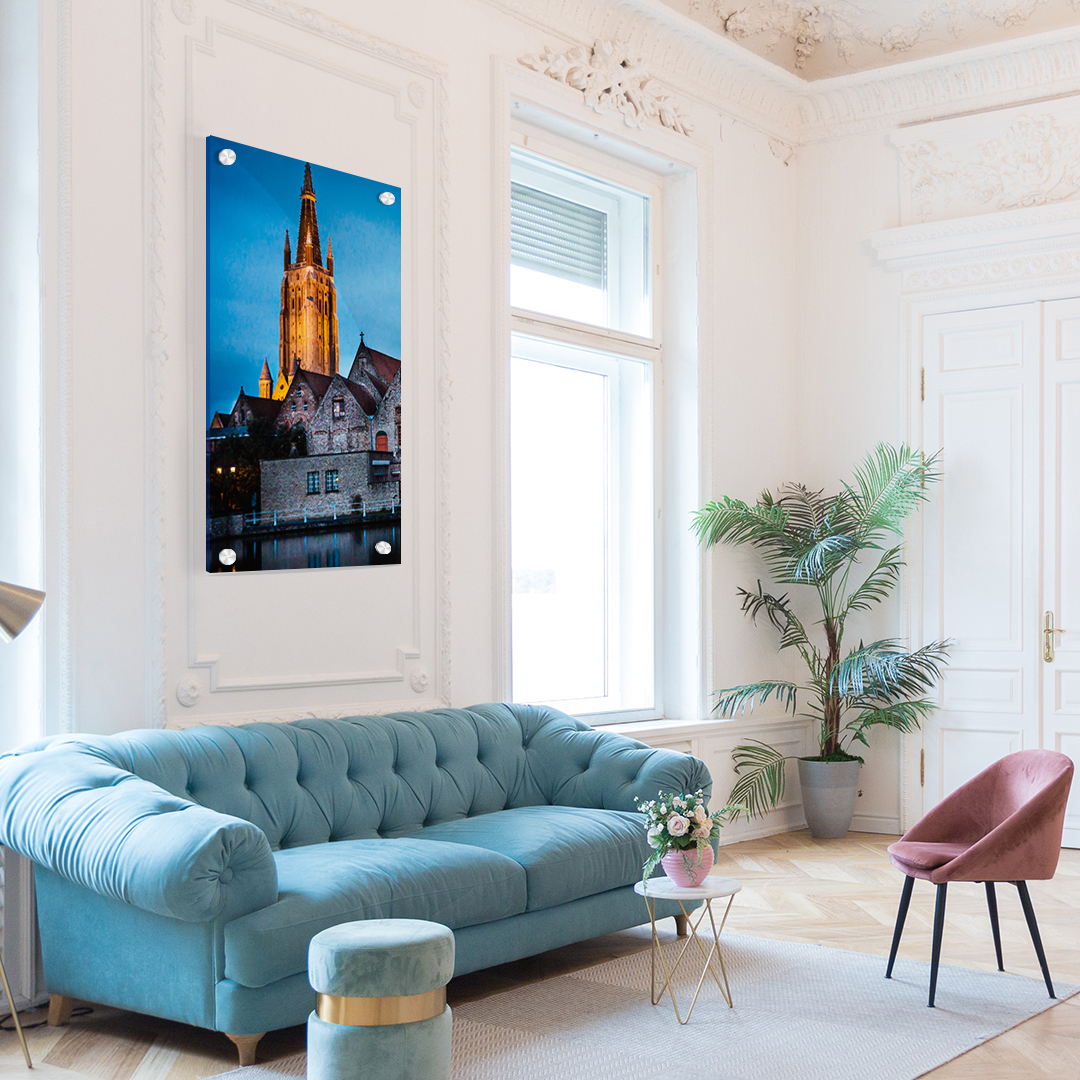 The history of photographic prints is a fascinating subject. It seems people have always loved to see printed images of themselves, friends and loved ones. Depending on the era, folks could satisfy this desire with photos on paper, metal or glass. The technology at the time stretched from ambrotypes, tintypes, and glass plate negatives, to lantern slides, cyanotypes, and silver gelatin prints.
Glass vs. Acrylic Glass
Referring to printing on glass, let's clarify some basic terms. Although glass prints are available, the very fragile nature of glass makes them prone to breakage, obviously. The vast majority of glass prints today are actually printed on acrylic glass, commonly referred to as "plexiglass."
Plexiglas®, however, is the trade name for this crystal-clear acrylic that's been in use for so long that with the addition of an extra 's' plexiglass has become the generic name for this material. A similar proprietary eponym has most of us referring to any brand of facial tissue as kleenex, the trade name for the popular brand.
Still, the question remains: Can you print photos on glass? Yes, you can! But do you want to? Glass is fragile and can be easily damaged. And if you have kids, the fewer sharp breakable objects in your home the better.
The quality and clarity of today's acrylic glass has come such a long way since its inception in the early 1900s that it's difficult to distinguish acrylic from actual glass. Virtually indestructible, acrylic is also lightweight, very easy to clean and can last for generations.
How Do We Print on Acrylic?
We print your images on high-quality photo paper and then apply them to the back of each acrylic sheet with clear adhesive so the image shows through front of the acrylic. This is known as "facemount" because the face of the images are mounted to the back of the acrylic. A thick white paper backing adds luminosity to the image – without a white backing the images would be more transparent, with the colors looking faded and washed out. The acrylic actually protects the images, adding a glossy look and increasing color depth and vibrancy.
We offer printing on acrylic sheets as well as acrylic blocks in various sizes. Both choices offer vibrant and vivid color reproduction while acrylic blocks give an added depth. This 3-D effect is the result of the block's ¾" thickness, giving your images a more sculptural look. Acrylic sheets can be mounted on walls or with optional tabletop stands, much like picture frames you can stand up on a table.
Benefits of Acrylic over Glass
A big difference between glass and acrylic print is clarity. To print directly on glass an inkjet UV printer is used. Imperfections are more noticeable with this process because the printer's inkjet heads are easily clogged if not regularly maintained, and along with ink used to print the image, a primer coat and solid white background for opacity are also needed. All are printed using those clogable inkjet heads.
Acrylic facemounted prints use high-quality photo paper designed for maximum resolution and clarity, resulting in much better image reproduction than glass printing because the process of printing photos on glass is not as precise.
Acrylic prints are perfect for photographers, art galleries, and fine art applications. Since acrylic has greater longevity, durability, and quality, it's also ideal for wall art in your home or office.
We offer many sizes and options of Acrylic Prints and Acrylic Photo Blocks, and our online design tool makes it super easy to upload your images, add text, or clipart to make the perfect acrylic prints. You're limited only by your imagination!