What Are Acrylic Photo Blocks?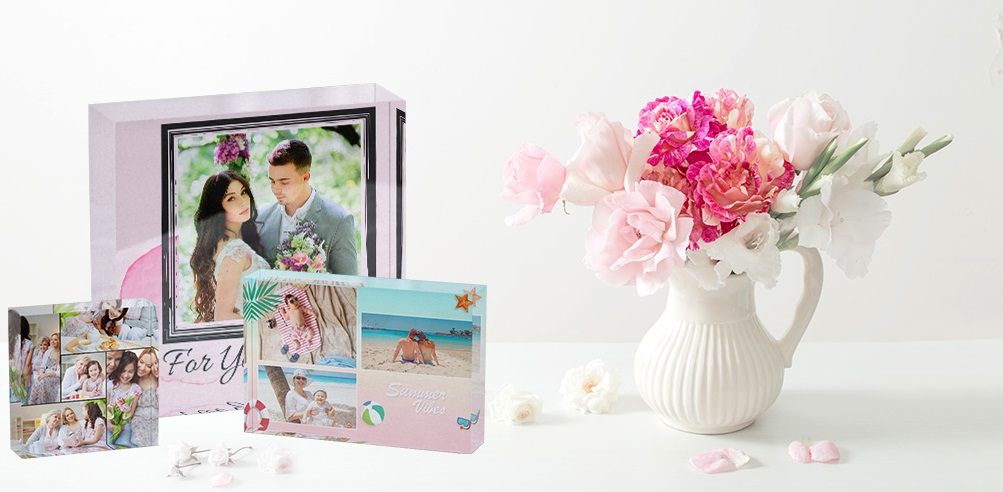 Basically, acrylic photo blocks are unique alternatives to traditional photo frames. Made of crystal-clear, 0.7-inch thick acrylic, they're perfect for displaying your photos in a fun way and will stand up on their own on any flat surface.


So, what does this mean for you? Why not just display a photo in a frame?

Traditional framed photos are fine, but they're limited in dimension. You can only hang them on a wall or stand them on a table with an easel backer. Acrylic photo blocks have the advantage of adding a sculptural feel to your treasured photos.
 
Photos are printed on the back of the acrylic blocks, giving them a unique depth. They look great on tabletops, shelves, desks or side tables, or even as paperweights. What could be better than a photo of your loved ones on a clear paperweight, smiling at you as they keep your important papers from flying off your desk?


Each block's transparent, polished acrylic sides direct light onto your photo, making colors more vibrant while creating an eye-catching 3-D effect. Photos on acrylic blocks are ready to display right out of the package. You can set them on any flat surface, with or without an optional black acrylic base with reflective mirror.
Portrait or landscape photos? No problem. Photo blocks are available in 12 sizes to help you select the best format for your photos – whether they're vertical, horizontal, or square. Our acrylic block photo printing gives you high resolution for sharp images in sizes that range from 4 x 4 inches up to 8 x 12 inches.

The acrylic also acts as a protective medium, ensuring your images are safe from life's little mishaps like beverage or food spills. The acrylic can scratch if cleaned with harsh abrasive cleansers or sponges, so remember to clean the acrylic by simply rinsing with water and wiping dry with a soft cloth.

We make it easy to design your acrylic photo block.

View your piece as you build it with the CanvasChamp acrylic block design tool. Upload your images, choose the layout, add text or clipart, and see a proof of your final design. Can't decide between full bleed (to the edge) or a border? Try them both! Undecided on a background color for a multi-photo layout? Test your favorites before you commit. The design tool lets you be in charge and create exactly what you want. It's fun – try it!


You also have the option to apply a black background for a classic noir look. This works best for black and white photos or light-colored text and graphics to give the best contrast and a dramatic "wow factor."

Which is better, acrylic prints or canvas? If you're unsure about which to choose, consider these factors.

Does your photo feature bright, bold colors? The light-capturing properties of acrylic will enhance those hues, making them appear more vibrant. Acrylic provides a 3-D look to your photographs with sleek, glossy finishes and crisp edges.

If your subject matter is more sedate or classic, canvas prints enhance that beauty. Canvas surfaces provide a softer finish with a slightly textured look. In fact, canvas prints often mimic the qualities of oil paintings, making them striking choices for portraits and landscapes.

Acrylic photo blocks make the best impression in rooms with plenty of available light. The durability of acrylic also makes it ideal for kitchens, bathrooms, playrooms, a child's bedroom, or even a classroom at school.


Renters rejoice! Photo acrylic blocks are a great way to display your photos without putting holes in the walls or purchasing additional hardware, since they can stand up on any flat surface — no wall required.

Whatever option you choose, CanvasChamp makes it easy with online design tools, lots of sizes, and fast ordering.