Introducing Canvas Lite, The New Gallery Wrapped Canvas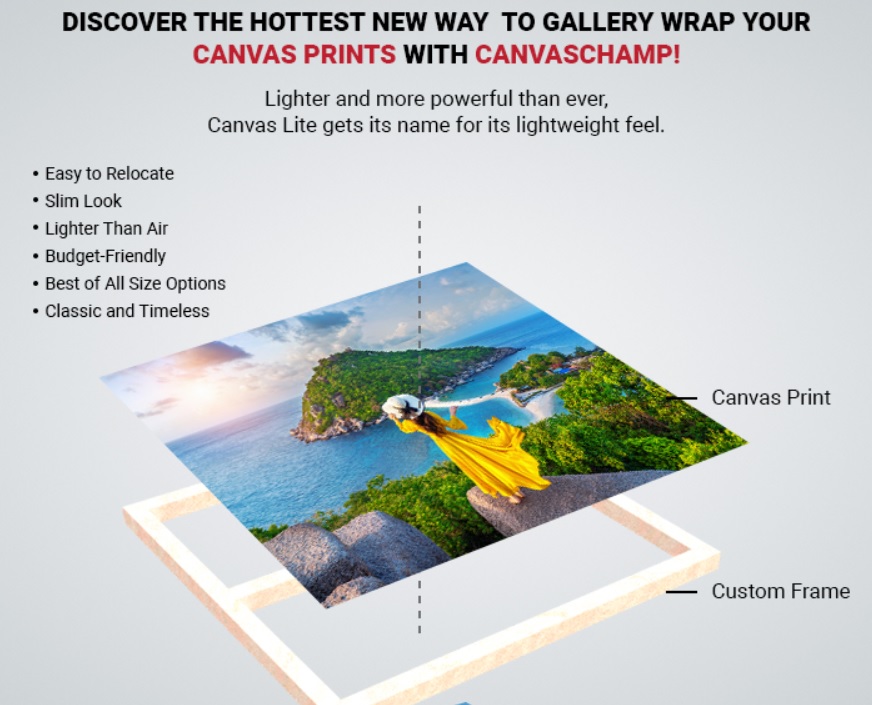 Canvas Lite is the hottest new way to gallery wrap canvas! Canvas Lite gets its name for feeling lighter than air, yet more powerful than ever before! Canvas Lite is an innovative, re-engineered construction of canvas prints that makes canvas prints feel lighter without compromising the quality of service. When you choose Canvas Lite for your art, you can create an incredible sense of extra dimension to rooms while taking up less space. With Canvas Lite, you will get sleek and stunning art that you can not wait to start decorating your home, office, or business!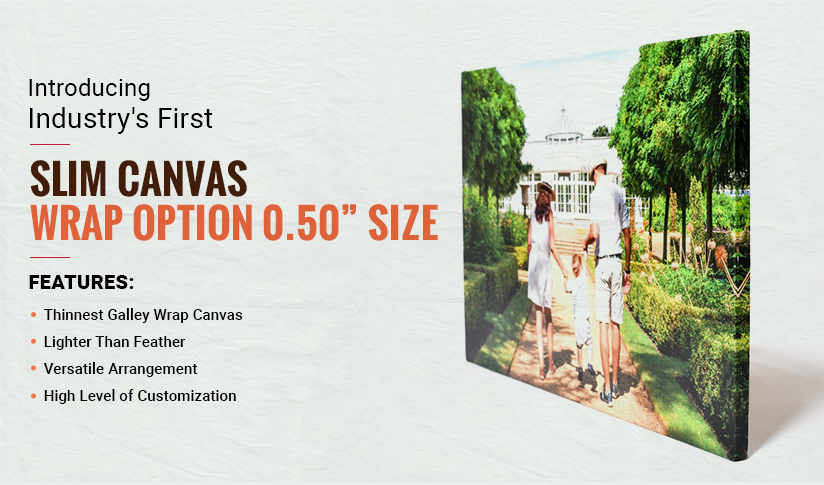 What is Canvas Lite?
Canvas Lite is a gallery-wrapped canvas with a 0.5" wooden frame. Canvas Lite canvases look precisely like other gallery-wrapped canvases, except they feel lighter than air due to the thinner wood option. As a result, you can showcase your artwork and favorite photos on canvas and efficiently preserve some space! Canvas Lite prints are lightweight, space-saving, versatile, better for nature, and fun! 
How does it work?
Canvas Lite canvases work precisely like other high-quality gallery-wrapped options. CanvasChamp's skilled designers use museum-grade poly-cotton canvas to print the images. Our high-quality printers print the canvas with ink that is permanent and does not rub off. First, the canvas is printed with your art in the canvas size of your choice. After printing, the canvas is wrapped around sturdy 0.50 wooden stretchers. The exact size variations remain the same for this option, including the famous 8 x 8 canvas.
What are the benefits of using Canvas Lite?
Canvas Lite has many benefits that other versions of gallery-wrapped canvases do not offer. Here are some of the few advantages that Canvas Lite offers:
It's lightweight!

- The lightweight makes it more convenient to transport the canvas while moving locations or carrying around to events

Fun to decorate with

- Countless ways to decorate spaces and easier to hang on walls and rearrange

Less hanging equipment

- Less mounting and hanging equipment is needed to hold up the canvas because it is lighter weight.

Sticks out less from the wall

- The 0.5" wooden frame is slim; therefore, it does not stick out too far from the wall and saves room space.

Less stress on the wall

- The lightweight frame does not add extra stress on walls; thin walls, especially those made with particleboard wood, will take minor damage.

Versatility

- Can be hung alone or placed in ready-made or custom frames

Better for nature!

- Less wood is needed to create the wooden frame
Who should use Canvas Lite?
Anyone who wants slim and sleek canvas art should seek the advantage of Canvas Lite. People who like to design their spaces with multiple canvases will enjoy the lightweight. It is easy to rearrange the positioning of the canvas. People who travel with canvases will find the Canvas Lite option greatly appreciate the lighter than a feather feel.
Where Can I Get Canvas Lite?
CanvasChamp is the first to innovate this design and is currently the only supplier in the industry offering the light and efficient 0.5" frame!
Ready to Try Canvas Lite?
Try Canvas Lite today by visiting the canvas print tool on CanvasChampl and start designing your canvas! We believe once you start ordering Canvas Lite prints, you will become hooked! CanvasChamp has an exemplary reputation for producing the best quality canvases for your delight. Take a look at some of our customer reviews for a complete vow of confidence.