Introducing Brand New Acrylic Photo Blocks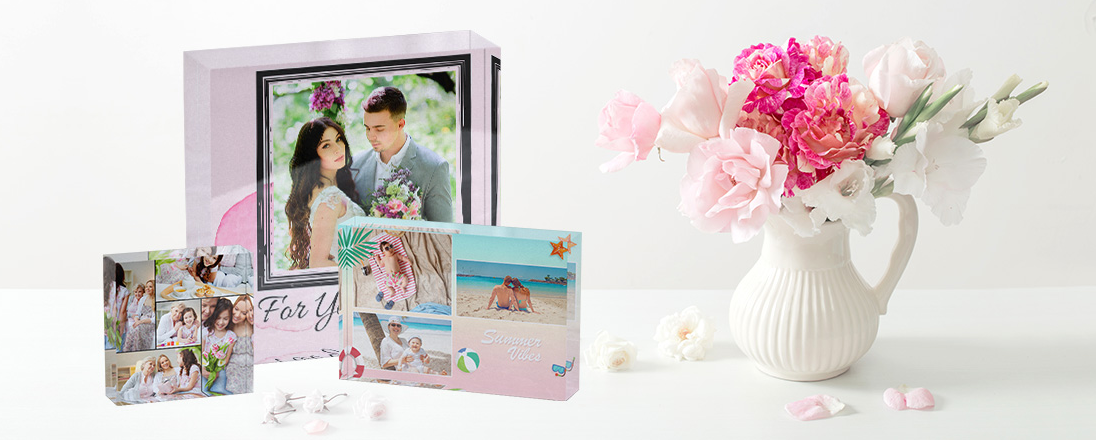 CanvasChamp is excited to upgrade your traditional framed prints with our very NEW acrylic photo blocks. Acrylic blocks are modern, free-standing acrylic glass blocks (0.7" thick) that have edges and feature a photographic face-mounted print on the back.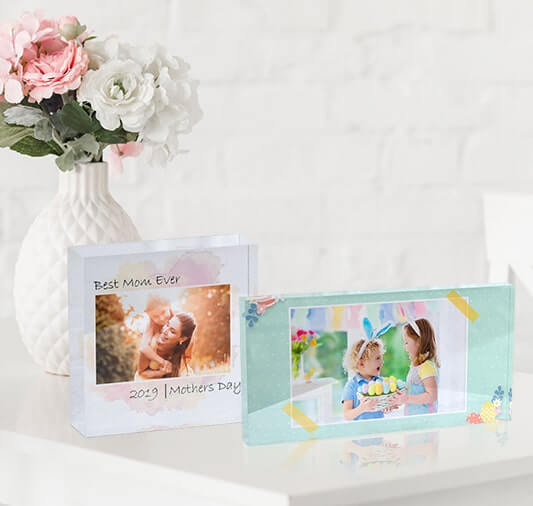 You may have heard of our acrylic prints, so we've miniaturized the same beautiful glass-like decor for shelves and desktops! The block can present a vibrant image with a slight 3D effect for the viewer. The reverse of the block is finished with a black base.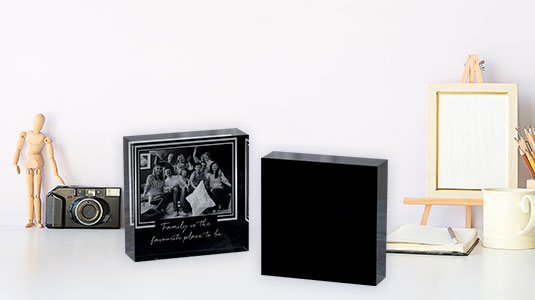 So go ahead and take a look at your nearest shelf or desktop. There's probably the old school photo frame that has been there for years. It's that favorite photo from Hawaii, or a photo to remind you how your teenager wasn't always this cranky, or your ever-adorable fur baby. And if you don't have a photo print adorning your space, well, why don't you try out acrylic block prints?
 
A Gift That Shines Bright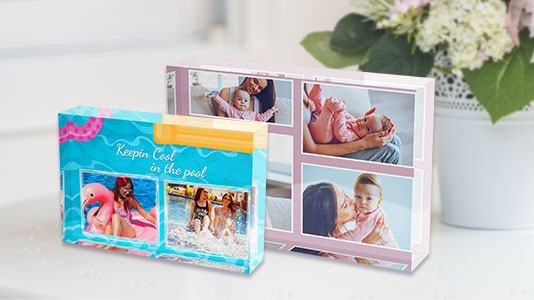 Acrylic blocks are a premium giftable product that showcases artwork on a small scale and looks great on tabletops, shelves, desks or side tables or even to use as a paperweight.
 
1. The particular details about our block:
2. Diamond cut sides presenting a sharp image from any angle.
3. 1" thick solid free-standing acrylic block for desk, tabletop or shelves.
4. Hand polished for a bright crystal finish.
5. Currently available in a square format with 12 custom sizes
 
Our acrylic picture blocks come in a square form with deep crystal clear acrylic. Your photos will come alive and pop-out through the acrylic body. Colors look more luminous, photos refreshed, and your shelf will have a whole new look!
 
This is a great gift idea as we slowly sneak into the holiday season. Grandparents would love an acrylic photo block of the grandchildren. They'll be impressed with the clarity of the piece and see their favorite grandbabies in a whole new light. A christening ceremony signifies the baby's first initiation to Christian faith. A personalized photo block will allow you to store the child's critical moment towards religion.

 
Make the woman in your life delighted by giving her a personalized acrylic block with an adorable photo of you two! It will be an added personal touch if you can print a picture of even her pet love, which will surely delight her.
If someone you know is about to get married, a photo of the couple in an acrylic block will make a perfect gift. Independent blocks consisting photos of bridge and groom links are also excellent as two blocks can be kept near each other, forming a bigger picture. Such gifts can be used long after the wedding.
 
Acrylic blocks from us are waterproof, easy to clean, and can be drawn on with dry-erase pens for a merry DIY activity, and light-bodied. They can even be used as a paperweight on your study desk.
 
Find the Best Personalization Options With Us
So, transform your home or office decor and let your favorite photos really shine with our custom acrylic blocks.
 
If you want your photos to stand out, try our latest acrylic block prints. Printed on our professional quality white luster paper, your images will last for years to come. Each piece of acrylic is crystal clear plexiglass that has hand-polished edges, creating artwork that really charms.
 
Select from twelves sizes to make the perfect piece for your mantle, desk, floating shelves, or walls. Each item is delivered as ready to display and easy to hang — no extra hardware needed! Although, you can opt for a stand for a better presentation but a block on its own looks proud enough to make a place look fancy.
 
Come make every moment matter – upload your photos on our online editing tool to create your acrylic blocks today. Start personalizing your acrylic photo block and treat yourself to a modern-day photo print everyone will want to pick up and gape over.