How to Design A Custom Photo Blanket from the Comfort of Your Couch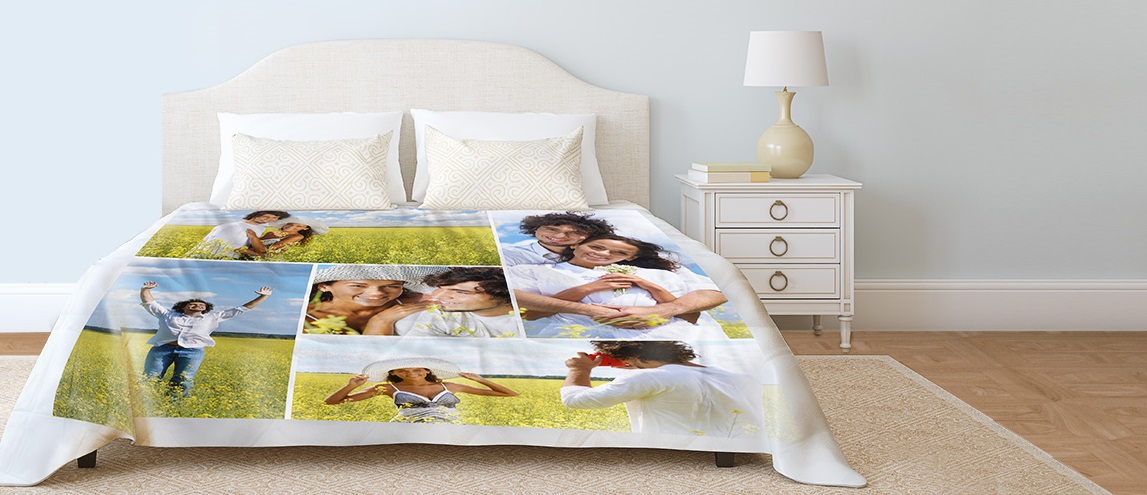 A wise person once said, "Happiness is snuggling under a blanket when it's cold." We're sure lots of wise people have said this. Regardless of who said it first, it really doesn't matter because we all know it's true!

When the weather outside gets chilly, there's nothing quite like getting cozy under a soft blanket with a loved one, a good book, or a warm mug of your favorite cold-weather brew.

This holiday season you can now wrap yourself and everything special to you in a personalized photo blanket! We guarantee the lowest price in the industry, and we make it easy for you to create your own unique blanket from start to finish. You can even order your new blanket on your laptop while you're nestled snugly under your old blanket!

Ready? Follow these simple steps using our online design tool and you'll be on your way to Snuggletown!

Select the size and material
Choose from either 50" x 60" or 60" x 80" in woven cotton, fleece and fleece sherpa.
The woven material is 100% cotton for a very natural, breathable feel. Our polyester fleece blankets are soft like a fuzzy kitten, but much easier to care for. And sherpa? What exactly is that? The front is soft fleece, while the other side has a thick, soft pile lining made from 100% polyester high-loft fleece. It's warm but lightweight. Think of it like the woolen lining of your favorite slippers.

Upload Your Photos
Choose photos from your computer, your Facebook or Instagram accounts. Need an image of a beach or mountain range you've always dreamed of visiting? No problem. We have a gallery with hundreds of amazing photographs, from cars and motorcycles to maps and sunsets. All you do is drag and drop. If you want a certain color printed as a background to your photos, simply pick one from our vast color palette.

Choose A Layout
Whether you have one special photo or four, pick from a variety of layout templates to complement your custom blanket.

Add Custom Text
Choose from a variety of font styles, custom sizes and colors to complete your masterpiece. Add your own custom text to the portrait of your family at last summer's lakeside vacation.

Preview & Save
Before you save it, you can preview your design. Need to change something? You can edit everything as you go or alter anything you've done already. Once you're happy with your blanket layout, save it and add to your cart and check out. Then sit back and wait for your custom piece to arrive!

Great Gift Ideas!
Personalized photo blankets make great gifts for grandparents, too! You know your mom and dad can't get enough quality time with your little ones. Give them a photo blanket so they can cozy up with the kiddos' faces smiling back at them whenever they wish!


Custom blankets aren't limited to photos. A great idea is to print text on your favorite color background. It could be a favorite poem, a famous quote, an excerpt from your favorite book, song lyrics, your family tree, family sayings, a list of inspirational messages, or Bible verses. Whatever you like!

All of our photo blankets are printed in the U.S.A. using the latest textile printing technology resulting in photo reproduction that's impressive enough to display on a wall or draped over a chair. However you use yours, we guarantee you'll love the quality and the price!