Custom Cutting Boards Combine Creativity with Functionality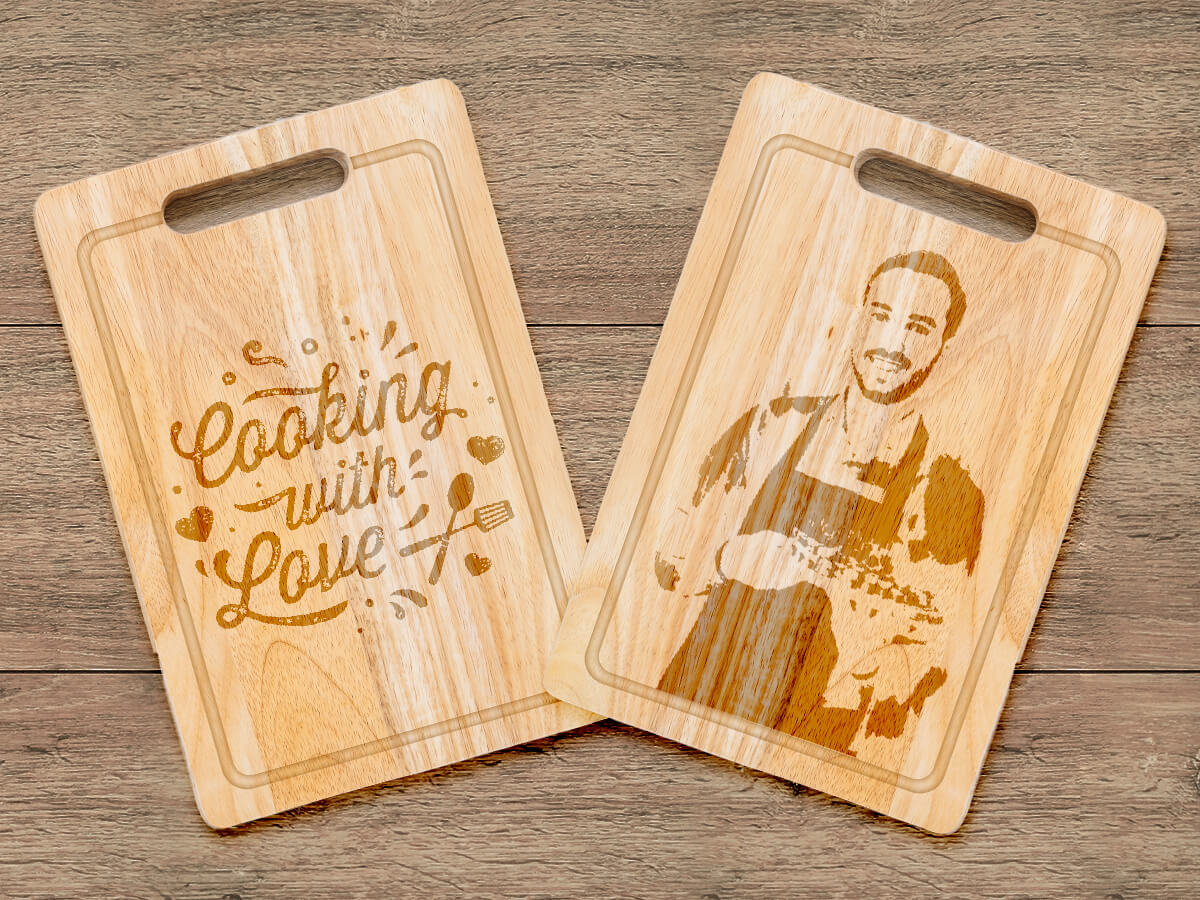 CanvasChamp is always thinking of new and innovative ways for you to create and share genuinely custom photo gifts. The latest in the CanvasChamp family of personalized gifts is both functional and decorative. Wooden cutting boards laser-engraved with your choice of custom images are a fantastic gift idea that is too lovely to bury in a cabinet!
Designed for Longevity
Every photo gift should start with a solid base! Custom cutting boards fit the bill, with high-quality hardwood as the perfect starting block. Then, state-of-the-art tools are used to apply your desired image onto the board's surface. A laser beam engraves your design and provides a bit of texture to the final product. The result is an application that resembles woodburning, featuring excellent detail and crisp edges. Your cutting board not only shows off the beauty in your photo but of the wood's surface. 
Select a Size
Sometimes you want to slice a lemon, and sometimes you need to section a cabbage. CanvasChamp wooden cutting boards come in four sizes to match any job. Sizing starts at a petite 12 by 8 inches, with medium sizes at 14 x 10  inches and 16 x 12 inches. Finally, there is a hefty 12- x 18-inch cutting board to handle your big jobs. Regardless of size, your custom cutting board features a convenient handle for securely gripping and transporting your food from counter to pan. 
Keep it Sharp
Custom wood cutting boards are an excellent way to decorate your kitchen space while preserving function. Just hang your board on the wall until it is time to prep dinner! Because it does double duty, you can use your cutting board for various occasions and moods. Monograms and family names are an elegant choice. Custom logos are a unique way to promote your business. Holiday-themed images add a touch of whimsy to family get-togethers. Quirky culinary sayings and clip art make your kitchen Fun Central.
No matter what you choose, details count. For the sharpest engraving, your photo upload should have a resolution of 200 dpi or larger. This includes any graphics you wish to add, such as logos. Choose a single photo or select a layout to collage up to four of your favorite images. A picture with a fairly plain background will definitely make it easier to capture your image's essential beauty. And any additional text or clip art that you add through the design tool is already optimized to produce crisp, precise results. Don't forget that the CanvasChamp design team can work with you for the final details. 
Protect Your Investment
When you receive your cutting board, you can do a few things to preserve its beauty. Before your board's first use, rub a light coating of mineral oil, olive oil, or beeswax over the surface. Completing this step guard against cracking and helps prevent bacteria from taking up residence. Disinfect your boards with a light spritz of vinegar or lemon juice. Like all wooden kitchenware, the best routine care is handwashing with mild detergent. Avoid soaking your cutting board in a pan of dishwater and never put it in the dishwasher – the high heat may cause warping and cracking. 
Share the Art
Custom wood cutting boards are a wonderful gift item! Personalize them with photos and names to create one-of-a-kind pieces for housewarming or wedding gifts. Two (or more) chefs in your family? Give them each their own board highlighting their smiling faces or favorite ingredients. And since food safety experts recommend having separate cutting boards for meat versus veggies, cutting boards labeled by use will keep you from cross-contamination! Your business' logo engraved on a cutting board creates client gifts or employee rewards that will have people thinking of you with every use. 
Another outstanding idea is to combine your cutting board with other photo gifts to create a set. Photo magnets, a metal print with a favorite recipe, and your custom chopping board would make a spectacular kitchen-themed gift set for your favorite foodie! 
Custom wood cutting boards are a unique photo gift that will be treasured every day. Get ahead of the trend by designing yours today at https://www.canvaschamp.com/choppingboard-tool.